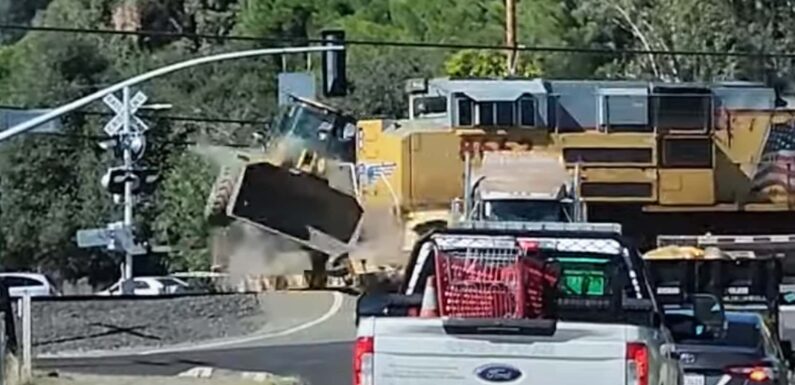 One of the last places a motorist would want to be stuck is on active railroad tracks. Trains are long and heavy and can need a mile or more to come to a complete stop, endangering anything in their path. Two videos show the destructive force a train carries when they capture the moment one collides with a semi-truck that's hauling a wheel loader.
The train hit with such force that it nearly tossed the Caterpillar tractor onto the road parallel to the tracks. The loader crashed into the railroad crossing arm controls, showering the area with dirt and debris. The collision occurred on Wednesday, October 4, around noon in Redding, California.
A 25-year-old truck driver from Washington attempted to navigate the crossing at SR-273 and Breslauer Way when his low-clearance trailer got stuck on the tracks. The driver tried to free it but didn't have enough time. According to the Redding Police Department's news release posted to Facebook, the truck had only been stuck on the crossing for a short time, and no one had called Union Pacific about the blockage.
With the train unable to slow or stop in time, it collided with the semi. The police said the accident caused significant damage to the crossing arms and electrical system, forcing the crossing's closure. Thankfully, no one was injured on the ground or the train, and the police's news release made no note of the truck driver receiving any citation for the accident. 
According to the US Federal Railroad Administration, highway-rail incidents, collisions between vehicles/pedestrians and trains, steadily climbed until 2019. The number would fall to under 2,000 crashes in 2020 during the pandemic. They fell further in 2021, halving to 812, the last year of available data. Traffic fatalities are falling in general. 
This would be the seventh accident at the crossing since 1976, according to FRA data. The last occurred in 2019 when a train struck a 68-year-old pedestrian. The last vehicle-train collision occurred in 1999.
Trying to beat a train or weave through the gates is never wise. If your car does get stuck in the tracks, immediately get out of the vehicle and back away. The Federal Motor Carrier Safety Administration recommends walking toward the oncoming train and away from the tracks at a 45-degree angle. Once safely away, call the railroad's emergency number that's near the crossing and contact police.
Source: Read Full Article