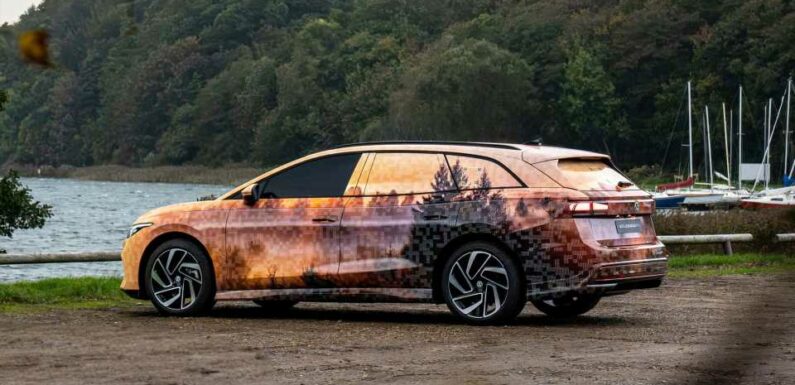 Today, Volkswagen revealed the first photos of its first all-electric estate model, which is called the Volkswagen ID.7 Tourer.
The Volkswagen ID.7 Tourer, still camouflaged, is based on the Volkswagen ID.7 sedan model, which entered series production in Emden, Germany this summer (alongside the ID.4). Both versions of the ID.7 will be produced together starting next year.
The Volkswagen ID.7 Tourer will be fully unveiled in the coming months and will launch in Europe in 2024. At this point, we are not sure whether it will be offered in other markets like the standard ID.7. The ID.7 is a global model and is set for launch in North America and China.
According to the German manufacturer, the Volkswagen ID.7 Tourer combines plenty of space with high efficiency. In terms of efficiency, the focus was on sophisticated aerodynamics, which resulted in a Cd drag coefficient of 0.24, just slightly lower than in the case of the ID.7 sedan (0.23). Volkswagen says that this will enable the ID.7 Tourer to achieve a high driving range, although the automaker did not provide an exact number.
Volkswagen ID.7 Tourer teaser
We guess that the MEB-based ID.7 Tourer will be equipped with the same/similar battery/powertrain setup as the ID.7, simply to limit costs. In the case of the ID.7 Pro S trim, the 91-kilowatt-hour battery (86 kilowatt-hours of usable capacity) translated into a WLTP range of 435 miles (700 km).
Other things worth mentioning are short overhangs and the long wheelbase, which will result in a spacious interior. Volkswagen says that the ID.7 Tourer can take five people and up to 545 liters of cargo in the trunk (loaded up to the height of the rear seat backrest). With folded rear seats, "the volume of the almost two-meter-long cargo space can rise to up to 1,714 liters," the company underlines.
These two characteristics – plenty of space and relatively long driving range – are for sure among the most important ones when it comes to an electric wagon. Those who don't need the extra space simply can opt for a standard ID.7 sedan or even a compact hatchback.

Source: Read Full Article