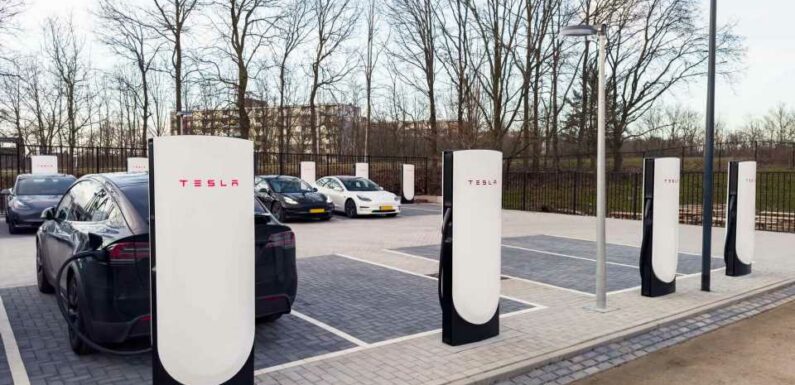 Tesla is accelerating the rollout of the V4 Supercharger across the U.S. Having debuted in Europe early this year, the V4 dispensers are now increasingly available stateside. They have already popped up in Oregon, Nevada, and Alabama, and now YouTuber Kim Java spotted a new V4 Supercharger in Atlanta, Georgia.
Previously, we highlighted the improved design of the V4 stalls. They are equipped with an integrated Magic Dock (or CCS-1 adapter), a digital credit card reader, and a compact display. Notably, they boast a taller and more streamlined structure and feature a lighter, extended cable, measuring 10 feet in length—3.5 feet longer than the cables found in V3 Superchargers.
At the 2:56 mark in the video below, a close-up of a sticker affixed to the V4 dispenser can be seen, which states a rating of 1,000 volts and 615 amps, indicating the possibility of 615 kW theoretical capability on the dispenser level in the future (the same as in Europe). But for now, they still draw power from V3 cabinets.
https://www.youtube.com/embed/vcgdBmaC3ao?si=GDK7Z1WGTkx8u5bZ
Hitting those higher speeds and higher voltage to support high-voltage battery systems in some EVs like the Hyundai Ioniq 5 and Audi E-Tron GT would be a game-changer in the journey toward electrification. Right now, slow charging speeds and long waiting times for EV owners are a real pain and a big obstacle to wider EV adoption.
Although, it's unclear if enabling these supercharger stalls for 350 kW would require any additional hardware, or if Tesla will push a software update to activate it.
When Java plugged in her Model 3, the V4 Supercharger did a solid job, keeping up with the V3's capabilities. It pumped out 255 kW, juicing up the Model 3 from 20 to 60 percent in just 10 minutes. That's seriously impressive! Looking ahead, once they unleash a higher power output, we're curious to see if the wait times for EV owners reduce. Charging speeds depend largely on the voltage an EV can accept, and whether it can be sustained for the entire duration of charging.
Moreover, the V4 Supercharger in Atlanta also had a dedicated charging space for trailers. The V4 cables have immersion cooling—which involves submerging hardware components directly into a thermally conductive liquid to dissipate heat more efficiently—and are capable of charging the Tesla Semi, which can accept one megawatt or 1,000 kilowatts of electrical input.
Have you tried any of Tesla's V4 dispensers already? Let us know how your charging experience was in the comments.
Source: Read Full Article