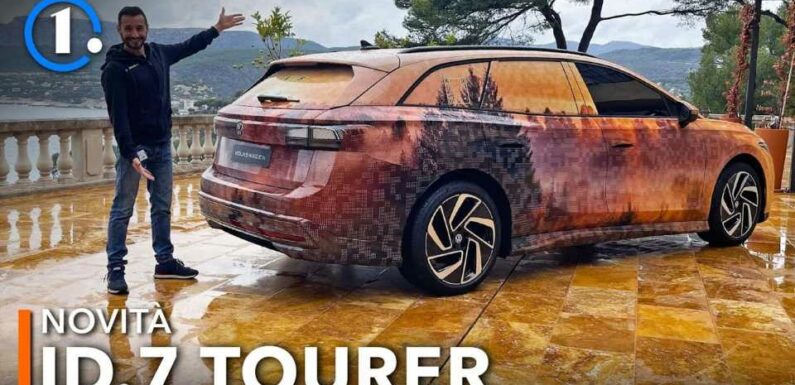 Electric wagons are sadly still few and far between in 2023, but Volkswagen is about to address this long-roof EV penury with this – the ID.7 Tourer. Our colleagues at Motor1.com Italy got up close with Wolfsburg's first estate without a combustion engine in Marseille, France ahead of the official release, hence why it's still camouflaged. If you're Italian is a bit rusty, you can auto-generate subtitles in your preferred language.
Sharing the MEB platform with the ID.7 sedan (it's technically a hatchback) and all the other bespoke electric cars from Volkswagen, the zero-emission wagon wants to be the antidote to an SUV world. Being a dedicated EV, it's not related to the new-and-not-for-America Passat Variant or the Arteon Shooting Brake, even though the exterior styling might tempt you to believe it has a connection with the former. The body wrap isn't really hiding anything on this big wagon with its impressively low drag coefficient of just 0.24, almost matching the sedan's 0.23.
Volkswagen ID.7 Tourer camouflaged prototype
Being a wagon, it's all about practicality. VW quotes a cargo capacity of 545 liters with the rear seats in place, which works out to 19.2 cubic feet. Fold the bench and the volume jumps to 1,714 liters (60.5 cubic feet). The German automaker wishes to point out you can cram in items nearly two meters (78.7 inches) long after folding the rear seats.
The ID.7 Tourer is being described as an "elegant full-sized hatchback version," and some will recall VW previewed it four years ago. Indeed, the ID. Space Vizzion concept premiered in November 2019 at the Los Angeles Auto Show. During the event, we spoke with then-CEO Scott Keogh – who's currently CEO at newly founded Scout Motors – about the prospects of selling the wagon in the US. After all, it did debut in L.A.
He suggested a potential US-bound variant would have more rugged styling in the same vein as the Alltrack models. He admitted extra body cladding, bigger wheels with meaty tires, and roof rails might negatively impact range but that's a sacrifice the company is willing to make.
We're keeping our fingers crossed for the ID.7 Tourer to land stateside where VW will sell the sedan variant from 2024. The wagon is going to be manufactured in Germany at the Emden plant where the saloon is slated to roll off the assembly line. VW also makes the ID.4 at the factory located in the northwestern part of the country.
Following its world premiere in the near future, the ID.7 Tourer will initially go on sale in Europe in the second half of next year.
Source: Read Full Article