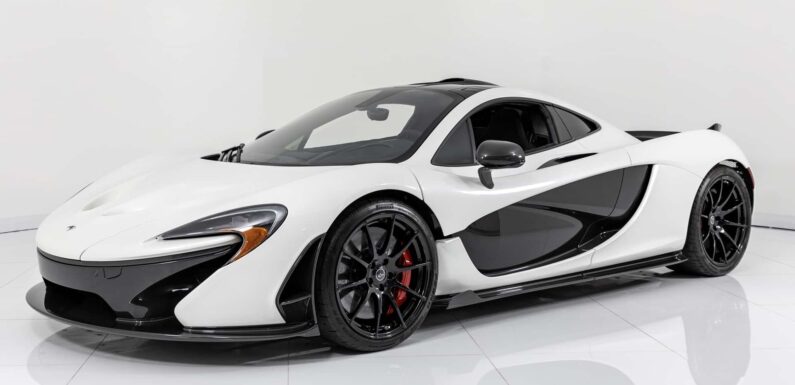 MIAMI and BLENHEIM, ONTARIO (Oct. 12, 2023) – Sotheby's Motorsport, the new joint venture between the automotive lifestyle ecosystem duPont REGISTRY Group and luxury auto auction house RM Sotheby's, today announced two new listings from legendary collector Barry Skolnick's The Ikonick Collection. The brainchild of Skolnick, an entrepreneur and philanthropist, Ikonick is home to some of the world's finest art and automobiles. The Collection boasts more than 125 supercars, hypercars and classic-grade vehicles.
The first-time cars from The Ikonick Collection will be available for public sale, the listings include a 2014 McLaren P1 with a starting bid of $1 million. Considered one of the Holy Trinity of hypercars, this model is part of a limited production run of 375 units (number 110). It sports a unique Elite White finish with black accents. It has been part of The Ikonick Collection since 2017 and comes with just over 2,000 miles. The listing will be live through Oct. 26.
Skolnick's second vehicle is a 2017 Lamborghini Aventador SV Roadster he purchased new. Available starting Oct. 19 through Nov. 2 with a starting bid of $300,000, this SV Roadster boasts a gorgeous Rosso finish, custom exterior components by Novitec, and comes with less than 400 miles.
"We're honored to be listing part of Barry's famed collection. The Ikonick Collection is one of the greatest compilations of supercars and art in the world, and it is a true privilege to host the first public auction from the Collection," said Chip Perry, CEO of Sotheby's Motorsport. "Barry is an icon in the luxury collector's space, known for curating only the best of the best. We're excited to help him make room to continue expanding his collection."
Unlike many collectors who keep their collections behind closed doors, Skolnick decided to share his with the world by opening The Ikonick Collection. Housed in Miami, Florida, The Ikonick Collection is part art gallery, garage and event space. Visitors can view over 150 curated automobiles alongside sculptures and paintings from local and world-famous artists.
Sotheby's Motorsport is currently available for buyers globally and sellers with vehicles registered in the United States. To view and bid on the listings, visit sothebysmotorsport.com.
About RM Sotheby's
RM Sotheby's is the world's leading collector car auction house. With over 40 years of proven results in the collector car industry, RM's vertically integrated range of services, from auctions (live and online) and private sales to estate planning and financial services, coupled with an expert team of Car Specialists and an international footprint, provide an unsurpassed level of service to the global collector car market. RM Sotheby's is currently responsible for the most valuable motor car ever sold at auction.
About the duPont REGISTRY Group
The duPont REGISTRY Group is the world's leading luxury ecosystem that encapsulates the culture, community and commerce of the high-end automotive lifestyle. Built by some of the biggest names in the luxury automotive space, the duPont REGISTRY Group represents a vibrant community of hundreds of thousands of members nurtured over nearly two decades. Its portfolio includes duPont REGISTRY, Sotheby's Motorsport, Canossa Events, Cavallino and FerrariChat.
Source: Read Full Article