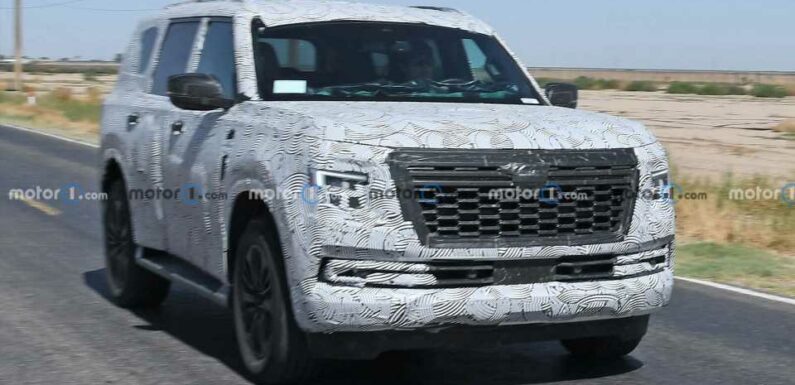 Nissan brought all sorts of wacky electric concepts at the 2023 Japan Mobility Show but journalists attending the event in Tokyo wanted to know more about the new Armada. Also sold as a Patrol in many markets, the fullsize SUV is ancient by the segment's standards considering its bones date back to early 2010. Thankfully, the next-generation model is on the way, and we're being told it'll be worth the wait.
Ivan Espinosa, Nissan's senior vice president of global product strategy and product planning, told CarExpert the Armada will be pushed upmarket to rival fancier large SUVs: "Honestly, it all depends, because we also go to the US with a lot [of competitors] so it depends on the market. And I'll say the obvious one, I don't like to say it is, the Toyota Land Cruiser [300 Series]. It is [a competitor] and the car is much better than the Land Cruiser. You will drive it, we can talk when you drive it."
2025 Nissan Armada Patrol Spy Photos
We should clarify Toyota isn't selling the Land Cruiser 300 in the United States where it recently introduced the 2024 Land Cruiser 250, also known as the Prado in other markets.
Espinosa confirmed rumors about the V8 engine going away in favor of a twin-turbo V6. If you're in the "there is no replacement for displacement" crowd, you probably won't like the idea of losing two precious cylinders. However, the VP said "you will not lament the V8." He still enjoys the brawny 5.6-liter naturally aspirated mill but argues its downsized replacement with forced induction will be better.
According to a Nissan dealer cited by Automotive News in a report from late August, the TT V6 will send 424 horsepower to the road via a nine-speed automatic transmission. As a refresher, the ancient NA V8 has 400 hp and works with a seven-speed auto. One can assume forced induction will bring a massive boost in torque over the old engine's 413 lb-ft.
Not only is the V8 gone, but so are diesel engines where Nissan sells the large SUV with an oil burner. Because a significant amount of customers come from the Middle East where gas is king, it's not feasible to invest in a diesel engine anymore. That new TT V6 should deliver far better fuel economy than the eight-cylinder engine anyway.
Espinosa admitted the Armada is getting long in the tooth, especially in terms of the infotainment. He promised the next-gen model will bring a "big, big key change to technology" but without going into any details. Whatever Nissan has planned for its new big SUV, logic tells us these changes will also impact the luxury-oriented Infiniti QX80.
Source: Read Full Article