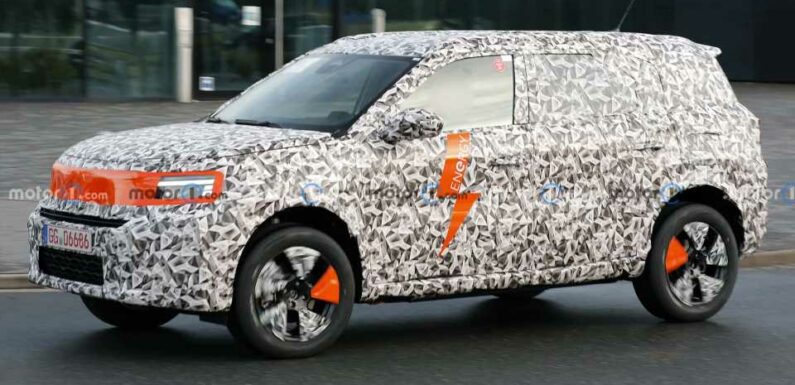 The next-generation Opel Crossland will look nothing like the current model. While the crossover continues to wear a full-body camouflage wrap in these fresh spy photos that conceal the revamped design details, the coverings can't hide the new boxy proportions underneath.
The revamped Crossland looks more like a traditional crossover than a hatchback on stilts like the current offering. The redesigned Opel features an upright front-end design, pairing the headlight motif of the 2022 Astra with a unique bumper and other specific touches. It eschews the current-generation Crossland's smoother styling.
Gallery: Next-Generation Opel Crossland Spy Photos
The new ethos maximizes rear cargo capacity with a flatter roof and hatch. Only small portions of the taillights poke through the covering, obscuring their styling. We haven't seen inside the redesigned crossover, but we expect the cabin to receive a substantial update. It should debut with a digital instrument cluster and a larger infotainment touchscreen on the dash, possibly adopting a setup similar to the updated Astra.
The Crossland will slot between the smaller Mokka and larger Grandland in Opel's lineup when it goes on sale. The German brand plans to phase out vehicles with internal combustion engines by 2028, including diesels, transitioning to building battery-electric cars.
Opel previewed its battery-powered future last month with the Experimental concept. It showcased the brand's future design direction and the potential new technology it could offer in its vehicles. The concept featured all-wheel drive and a steer-by-wire system, but Opel didn't detail the concept's power, battery, or range numbers. The concept rode on a Stellantis BEV platform with a steering wheel that tucks away when not needed.
The Crossland models in these new spy shots are the all-electric variant, which Opel confirmed last year. One test vehicle features orange lightning bolts on the camouflage, while the other features a lithium-ion battery sticker on the rear window. Information about the powertrain's configuration remains a well-guarded secret.
We expect Opel to offer a limited selection of gasoline and diesel engines in the refreshed crossover as it approaches its 2028 transition date. The company hasn't provided details about the potential engines or the possible Stellantis platform underpinning the new model.
The company hasn't announced when it will reveal the updated Crossland. Rumors suggest it'll debut and go on sale in 2024.
Source: Read Full Article