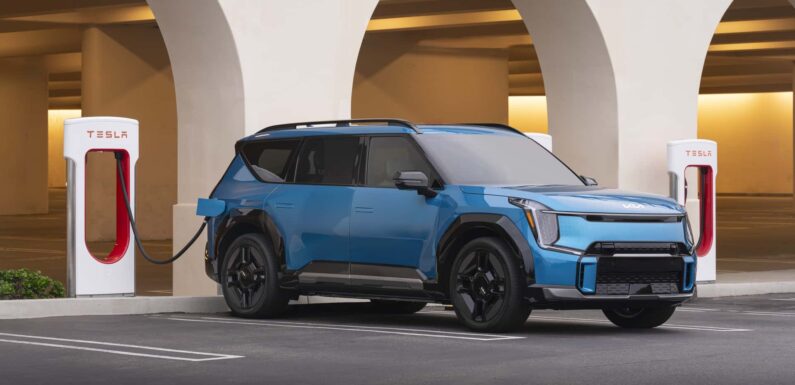 The Kia and Genesis brands, following Hyundai, announced the upcoming switch from the Combined Charging System (CCS1) charging connector to the Tesla-developed North American Charging Standard (NACS) in North America.
All three companies are part of the broader Hyundai Motor Group, meaning the entire group will make the switch simultaneously, starting with new or refreshed models in Q4 2024 – about a year from now.
Thanks to the NACS charging inlet, new cars will be natively compatible with the Tesla Supercharging network in the United States, Canada and Mexico.
The existing Kia, Genesis, and Hyundai cars, compatible with the CCS1 charging standard, will also be able to charge at Tesla Supercharging stations once the NACS adapters are introduced, starting in Q1 2025.
Separately, the new cars with the NACS charging inlet will be able to use CCS1 adapters for charging at older CCS1 chargers.
Genesis GV60 at a Tesla Supercharging station
Hyundai Ioniq 5 and Ioniq 6 at Tesla Supercharger station in San Clemente, California
Kia's press release also clarifies that EV owners "will have access and autopay convenience using Tesla's Supercharger network via the Kia Connect app once a software upgrade is completed." All the necessary features, like searching, locating, and navigating to Superchargers will be included in the car's infotainment and phone app, with additional info about charger availability, status, and pricing.
None of the three brands mentioned what might be the fast charging power output of Tesla's V3 Superchargers, which do not currently support voltage higher than 500 volts. Hyundai Motor Group's E-GMP platform EVs have battery packs with 600-800 volts. To utilize the full fast-charging potential, a higher voltage is required (otherwise, power output will be limited).
As we wrote several times previously, it's believed that the second configuration of Tesla Superchargers, probably combined with the V4 dispenser design, will be able to charge at up to 1,000 volts. Tesla promised this a year ago, nonetheless, it probably will apply only to new Superchargers (or retrofitted with new power electronics).
The key thing is that the Hyundai Motor Group would rather not join the NACS switch without securing long-term high-power charging capabilities (one of its advantages), at least as good as when using the existing 800-volt CCS1 chargers. We are just wondering when the first 1,000-volt NACS sites will be available.
By the way, Hyundai and Kia – together with several other brands – outlined a plan to establish a new, joint venture charging network in North America, which will have at least 30,000 individual chargers.

Source: Read Full Article