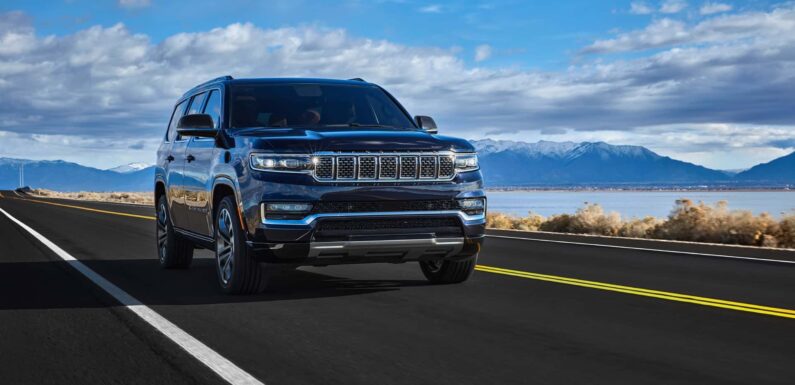 Jeep released a number of updates for its range-defining Wagoneer and Grand Wagoneer SUV on Thursday, the biggest being the discontinuation of the available Hemi V-8 engine. From now on, the only powertrain option in the big-boy Jeeps will be Stellantis's twin-turbo Hurricane straight-six. 
"The Hurricane I-6 (420-hp version) is std across the Wagoneer lineup," a Jeep spokesperson told Motor1. While that doesn't say anything about the V8 directly, Jeep's own configurator the 2024 Wagoneer and Grand Wagoneer no longer has the Hemi as standard or an option.
For the standard Wagoneer and the long-wheelbase Wagoneer L, the Hurricane straight-six gets 420 hp and 468 lb-ft of torque. Jeep says the engine, which was previously available as an option above the base 392-hp 5.7-liter V-8, is up to 15 percent more efficient than the naturally aspirated eight-cylinder. Step up to the Grand Wagoneer, and that same engine is rated at 510 hp and 500 lb-ft of torque.
As before, the normal Wagoneer gets three available levels of Quadra-Trac 4-wheel drive systems available, including a version with a low-range transfer case and an electronic limited-slip differential in the rear. There's also air suspension for up to 10 inches of ground clearance.
Despite the loss of V-8 power, Jeep still gives the Wagoneer a best-in-class tow rating of 10,000 pounds for 2024, the most of any SUV on sale today. The company didn't give updated towing capacity numbers for the Grand Wagoneer, though if we had to guess we bet last year's rating of 9860 pounds goes unchanged. 
The Grand Wagoneer II trim level is also being replaced for 2024 for a new trim called the Grand Wagoneer Obsidian. It adds a handful of black exterior trim pieces and a set of lovely 22-inch polished wheels with black inserts.
The loss of the Wagoneer's and Grand Wagoneer's V-8 means there are only two Jeeps you can still order with a V-8 engine: The Grand Cherokee L, and, hilariously, the Jeep Wrangler Rubicon 392. If you've always dreamed of owning a new Jeep with eight cylinders, we suggest getting your order in soon. Because these cars won't be here forever.
Source: Read Full Article