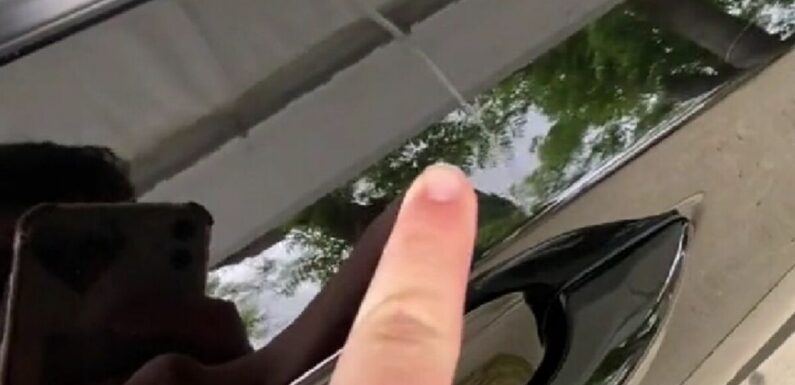 Many drivers have experienced the frustration of noticing a scratch in the paintwork of their car for the first time.
However, whilst scratches can easily worsen the appearance of a car, a TikTok user has demonstrated how removing imperfections can be a straightforward experience.
In the video, the social media user Ovet Reynoso explained that minor scratches can be removed with simple tools.
"You're going to want to attach this pad onto a drill, just like that, that should be ready to go. Then you want to apply some Scratch X onto the pad in a little 'X' formation.
"Then grab the buff head [pad] and you want to smear [the Scratch X] everywhere at speed. Now go ahead and grab your microfibre cloth and wipe off all the excess."
READ MORE: 'I'm a car expert – this cheap device makes an old car feel like a Tesla'
Removing a scratch on his car, Ovet used a scratch removal liquid found in most supermarkets, gently applying it to the bodywork with a makeshift buffer, made from a pad and a drill.
Whilst this method works well, removing or hiding many scratches in the paintwork, drivers should make sure that the area of the car they are working on is clean beforehand.
If a motorist tries to buff a part of the car that is covered in dirt, sand or other abrasive materials, more scratches can be created.
Don't miss…
Calls for more action to be taken as only 25 percent of EVs go to private buyers[ANALYSIS]
Drivers urged to follow little-known 20p coin hack to cut fuel consumption[INSIGHT]
Drivers warned to slow down when driving on slippery surfaces after heatwave[REPORT]
We use your sign-up to provide content in ways you've consented to and to improve our understanding of you. This may include adverts from us and 3rd parties based on our understanding. You can unsubscribe at any time. More info
Before trying the trick out for themselves, drivers should also check the kind of scratch that they wish to remove.
Light scratches, marks in the clear coat on top of the paint, can easily be removed by wiping the area with a cloth featuring some acetone or polishing compound.
However, scratches within the paintwork will typically require owners to initially rub the area with fine-grit sandpaper before applying the scratch remover.
Many vehicle accessory shops and supermarkets also stock scratch repair kits, which feature the type of sandpaper required in addition to the remover and a microfibre cloth.
However, if the scratch goes deeper than the paint, with the primer or bare metal of the car visible, it is likely that the area will need to be repainted.
No matter how deep the scratch is, it is also important that motorists do not try to polish the area too hard, which could cause further damage to the vehicle.
Source: Read Full Article