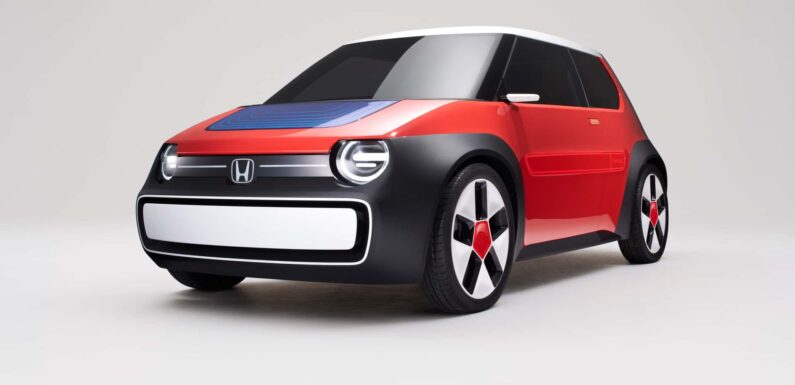 Honda has announced a comprehensive lineup for the 2023 Japan Mobility Show where it's planning to host several world premieres. Chief of which will be the Specialty Sports Concept for which the automaker isn't releasing any images or teasers just yet. Details are also shrouded in mystery, although we do know it's going to be purely electric and fun to drive despite lacking an internal combustion engine.
We're being told that "the joy of driving and distinctive individuality of this model will enable people to transcend their everyday life." We'll have to wait and see whether it has some connection with the Sports EV Concept, although that one is already six years old, having debuted at the 2017 Tokyo Motor Show. 
Honda at 2023 Japan Mobility Show
The other world premieres scheduled for the 2023 Japan Mobility Show are far less exciting. Painted in red with a white roof, the cutesy SUSTANIA-C Concept looks like a downsized Honda e with a body made from acrylic resin that can be recycled and reused. It's the same story with the Pocket Concept, a pint-sized motorcycle conceived with environmental sustainability in mind by wasting fewer resources.
As for the CI-MEV, it takes the shape of a diminutive two-seater EV hatchback intended for last-mile mobility and equipped with automated driving tech. Honda has conceived the concept for areas where there's no public transportation available or for people unable to walk long distances.
Finally, the SC e: Concept has a name that might make you think of Renault's naturally aspirated gasoline engines (SCe) but it's an electric motorcycle with swappable batteries. It gets its juice from a pair of Honda Mobile Power Pack e units.
The 2023 Japan Mobility Show will start on October 25 with the first press day. Honda is also bringing the Prologue Prototype for its local premiere. Mitsubishi is attending the show to unveil a new lifestyle vehicle.
Source: Read Full Article