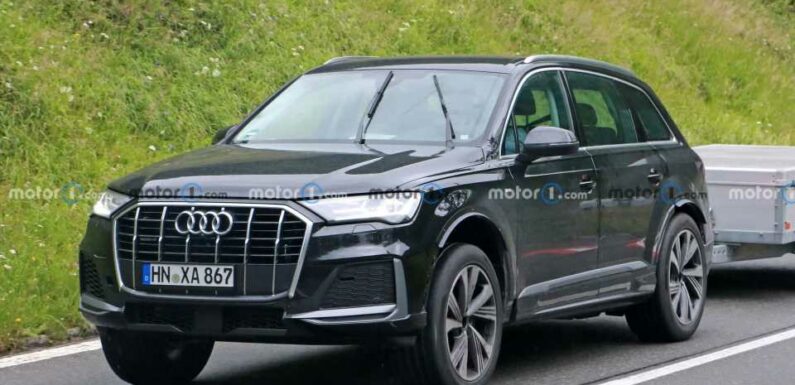 Having been unveiled in early 2015, the second-generation Audi Q7 is getting a bit long in the tooth. There was a facelift in 2020 to spruce up the posh SUV but the luxobarge is past its prime, especially since its rivals are much younger. Spy shots have hinted a second update for the current model is planned but this fresh batch of images shows us something else.
While another facelift might be planned, it looks as though the Four Rings are already testing the next-generation vehicle. Caught in the Alps, this mule appeared to be towing a dynamometer. It largely used the current model's body but with extended wheel arches. It could be an early sign the revamped Q7 will have wider tracks. It looks a bit wonky from the side because of the ungainly wheel gap at the front whereas the rear is hunkered down. Perhaps Audi was testing an evolution of its air suspension earmarked for the third-generation vehicle.
Next-generation Audi Q7 test mule spy photos
If you still have doubts about this being the next-gen Q7, our spies were able to peek inside while the vehicle was stationary. Being an early test mule, it's a work in progress, but it's easy to see the revamped dashboard with a large center screen. When the folks from Ingolstadt revised the current generation, they gave it a dual-screen setup. That might be gone with the next iteration, along with the bulky gear lever since this Q7 has a small selector.
Provided the existing Q7 will indeed get another facelift soon, it'll remain on sale for at least a couple of years. That means its replacement won't arrive until 2025 – the last year for new cars with combustion engines from Audi. From 2026, the company will only launch EVs. It has already announced to end production of ICE-powered vehicles in 2033. There could be an exception as the company might still build cars with gasoline engines in China for a while, depending on demand.
The Q7 has never been a true rival for the Mercedes GLS or the BMW X7 since its third row is rather cramped. However, Audi could address this issue with a bigger and more spacious Q9 due in 2025, according to an August 2022 report from Automotive News. Dealers in the US have apparently been informed about the new model.
As early as June 2018, Audi design boss Marc Lichte was talking about how he had "so many ideas" for a range-topping SUV positioned above the Q7 and the swoopy Q8. At the other end of the "Q" lineup, the not-for-America Q2 will be phased out after the current generation runs its course, without a replacement planned.
Source: Read Full Article