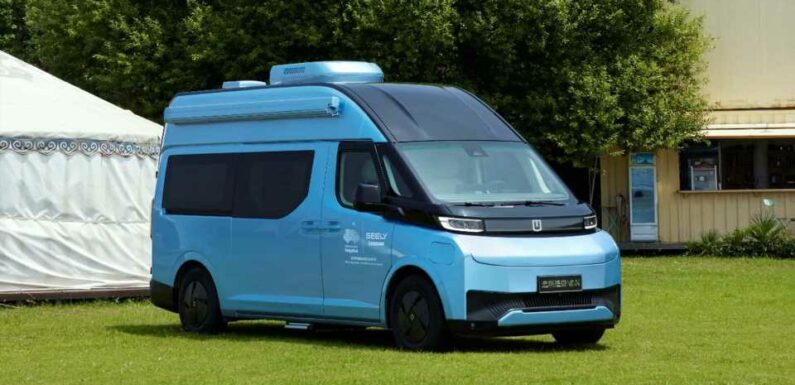 China's Farizon Auto, which is part of Geely's portfolio, unveiled a new modular commercial vehicle named SuperVan which has a swappable high-voltage battery pack and benefits from drive-by-wire technology.
According to the company, the van can also be fitted with a methanol range extender and can output up to 10 kilowatts of 220-volt AC power from its battery pack that can be used for all sorts of tools or outdoor appliances.
Shown here in camper form with a pillarless side opening, the SuperVan – a name that has been used previously by Ford for very fast Transit vans – can be configured for multiple uses thanks to the aforementioned drive-by-wire tech that eliminates the physical links between the driver controls and the wheels.
Gallery: Farizon Auto SuperVan
Instead of a mechanical connection between the brake pedal and brake calipers, there's a wire that transmits signal interactions, and the same goes for the steering and acceleration. This, coupled with the fact that the body can be detached from the rolling chassis, means that Farizon Auto's van can be easily adapted to have a longer or shorter wheelbase, different types of suspension, or different steering setups, depending on what the customer needs.
Whatever the configuration, though, Geely – Farizon Auto's owner – says that the so-called new energy vehicle (NEV) includes adaptive cruise control, city and highway auxiliary driving, fatigue monitoring, an intelligent speed limit assistant, and a 360-degree digital panoramic view. It also boasts intelligent power charging, scheduled charging, digital keys, and the ability to control certain features from a smartphone app.
With this being said, the company hasn't released any details about battery capacity or recharging speeds, but seeing how the SuperVan is described as "an industry innovation scene experiment," these specs are probably less important than the headlining battery swap capabilities and drive-by-wire tech.
Inside, the photos show a square digital instrument cluster and a wide central infotainment touchscreen, as well as what seem to be several storage compartments on the center console. There's also a full-width shelf above the windshield, but the rear-view mirror is nowhere to be seen, hinting at a possible digital mirror that feeds video to the infotainment display, but the official info doesn't mention this feature.
Farizon Auto was established by Geely in 2016 and currently offers a lineup of new energy vehicles that include all-electric light commercial vehicles, urban buses, coaches, and a methanol-powered heavy truck.
Source: Geely
Source: Read Full Article