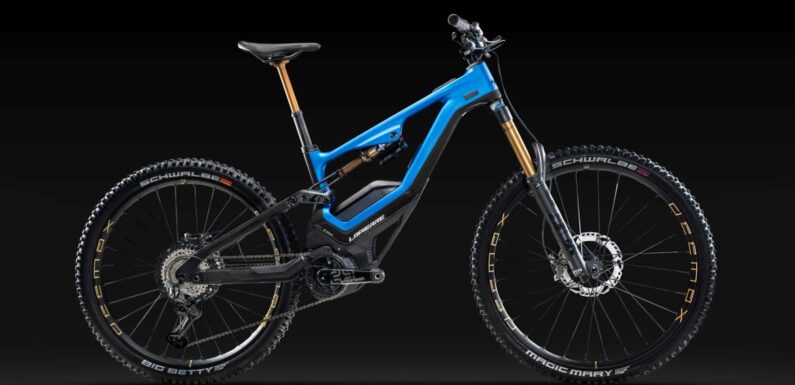 French bicycle manufacturer Lapierre has a wide selection of models in its roster catering mostly to the high-end cycling market. Its road and mountain bikes boast some of the latest tech and components from the most premium of brands, and the brand has always been synonymous with high-performance cycling.
With electric bicycles growing in popularity all around the world, Lapierre has also entered the segment with quite a few impressive offerings. The latest of which is part of the growing premium electric mountain bike segment, and it's called the Overvolt GLP. The new e-bike has been developed with top-tier off-road performance in mind, so much so that Lapierre worked with Nicolas Vouilloz and Jérôme Gilloux, both professional mountain bike racers, in the development of the Overvolt GLP.
Now in its third generation, the Overvolt GLP introduces a variety of enhancements when compared to its predecessors. Among the noteworthy improvements include revised suspension hardware designed for enduro riding and advanced trail riding. Additionally, a bigger battery with a 725-watt-hour capacity now promises 50 percent more range than the previous model.
While we're on the topic of performance, the Overvolt GLP relies on the ultimate top-tier motor from Bosch, the Performance CX Race, renowned for delivering 600 watts of peak power and 85 Newton-meters of torque. All that power can be toggled through various settings accessible through the Kiox 300 display.
Apart from the bigger battery and the use of a top-tier motor, the new Lapierred Overvolt GLP boasts a cutting-edge frame made out of UD SLI Carbon. The lightweight yet durable material is said to be developed by Lapierre with IM/VHM fibers for improved rigidity .On top of that, the top tube and pivot points on the rear suspension have been redesigned to provide a sturdier housing for the powerful motor.
Other notable features include a mullet setup with a 29-inch front and 27.5-inch rear wheel. The geometry has also been tweaked to enhance uphill performance, with a 64-degree head angle and a 77-degree seat tube angle providing optimized ergonomic efficiency.
In terms of pricing and availability, the base model of the Overvolt GLP, the Elite, is by no means a budget-friendly option retailing for 9,499 Euros, or approximately $10,000 USD. The builds only get more expensive from here, with the mid-tier SE model retailing for 12,000 Euros ($12,650 USD), and the top-of-the-line Team model carrying a price tag of 12,499 Euros (approximately $13,180 USD).
Sources: E-Bike News, Bike Rumor
Source: Read Full Article