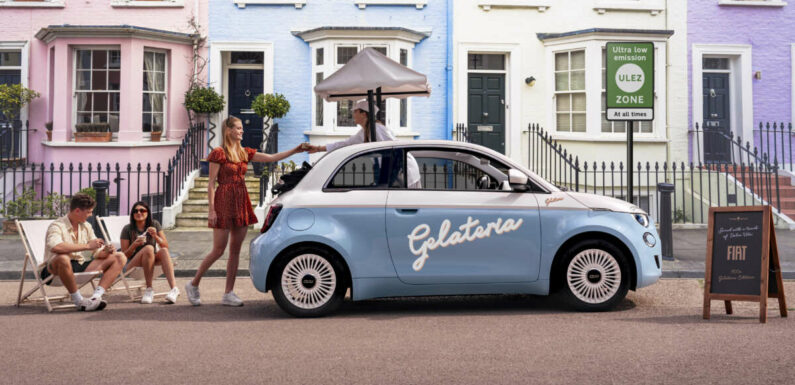 Hot weather is synonymous with ice cream for many, and Fiat United Kingdom has created a one-off concept called the 500e Gelateria Edition, based on the Fiat 500e Convertible, as the UK enters its final week of summer.
The one-off concept is built with frozen gelato trays mounted atop a cabinet with dual, battery-powered freezers that will hold up to 30 litres of gelato at a time, or enough to serve around 300 people a day, in addition to accessories like the all-important cones, tubs and spoons.
The second row of seats in the 500e have been removed for the customised interior of the Gelateria Edition, to facilitate ease of moving around for the server as they serve gelato to customers over the rear of the vehicle. This one-off wears a two-tone scheme that "evokes the spirit of a classic, local Italian gelateria of the 1950s," wearing a combination of cream and light blue with matching multi-spoke alloys.
A retro-styled canopy can be raised once the fabric roof is lowered to provide shade for the gelato display, and the 500e Gelateria Edition is equipped with a a jingle "inspired by the operatic sounds of Italy", notifying passers-by of its presence when a dashboard-mounted button is pushed.
For upholstery, the 500e Gelateria Edition gets a cream dashboard and reupholstered driver's seat, while there is room for deck chairs to be stowed in the car for its gelato customers' use.
The regular production Fiat 500e offers a range of up to 199 miles (318.4 km) on the WLTP testing standard, according to Fiat; a 42 kWh lithium-ion battery powers a 118 hp single motor that drives the 500e from 0-100 km/h in nine seconds, to a 150 km/h maximum. the compact hatch comes equipped with ADAS features that enable Level 2 autonomous driving.
What the brand has called "the world's smallest gelateria" is what it envisions to be the ice cream van of the future, and the Fiat UK-commissioned concept emerges as the London Ultra Low Emission Zone (ULEZ) has expanded to cover all London boroughs effective today, according to the RAC.
The ULEZ operates 24 hours a day and is aimed at discouraging the use of older, more polluting vehicles from entering the UK capital, where cars, vans or motorycles which do not meet ULEZ emissions standards will be hit with a daily charge of 12.50 pounds sterling (RM73.22).
The British public appear to be keen consumers of ice cream, as 92% have bought ice cream from a van, and 48% said they would be upset if the ice cream van were to disappear, according to research conducted by Fiat.















Looking to sell your car? Sell it with myTukar.
Source: Read Full Article