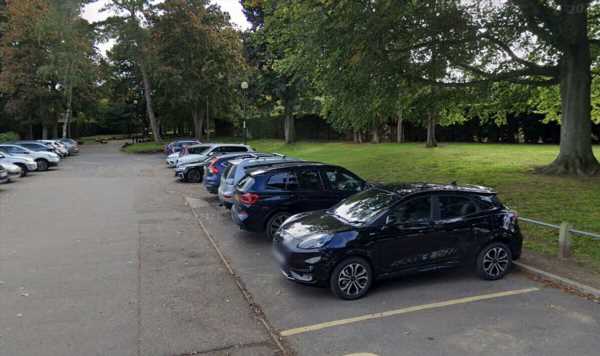 GB News guests debate using electric cars in 2022
Electric car owners have been unable to park at a historic nature spot after an apparent blunder by the local council.
EV owners have been left baffled by a sign which clearly states vehicles over a certain weight limit cannot stop in the area.
The message states that vehicles over 1,524kg (1.5 tonnes) would not be accepted, preventing almost every electric vehicle from using the bays.
The sign is located in the picturesque Eaton Park just three miles from Norwich City Centre.
The mistake was spotted by electric car owner John Fielding while on a walk earlier this week.
READ MORE Drivers in rural areas pay 15 percent less car tax due to little-known rule
Reacting to the issue, Mr Fielding commented: "What have the council got against electric cars?"
Complicated battery technology installed in electric vehicles makes them a lot heavier than traditional petrol and diesel models.
Experts at BeCharge warn the Tesla Model 3 has a total weight of around 1,600kg and would therefore be unable to use the car park.
The popular Nissan LEAF weighs 1,580kg while the plush Tesla Model X is around 2,400kg.
DON'T MISS
Expert warns new UK electric car charging laws do not solve all issues[LATEST]
Local councils will be forced to install EV chargepoints in new crackdown[ANALYSIS]
Classic 1960s Ford Mustang given amazing 'future-proof' electric car restoration[PICS]
Advert-free experience without interruptions.
Rocket-fast speedy loading pages.
Exclusive & Unlimited access to all our content.
The new signs were fitted after a controversial decision to introduce parking charges earlier this year.
Rates start from just £2 for four hours and became the first park in the city to charge for parking.
Norwich City Council has accepted the sign does present "issues" for electric car owners.
However, officials appeared to welcome electric car owners to ignore the rules if they wanted to use the park.
In a statement, they admitted they would not take action against any EV owners who used the bays until the error was solved.
A spokesperson told Eastern Daily Press: "Following our relatively recent decision to introduce charges at Eaton Park to bring in money to help pay for essential council services, it was always our plan to review its progress.
"Part of this will include reviewing any weight restrictions for cars on our signage as we fully acknowledge the issues this presents with electric vehicles.
"In the meantime, we want to reassure any park users who plan to park at Eaton that we will not be taking enforcement action on cars that exceed the weight limit."
Express.co.uk have contacted Norwich City Council for further comment.
Source: Read Full Article