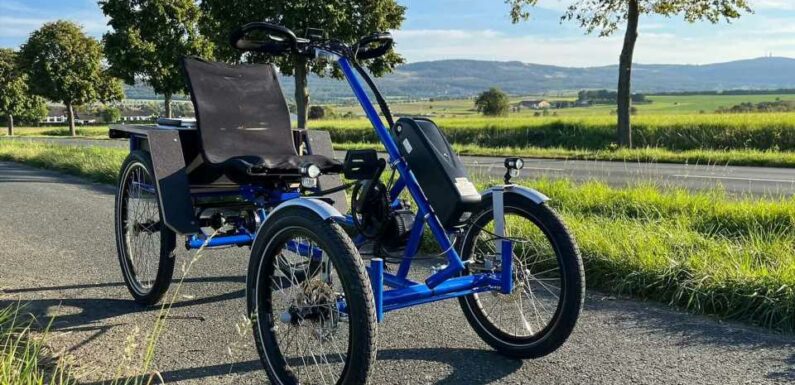 Electric cargo bikes are celebrated for their practicality and versatility. In fact, some people find them so useful that they're using electric bikes instead of their cars when it comes to daily commuting in and around the city. While e-bikes in general are picking up steam at an unprecedented rate, electric cargo bikes are a rapidly growing subsegment of the two-wheeled world.
It's because of interesting bikes like the E-Velo-Cabrio that people are getting even more utility out of active mobility solutions. What's interesting about the E-Velo-Cabrio is the fact that it ditches the standard two-wheeled configuration of e-bikes in exchange for not three, but four wheels. As such, the E-Velo-Cabrio opens doors of active mobility to folks who otherwise wouldn't be able to ride a bicycle, as there's no need to balance when riding this four-wheeled cargo bike. More specifically, the bike rolls on two 20-inch front and two 24-inch rear wheels.
A sturdy steel frame ensures that the E-Velo-Cabrio is more than capable of hauling cargo, while its compact dimensions of 187 x 85 x 65 centimeters (73.6 x 33.4 x 25.5 inches) ensure that it's small enough to ride on most standard-size bike paths. Overall, the E-Velo-Cabrio tips the scales at just 48 kilograms and has a standard payload capacity of 120 kilograms. For those looking to carry an even heavier load, there's an option to upgrade to a more heavy-duty setup capable of carrying 150 kilograms.
The E-Velo-Cabrio is offered in both electric and non-electric variations, but of course, what we're interested in here is the electric version. Featuring a Bafang mid-drive motor specifically designed for cargo bikes, the E-Velo-Cabrio promises a nominal power output of 250 watts, in compliance with e-bike regulations in Europe. A 10-ampere-hour battery pack promises ample range in between charges, while a top speed of 15.5 miles per hour is promised on pedal assist mode.
One of the defining features of the E-Velo-Cabrio is the bike's modular rear compartment. Here, users can mix and match all sorts of accessories to carry all sorts of stuff. From child seats, transport boxes, weatherproof storage, and all sorts of luggage and cargo solutions, the E-Velo-Cabrio's got you covered. Of course, a setup as versatile as this will appeal to a wide user base, as the company says that it's designed to fulfill the needs of families, commuters, and even small businesses alike.
As for pricing and availability, the base price for the E-Velo-Cabrio starts at 3,950 Euros, or about $4,233 USD. It's worth noting, however, that this is without the motor. Should you wish to slap on that Bafang motor, as well as a selection of other accessories, you'd be looking at a price tag closer to the 7,000-euro ($7,500) mark.
Sources: E-Bike News, E-Velo-Cabrio
Source: Read Full Article