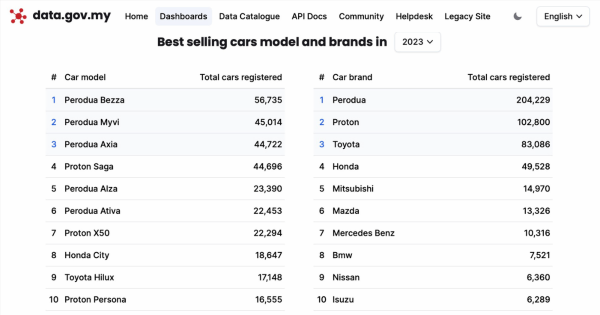 The Department of Statistics Malaysia's data.gov.my portal now has JPJ registration data by make and model, monthly all the way from the year 2000 to the latest August 2023 data.
A few things to note – the data reflects the month and year that a particular car make and model was registered with JPJ. It doesn't reflect the year of manufacture for the car, so parallel import units may change the data a little, as a car with a significantly different year of manufacture may be registered at JPJ at a totally different year.
The best selling national and non-national cars
For 2023 year to date, the Perodua Bezza seems to top the charts as the true 'car king' of Malaysia, beating its siblings the Myvi and Axia which come in second and third place respectively. Fourth place goes to the Proton Saga. Malaysia is truly a country where affordable sedans rule.
Kudos to the Honda City and the Toyota Hilux though, for being the sole two non-national models to break into the top 10 list. This means the Honda City is the best-selling non-national car.
As for the Perodua Myvi, JPJ registration data seems to indicate its popularity peaked in 2013 when over 98,000 units of the Myvi was registered with JPJ.
We checked our archives for what happened to the Myvi in 2013 but saw nothing particularly significant other than the fact that it was the year an 'S-Series' version of the Myvi was launched, but it was launched together with S-Series versions of the Viva and Alza.
Just for fun, we throwback to the year 2000 which is the oldest year available in the dataset. The top seller in 2000 was the Proton Wira, with second place going to the Perodua Kancil and third place to the Iswara.
Things weren't so different back then – only two non-national models broke into the top 10 as well, with the Toyota Unser at 9th place and the Nissan Vanette at 10th place.
The site also tells us that Malaysians have put an extra 526,454 cars on the road this year, and 447,428 motorcycles.
Click here to access the dashboard and tell us what interesting things you have found!
Looking to sell your car? Sell it with myTukar.
2019 HONDA CITY E I-VTEC 1.5L
2018 HONDA CITY E I-VTEC 1.5L
2018 HONDA CITY V I-VTEC 1.5L
2022 HONDA CITY HATCHBACK E:HEV RS 1.5L
2019 HONDA CITY E I-VTEC 1.5L
2020 VOLKSWAGEN TIGUAN 280 TSI HIGHLINE 1.4L
2018 HONDA CIVIC S I-VTEC 1.8L
2019 HYUNDAI TUCSON TGDI 1.6L
2020 HONDA CR-V TC-P 4WD 1.5L
2020 PERODUA MYVI H 1.5L

Source: Read Full Article