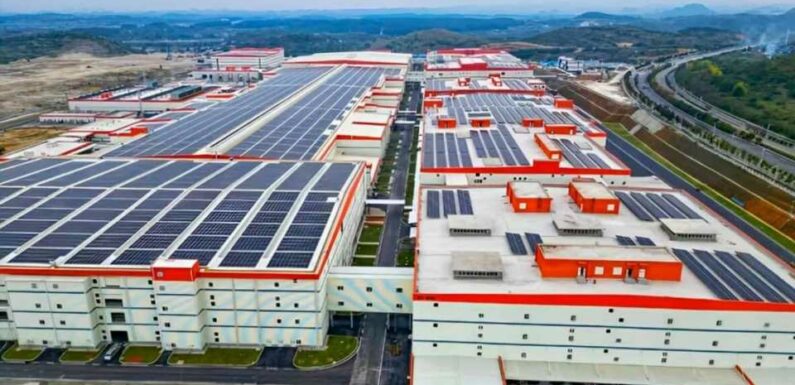 China's Contemporary Amperex Technology (CATL), the world's largest battery supplier by capacity, has opened a new battery production phase claimed to be capable of manufacturing one cell per second.
CATL, a major battery supplier to brands like Tesla, Mercedes-Benz, BMW, and many others, was able to achieve this blistering pace thanks to a highly automated production line at its power and energy storage base in Guian New District in China's southwestern Guizhou province, the company said in a press release.
Its new manufacturing facility is spread over 0.36 square miles (0.95 square kilometers) and is being built in two phases with a planned combined annual capacity of 60 gigawatt-hours – the $960 million first phase is already operational and has an annual production capacity of 30 GWh of power and energy storage batteries.
Thanks to 95 percent automation, not only can it produce one lithium-ion battery cell per second, but it can also assemble an entire battery pack in just 2.5 minutes. The average time for producing individual cells and battery packs is unclear, but irrespective of that, putting such high-density batteries together in such a short time sounds impressive.
Provided the scale of CATL's operations, there's probably no reason to be skeptical of these claims. CATL was by far the largest automotive cell supplier worldwide in the first six months of 2023, deploying almost 93-gigawatt hours between January and June 2023, our analysis of EV Volumes data showed.
It's possible that CATL might end up deploying 200 GWh by the end of the year, ahead of competitors like LG Solution, BYD, Panasonic, SK On, and others. The new production facility is likely to bolster its advantage, and potentially help accelerate EV production rate for its customers with increased supply.
Source: CATL via Cnevpost
Source: Read Full Article