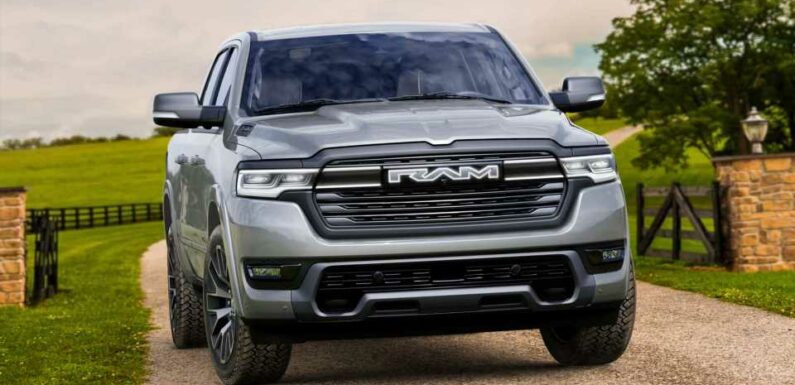 The all-new 2025 Ram 2025 full-size pickup truck is here (at least in official photos – more on this in a bit), and it will be available in multiple versions, including gasoline- and battery-powered.
We'll leave the full-on gas-guzzling variants for our colleagues at Motor1.com to cover. Still, we're not too far from the tailpipe emissions here at InsideEVs either, because Stellantis – which owns Ram – decided to set itself apart from the rest of the industry and offer an extended-range electric vehicle, or EREV, in the form of the 2025 Ram 1500 Ramcharger.
A full-electric version dubbed the Ram 1500 REV is also in the works, with a launch date expected sometime in the fourth quarter of next year, but we don't have any details yet.
So for now, let's focus on the pickup that might make or break Stellantis in the electrified era, offering what some might see as the best of both worlds, starting with the driving range.
Two electric motors, a battery, and a 3.6-liter V6 under the hood
The automotive behemoth behind the new pickup says the Ramcharger – a nameplate that used to be glued onto a Dodge SUV until the early 1990s – has a "class-shattering unlimited battery electric range." Which is, well, not true.
With a drivetrain configuration similar to that of the discontinued Chevrolet Volt, Ram's new work truck combines two electric motors (one at the front and one at the rear), a battery pack, and a gas-powered generator.
The front electric drive module (EDM), as Ram calls it, delivers 250 kilowatts (335 horsepower) and the rear one adds an extra 238 kW (319 hp) to the mix for a combined output of 663 hp and 615 pound-feet of torque, enabling a zero to 60 miles per hour sprint in 4.4 seconds.
Gallery: 2025 Ram 1500 Ramcharger
The EDMs combine the motor, gearbox, and inverter, and get juice from a floor-mounted 92-kilowatt-hour battery pack that can be recharged in two ways: plugging into an AC or DC power source, at up to 145 kW, or with help from the 3.6-liter V6 engine that acts as a 130 kW on-board generator. The latter is fed gasoline from a tank, which is probably why Stellantis claims the Ramcharger has "unlimited battery electric range," but everybody knows that gas cars run on, well, gasoline and that you have to refuel at some point.
Moreover, even the automaker says just a few lines below the bombastic press release title that the targeted range is up to 690 miles, so take that as you may.
It's worth noting that the not-so-zero-emissions engine is not mechanically connected to the drivetrain in any way. It only sends electricity to the high-voltage battery through the on-board generator and can also direct electrons to the EDMs at the same time as the main battery to provide maximum power to the wheels.
Vehicle-to-vehicle (V2V) and vehicle-to-home (V2H) bidirectional charging capability is offered as standard, meaning one could power an entire house from the pickup's battery pack or help another EV to get back on the road if it has a low state of charge (SoC) level. There's also an onboard power panel in the bed that can provide up to 7.2 kW.
Towing and payload
Built on the new STLA Frame body-on-frame architecture that was designed specifically for full-size EVs, the 2025 Ram 1500 Ramcharger can tow up to 14,000 pounds with a class 5 hitch and has a best-in-class maximum payload capacity of 2,625 lbs, Stellantis says.
By comparison, the 2024 Chevrolet Silverado EV, which is all-electric, can tow up to 10,000 lbs and haul up to 1,458 lbs in the bed, while the 200+ kWh battery pack offers a range of up to 450 miles. Meanwhile, the Ford F-150 Lightning, which is also full-electric, can tow up to 10,000 lbs and has a maximum payload capacity of 2,235 lbs, while the 131-kWh extended-range battery offers up to 320 miles of range.
There's an all-new power tailgate at the back, as well as a so-called RamBox: a lockable storage in the bed that's illuminated, weatherproof, and has a 115-volt outlet inside. There are also drain plugs on the bottom of the storage bins.
Comfort and goodies
The all-new extended-range 2025 Ram 1500 Ramcharger comes as standard with a multi-link rear suspension and active-level air suspension all-around that offers five settings: entry/exit, aero, normal, off-road 1, and off-road 2.
Inside, the pickup features a combination of materials such as carbon fiber, metal, and leather. The top-of-the-line Tungsten trim level, for example, comes with a suede-wrapped headliner, visors, and A- and B-pillars, as well as heated, ventilated, and massaging front seats with 24-way power adjustment covered in quilted Natura Plus leather.
The Tungsten also brings a Klipsch Reference Premiere audio system with 23 speakers, dual wireless chargers, and a metal pedal kit.
Screenwise, the 2025 Ram 1500 comes with a total of four LCDs in the fully kitted-out variants, including a 12.3-inch digital instrument cluster, a 14.5-inch central touchscreen running the Uconnect 5 infotainment system, a 10.25-inch passenger screen, and a digital rearview mirror. Plus, there's a head-up display for the driver.
The front passenger screen can only be viewed by the person sitting next to the driver and can show things like navigation info, entertainment (via an HDMI connection), and the pickup's exterior cameras.
The new American pickup can be unlocked and started with the help of a digital key that's stored on the owner's smartphone. This can be shared with other users but the owner retains full control of what functions the other drivers can access. With this being said, a traditional key fob is still offered as standard, and an NFC-based smart card is offered as a backup, in case the main smartphone that has full rights to the digital key is not available.
Price and availability
Pricing for the 2025 Ram 1500 Ramcharger hasn't been announced yet, and Stellantis didn't provide a concrete date when it will be available for sale. Instead, the official release mentions that the gasoline-powered versions will reach dealerships in the first quarter of 2024, the all-electric Ram 1500 REV will come in the fourth quarter of next year, and the Ramcharger EREV will follow.
Source: Ram
Source: Read Full Article