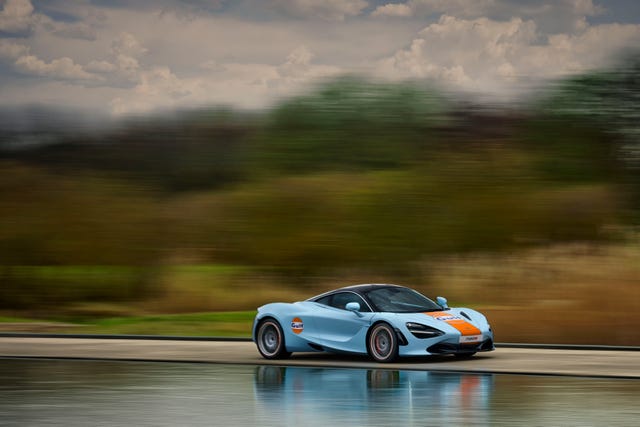 There are a handful of international racing liveries that are immediately recognizable by their color scheme: John Player Special, Martini & Rossi and, maybe the most obvious of all, Gulf Oil. The Gulf Oil blue and orange paint scheme has graced legendary race cars and street machines alike and is adding another heavy hitter to its ranks: the McLaren 720S. That's right, McLaren has thrown the Gulf Livery on a brand new 720S to celebrate the revived relationship between the two brands.
For those out of the loop, McLaren's history with Gulf Oil, and this livery, spans decades and disciplines. From the 1960s and 1970s campaigns in Formula 1 and Can-Am to the 1990's with the McLaren F1, Gulf's name graced McLaren cars. While the livery might not be exactly the same as McLaren's Can-Am machine, it does have a strong connection to the brand.
According to McLaren, the team at McLaren Special Operations invested 20 days finishing this orange-over-blue 720s. Along with the obvious body color, this 720S features the Gulf paint colors on its brake calipers, key fob shell and interior. While that 20-day timeline speaks to the quality of the finish on this 720S, it should also speak to its rarity. McLaren isn't going to add this finish to its standard production offerings for the 720S, though you can add it to your car through the MSO program.
If you're wondering why McLaren would celebrate this Gulf relationship now, look no further than the cars heading to the Monaco Grand Prix. The McLaren F1 machines will also sport this iconic Gulf Livery at one of the most historic F1 events on the schedule. We can only imagine that this special McLaren road car will be on display to those in Monaco.
Underneath the paint is the run-of-the-mill McLaren 720S. That's good. While more power or a special handling package would have been a nice addition, the standard 720S is one of the best sports cars money can buy. With the twin-turbocharged, 4.0-liter V8 sending 710 hp through the seven-speed automatic and to the rear wheels, it's safe to say it doesn't need more power.
McLaren didn't mention how much extra this Gulf paint job will cost, but we can assume it won't be cheap. McLaren's 720S starts right around $300,000, and the process taking 20 days, we bet that it won't be a cheap add-on.
What car would you like to see sport the Gulf livery? Let us know in the comments below.
Source: Read Full Article