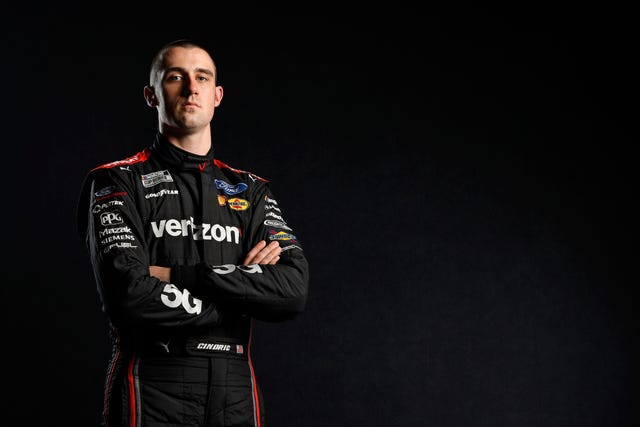 This one was ordained from the start, and almost everyone knew it.
There was never any serious doubt that Austin Cindric would get an opportunity at a top-drawer, Ford-partnered, Team Penske-backed NASCAR Cup Series ride fairly early in his career. After all, he had a lot going for him, not least among them an obvious talent to handle these cars.
His father, Tim Cindric, is the long-time, highly regarded, well-connected president of world-renown Team Penske. In effect, he's Roger Penske's right- (and left) hand man when it comes to motorsports. He's largely responsible for overseeing Penske's championship-winning NASCAR, IndyCar, sports car, and Australian Super Car efforts.
And for sure his kid is more than just another pretty face with a big name. After some serious schooling in his teen years – primarily in sports cars and Rallycross – he ran a handful of Truck Series races in 2015 and 2016 with moderate success. In 2017, when he ran the full Truck schedule for the only time, he won a race and finished eighth in points.
He ran the full 2018, 2019, and 2020 Xfinity Series schedules, winning eight times and advancing in final points each year, from eighth to sixth to first. He's off to a good start this year, having won Saturday afternoon's 300-mile Xfinity opener at Daytona International Speedway. Scheduled for 120 laps, it went 122 before he finally held off Brett Moffitt, the Burton cousins, Harrison and Jeb, and A.J. Allmendinger.
It was Cindric's ninth career Xfinity victory (he also won last summer's DIS road race) and second in a row. His victory in last year's season-finale at Phoenix snapped a modest 13-race losing streak, and more importantly gave him the series championship. "Obviously, we're coming off a lot of momentum with that championship last year, but nothing's guaranteed," the 21-year-old said late Saturday afternoon. "I guess we'll try to do it again (in Sunday's Daytona 500, his Cup debut for Team Penske)."
Cindric gets to race this Xfinity season without a serious professional care in the world. He's already set for next year, headed for the full Cup Series in the legendary No. 21 Mustang from Wood Brothers Racing. (The Virginia-based family has a driver development/technical alliance with Ford and Penske). The deal was announced last fall but was perhaps somewhat overlooked since Cindric was in the midst of his spirited championship battle with fellow Ford driver Chase Briscoe.
At the time, Penske said: "As we continue to position our team for future success, it's important to make sure Austin continues his development in Xfinity with Team Penske. He's made great strides in recent years and has become a consistent winner and a true championship contender. He will continue his natural progression and get some Cup Series experience in 2021, which will help prepare him for a full season in 2022 with the new Next Gen car for Wood Brothers Racing."
And you're not surprised, are you, that Cindric knows exactly how to carry himself and how to say the right things at the right time? After all, he's grown up amidst the most buttoned-down and coached-up people in motorsports. Why, he even spoke approvingly of running another Xfinity season, calling it "beneficial" despite already showing himself as a championship-level driver.
"This is a big step forward in my career long-term," he said last fall, even before he won the championship at Phoenix. "I'm humbled and motivated by the opportunity and the confidence that (everyone) has expressed in my abilities and development as a driver. Every driver wants to advance, and I can't think of a better way to do that than on a clear path with Team Penske that will lead to a full-time opportunity in the Cup Series."
Clearly, he's earned the opportunity. Don't bet against him making it work.
Do you think Austin Cindric has earned the right to move into the NASCAR Cup Series in 2022? Let us know below.
Source: Read Full Article