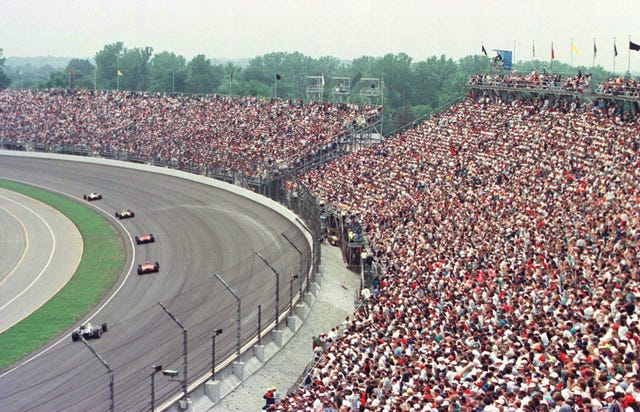 To say the 1996 open-wheel race season was perhaps the strangest ever seen in Indy car racing is an understatement.
The marquee Indianapolis 500 was run without any drivers from Championship Auto Racing Teams (CART), which essentially boycotted the race when the upstart rival Indy Racing League (IRL) began operations that season and issued rules that would allow only eight drivers from CART to make the 33-car field of the "Greatest Spectacle in Racing".
In many ways it was a very uncivil civil war. CART had all the stars of Indy car racing while the IRL had the Indy 500, the biggest race and at the most legendary racetrack in the world, Indianapolis Motor Speedway.
In addition to the battle with CART, the IRL – founded and led by then-IMS president Tony George – sought to upset the open-wheel apple cart, building a series that wanted to increase and emphasize American-born talent over foreign drivers, as well as build an all-oval track series with the Indy 500 as the centerpiece, sort of a Super Bowl of open-wheel racing.
Buddy Lazier passed Davy Jones late to win the first 500 run under IRL auspices.
But perhaps the oddest part of the strangest season ever was that as soon as the checkered flag fell at the end of the 500, it also waved an end to the 1996 IRL season, a campaign that spanned just three races in length, with Buzz Calkins and Scott Sharp sharing the championship.
Autoweek spoke with both Jones and Calkins about the unique nature of 1996 – both the race, as well as the championship. Here's some of what they said: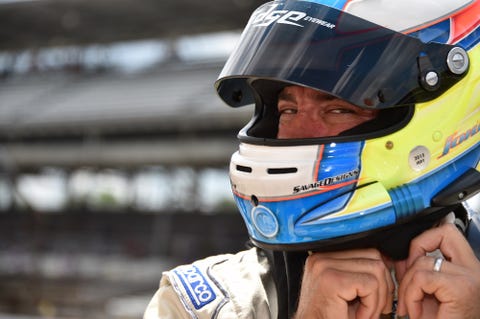 In a sense, Davy Jones barely budged statistically in the 1996 Indianapolis 500. He started second and also finished second in what would prove to be his final career start in the 500.
"Time flies by, it seems like it was yesterday," Jones told Autoweek. "It was a good day. I had an awesome car, a great team and we started on the front row. The whole month of May for us was really positive. We broke Roberto Guerrero's four-lap qualifying record, which had stood for four years. And I think I my record then was broken like four hours later, but at least I got to enjoy it for a little bit (he said with a laugh).
"Starting on the front row was magical. I've been on the front row and also started in the last row, and I think it's a lot easier to qualify for the front row in the Indy 500 than the last row, you know. We led the most laps, had some great pitstops and overcame a (tire) puncture early on in the first part of the race. We then had a little incident with Eliseo Salazar on the front straightaway (Salazar came down on Jones, forcing him to skim the wall) which I feel is what really what cost me the race. Nevertheless, we carried on and the car was still quick. But we were on fumes at the end of the race. When you cycle into the last set of pitstops and get down to the last little bit of the race, you want to turn the fuel mixture up a little bit, which adds about 50 horsepower, but I wasn't able to do that because we had an extra pit stop due to the puncture and had to run as lean as possible just to finish.
"On the (last) restart, Buddy got by me. It was like he took the next gear and I didn't. I did everything I could to just hang with him and see if I could slip by him somehow just before the finish, but I couldn't.
"Still, it wound up being the third-closest finish in history at the Speedway at that time. I think the margin of victory (for Lazier) was like .006 of a second."
Jones, who went on to other racing stardom in sports car racing, can't believe that it has been 25 years since his best-ever finish at Indianapolis.
"I think about it quite a bit," he said. "Indy is not an easy race by any means. You can have a good day, lead the most laps and you can run to victory, but you can also have a difficult day. There's so many things that go on with that event. And I think that's what makes Indy so unique and so special is because an ordinary driver can do really well, while a good driver may not do so well. It's like racing in the rain: all the setups, all the tech stuff is all thrown out the window. It's just you in the car and that's kind of what Indianapolis is all about."
Fans still talk about that race when they encounter Jones, both for his oh-so-close finish, but also the odd circumstances that surrounded it from the CART-IRL standoff. Jones concedes that it was an odd feeling for he and the 32 other drivers racing at Indianapolis, while CART had an "alternative" 500 of its own roughly 230 miles on the same day northwest of Indy at Michigan International Speedway.
"The Indy 500 is the Super Bowl of motorsports," Jones said. "You've got all the big name guys and they're all at the U.S. 500. Yeah, it would have been nice to have Michael and Mario Andretti and Al Unser Jr. and the likes of that in the Indy 500. But if you're with a good team, have a good car and chassis setup and good strategist and piece it all together, it doesn't matter."
Jones, who has lived in Lake Tahoe, Nevada for the past 30 years, has come back to several editions of the 500 since then but will not be at Sunday's race. He will celebrate his 57th birthday on Tuesday.
Jones doesn't like to say he's retired. He remains very interested in most forms of motorsports and still competes in vintage sports car racing, including winning the 2019 VROC (Sports Car Vintage Racers Association) championship behind the wheel of a 1966 Chevrolet Camaro, competing against other former racing luminaries including Willy T. Ribbs and Lyn St. James. He also continues as a brand ambassador for Jaguar and is taking part in several off-road races teamed with Rick Johnson, one of the first mentors for seven-time NASCAR champion Jimmie Johnson.
While someone else may regret coming in second in the world's biggest race of the year, Jones has no regrets.
Although he came up short at Indy, two weeks later, Jones did cross the finish line first, winning another legendary race: the 24 Hours of Le Mans.
"Finishing second by half-a-car length at Indy, I don't look back at it like it was a disappointment because I feel I did the best job as any other driver would have done in my situation," Jones said. "It may have turned out different if I didn't hit the wall with the incident with Salazar, or if I didn't get a puncture or if I wasn't low on fuel at the end of the race. But I look back at it that it was a good race. That's why we race. We race to be competitive. Buddy drove well that year. I could have won it, but that's racing."
Buzz Calkins will forever be known as an Indy car champion – actually, co-champion with Scott Sharp – by virtue of winning the inaugural 1996 Indy Racing League title.
It was a very quick season, lasting just three races, culminating in the season-ending Indianapolis 500 on the Memorial Day weekend.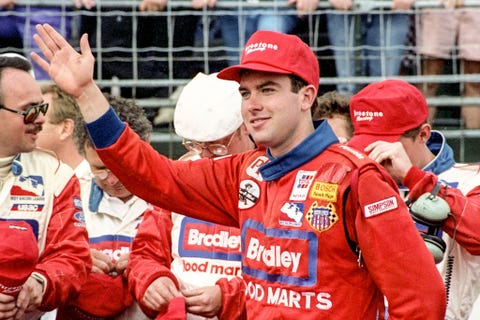 Sharing the title with Sharp is something Calkins will never forget.
"I can't believe it's been 25 years," Calkins said. "And the other strange part was it was a championship that I wound up sharing. (The IRL) envisioned the 500 as the highlight of the season to put some more drama into it, which I don't think they really needed to do. I think most people would probably agree that it wasn't necessary to do … and they didn't do it again after that. Everybody probably agreed that it was best to make (the 500) part of a more traditional season.
"That way, you don't end up confusing the fan base, impact sponsorships, all sorts of stuff. It was kind of like a weird aberration, a one-off thing that they experimented with and played with that year, but it probably wasn't the greatest way to do it."
That a three-race season which began in January and was over at the end of May was disconcerting to many, most notably IRL drivers. They would have loved to take part in more races that season – which ultimately led to longer subsequent seasons after the idea of the Indy 500 being the culminating race was thrown out the window.
"I think there was a lot of talk about having additional races and how it would be nice, but then for teams that were on a more limited budget, you could really focus on those three races as opposed to running a partial season in CART at that point," Calkins said. "There are plusses and minuses to it, but the more races you could add on there helps, especially with fixed costs to start off with were so big."
When Buddy Lazier won the 500, Calkins – who works in commercial real estate these days in Colorado — was a bit taken back that not only had he won the championship but also that he wound up in a tie with Sharp.
"It was a little surprising because we had fallen out of the race early with a broken half-shaft and finished 17th," Calkins said. "I think we didn't do the necessary calculations to figure out that if we had fixed (the half-shaft) and actually stayed in (the race), that we could have won (the championship) outright. So it was a little bit of a surprise for us. I wouldn't say disappointment is the word, but it was like kicking yourself. It would have been tricky to get back out, and the reality is we probably would have only gained a spot or two, but looking back at it, that spot or two would have done it for us (to win the championship). Yeah, we should have fixed it."
One oddity of the co-championship for both Calkins and Sharp is that most sports leagues have established tiebreaker scenarios so as to avoid a tie at the end of a season, preferring – and rightly so – to have one true champion. But somehow, IRL officials apparently forgot about that when they were composing the rules.
"It wasn't in the rules at that point," Calkins said. "I consider Scott a good friend and, yes, we talked about it and we both thought it was a little strange (that there was no tiebreaker). Whether it's pole positions or victories or whatever else to avoid that kind of situation, we both thought it was a little strange that it ended up in a co-championship as opposed to picking one of us."
Even though he will forever be known as an Indy car co-champion, Calkins recalls that the overall situation of the battle between CART and the IRL weighed upon almost everything that season, most notably the 500, when CART boycotted the biggest race in the world, leading to a split that took a dozen years to finally close.
"It was bittersweet because it came in a very controversial time, in a situation that you don't necessarily have much control," Calkins said. "That was between sanctioning bodies, ownership and sponsorships all going on in the background, where from my perspective, I was just there wanting to drive a racecar, to qualify for the Indianapolis 500. I had always set my sights on that and always had dreams of doing."
Compounding the issue was the fact Calkins, who just turned 50, won the first-ever IRL race held four months earlier at the now demolished Walt Disney World Speedway near Orlando, Florida.
"There's two sides to it and there's people on both sides about what's right and what's wrong," Calkins continued. "To this day, there's still people that feel very strongly about the topic, and given the fact that I'd won the first race, that brought me even more into the spotlight. Given my druthers, I would rather not have had all that stuff going on. Not only me, a lot of other guys kind of got stuck in the middle of it.
"Do I have fond memories about the whole thing? Absolutely, without a doubt. But was it marred by some of the stuff that went on, yes. But it was a great opportunity and something I'll always be grateful for that. I love and respect the Indianapolis Motor Speedway and everything that's coming up this week. To have been able to be able to participate in that, I will never forget that, definitely more positive than negative and you wish that negative hadn't been there. You just move on from it."
Follow Autoweek contributor Jerry Bonkowski on Twitter @JerryBonkowski
Source: Read Full Article