Alfa Romeo team principal Frederic Vasseur says 2022 has been their focus since January – and it is a strategy he does not regret.
The Swiss outfit have found themselves on the decline over the past couple of seasons, and now it seems P9 in the 2021 Constructors' standings could be the best they can aim for with their current total of three points.
If they are to add to that tally, which Vasseur would "love" to see happen, they probably need some help like Williams did for their 10-point haul in a crazy Hungarian Grand Prix.
That is because the team have no upgrades to come for the C41, having decided in January there would be none, but Vasseur stands by Alfa Romeo putting all of their eggs in the 2022 basket.
"I would love for the team to score more points," Vasseur told Autosport.
"We've made some big efforts inside the team, but the main reason we are losing a little bit in performance from the beginning of the season is because we decided to switch, from January, to 100 per cent on 2022.
"When I see the updates from the other teams, even if they all say they switched to the 2022 car, they have updates every single weekend!
"But when we took the decision, I knew if you switch 100 per cent to the next year's car, you won't develop the 2021 car. And that's the case.
"But I think it was the right decision for us because where we were last year, if we keep the same car and continued to invest and develop it, I'm not sure it makes complete sense in terms of Championship position.
"If you have a look at the gap to Toro Rosso [AlphaTauri] or Renault [Alpine], the gap is huge but I'm really convinced it was the right decision.
"We knew there was an upside and a downside, but now you have to deal with the downside.
"We won't go back into the wind tunnel for sure, and the engine is frozen."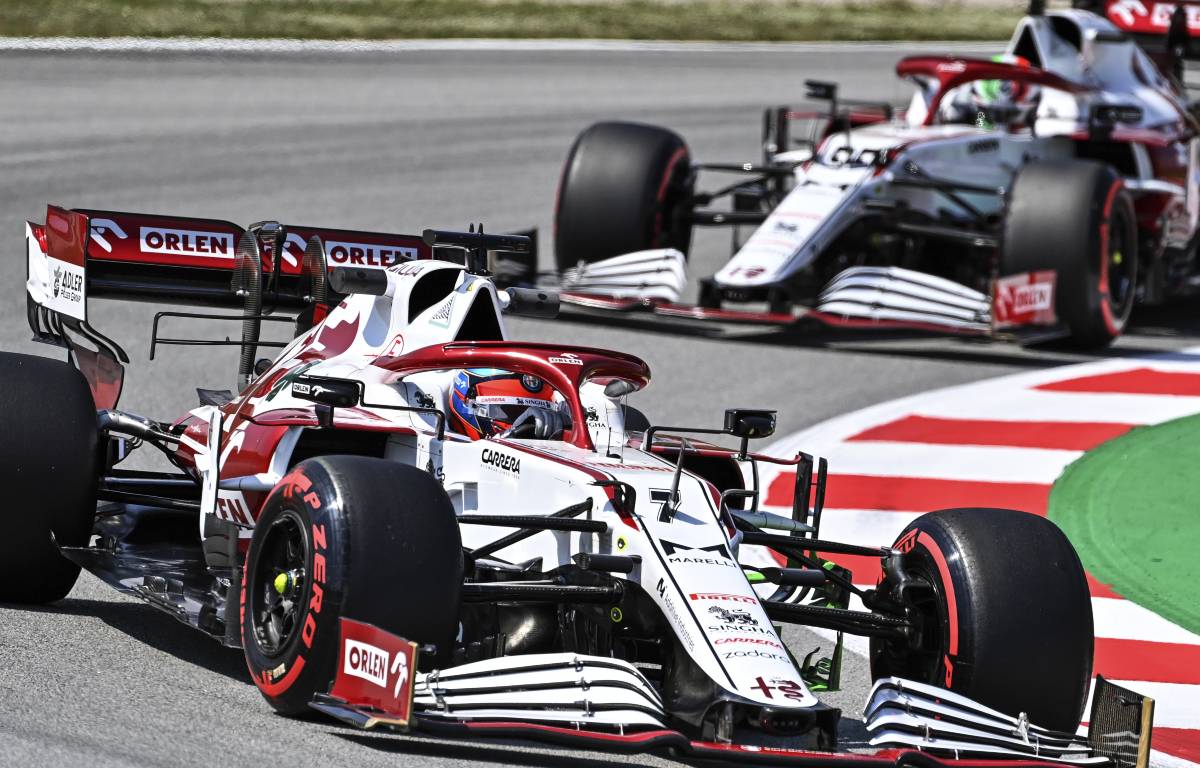 Check all the latest 2021 teamwear via the official Formula 1 store
That said, while there is no room for improvement in the car, Vasseur does not believe the same rings true for his drivers, Kimi Raikkonen and Antonio Giovinazzi.
"As a team, we have plenty of room for improvement," he assured.
"If you have a look at the comparison of our drivers, one is more performing in qualifying, the other in the race. And we have to get the best from both of them.
"With track operations, I'm sure we have room for improvement, just like in terms of tyre management, set-up of the car and on every single topic you have to deal with on track.
"This is important for me because all the improvement we will do as a team on this side, it's also probably what you can carry over for next year.
"We have room for improvement and we are not speaking about seconds. Very often between P8, P9 and P14 you have just a couple of tenths. I want to keep everyone under pressure and continue to push in the same direction."
Source: Read Full Article