I went ahead with the self-healing 3M PPF which may appear pricey but their highest level of skills and professionalism makes up for the peace of mind.
BHPian abirnale recently shared this with other enthusiasts.
Here is a bit of background
I have been visiting 3M Koramangala for the past many days – right from the CR70 films, to roof wrap and occasional wash / wax polish. Every time I visit them, I see cars of all categories getting PPF (Paint Protection Films). I have always said this: the cars that cost downwards of 25-30 lakhs would be cheaper to paint as a whole than buying these PPF and applying it all over the car.
This is precisely the reason TheRedSparkle does not have any protection on the exterior whatsoever. Sometimes this is a personal choice or that extra TLC you want to offer to your car as you treat it closer to your heart. On this topic, I had a good conversation with Vinay, who owns this 3M Koramangala franchise.
While in conversation with him, we observed some serious paint chips on the bonnets – clearly, the casualty inflicted due to highway runs – following the heavy vehicles at speed is a sure-shot recipe for such damages. The other part we noticed getting small scratches are headlights – since these are the parts that don't have many creases and complexities, a quick decision to try PPF on these and observe how it goes for a few months / maybe a year is an obvious choice for me.
Technically, one need not wrap the entire car in PPF – You could just choose the areas that take the most beating or the battle scars such as bumpers, doors, bonnet or headlights, A-B-C-D pillars. Though, to my kind of usage, I doubt if the select areas will suffice – TheRedSparkle got scratches everywhere! And then the bumpers and doors are already scratched!
So we proceed with trying the PPF on the bonnet and headlights to experiment with. 3M offered an option of using their best-of-the-line PPF film. With all qualities listed on the URL, an explanation from experts in 3M, all I needed now is to get the car to their place and rest they will take care.
Thus, last week, we finally applied the PPF on the bonnet and headlights! I took the bitter pill in the hope that it turns sweet soon I am going to post the feedback as this thing ages and how I find this experience. As per 3M, this doesn't expect to discolour into a yellowish shade. And has a much better hydrophobic effect. Anytime there is a scratch on it, all it needs is parking under the sun for a few hours and the film will heal itself.
Process of Application
A thorough cleaning is the first step to the prep followed by polishing of the surface to the perfect detail to ensure there are no dust or other foreign particles on the surface. This is the most important step and my first realisation of the level of detail this thing demands! The difference in work is evident at every step – a professional approach throughout. Use of materials, towels, space being cordoned off for access, and lighting to ensure nothing is missed – everything is just great. It was a great experience for me to see how these things are done. While the staff was busy with work, I had an opportunity to ask all kinds of stupid and smart questions to the SMEs there. The 3M may appear pricey but their highest level of skills and professionalism makes up for the peace of mind.
We took some pictures during this process: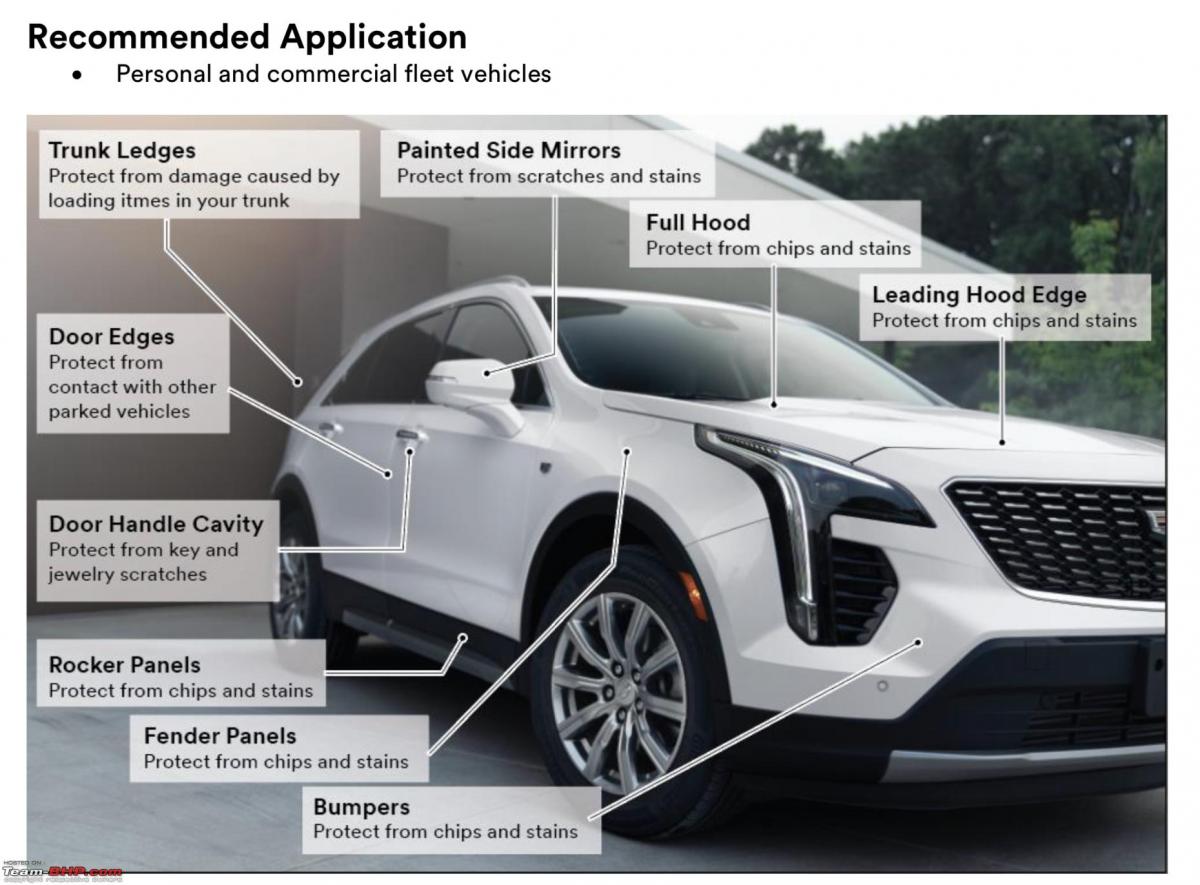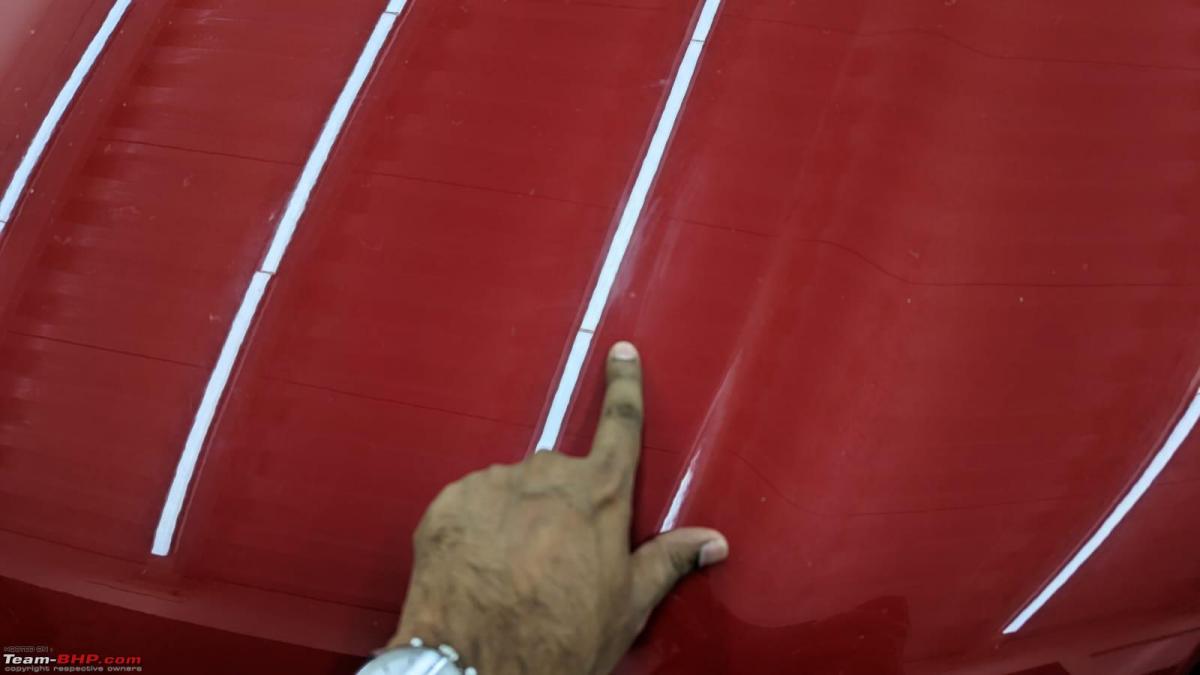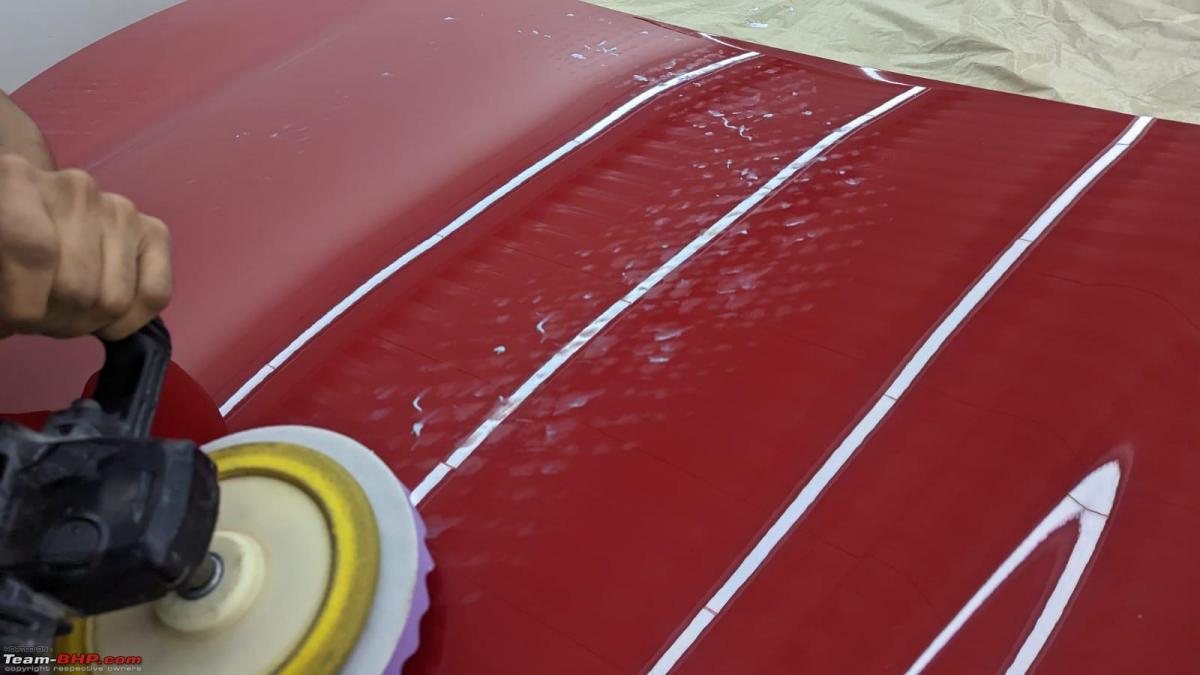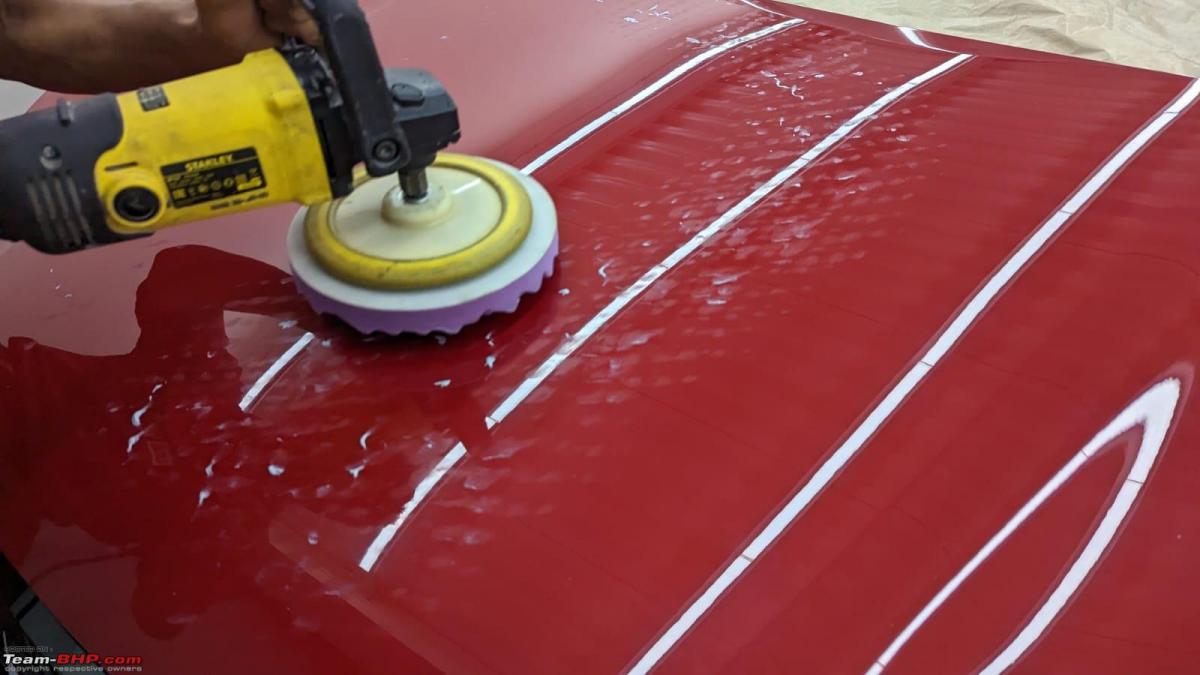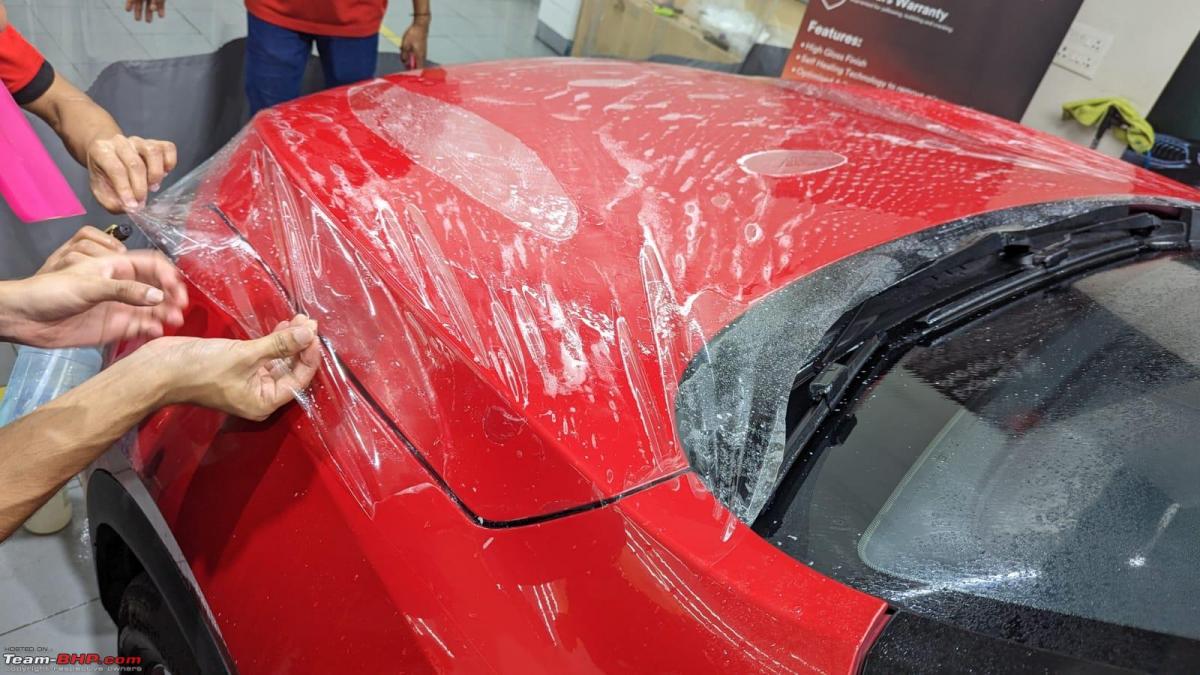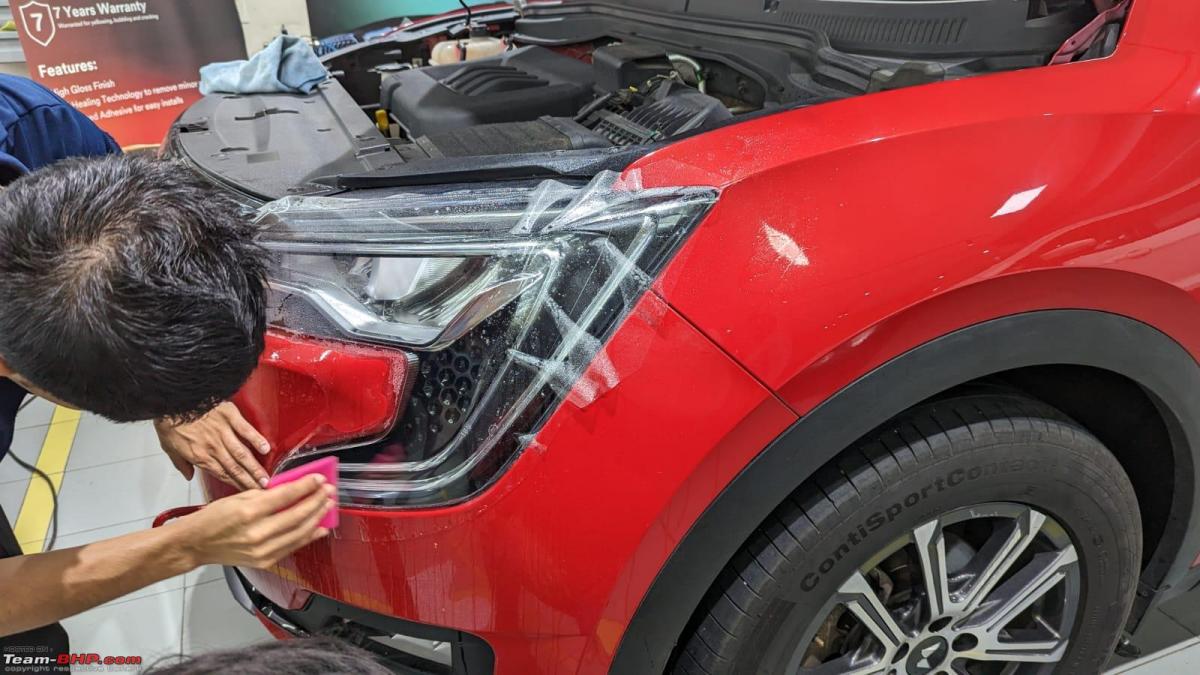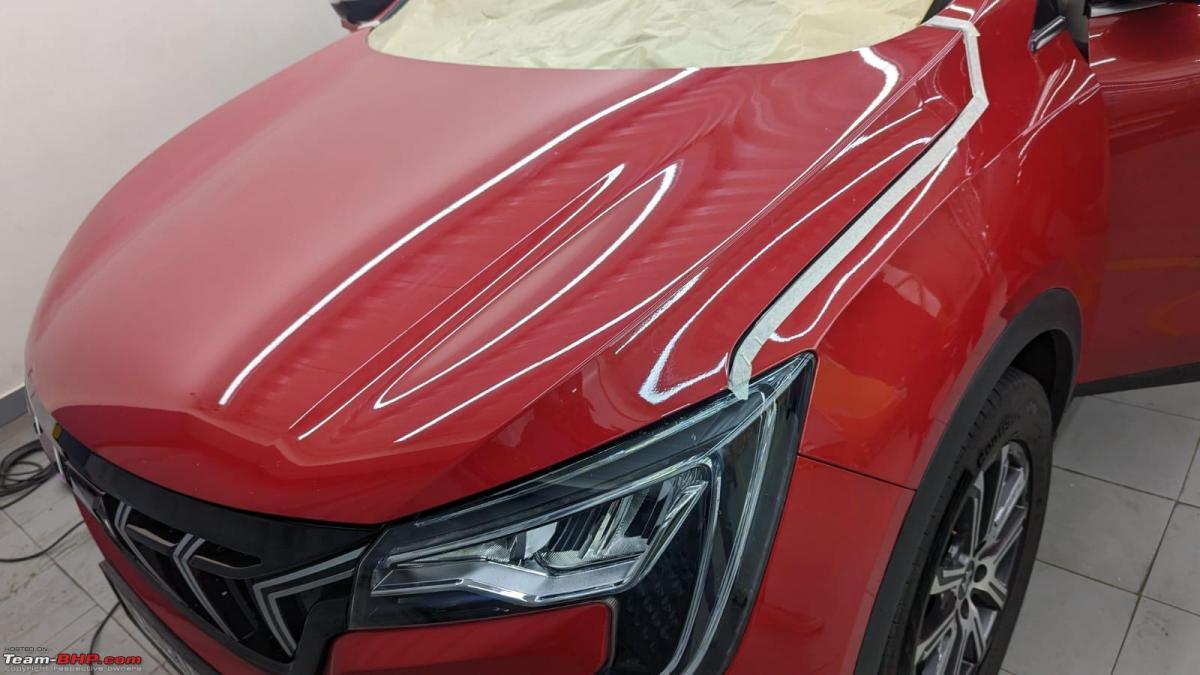 Some fun facts: I didn't know the DNA of 3M as a company till this moment. I always thought they are the post-it notes and double-sided tape company with some automotive products! That's just the tip of the iceberg – they are spread from home/ healthcare/ automotive to large industrial applications!
I *may* wrap a few more parts/ exposed areas with this same PPF if it continues to hold after the next 6 months or so. Since the film is self-healing and can easily take bruises, I am considering them to be used on A-B-C-D pillars where I get the thorny bushes scratching on the car. For now, the bonnet and headlights should be able to breathe a sigh of relief as they face the small stones chipping away their piece of surface!
Oh, and you know what – every time you shine the car and clean it, the very next day or the same evening, you expect it to rain 🙁 The best part though – TheRedSparkle is expected to shine anyway – the rain, mud or sun. She ain't a garage queen – we are meant to explore our country together! The rains are here, and so is lush greenery. Here is the hope for another fantastic year of monsoon drives, incredible exploration of my country and tons of beautiful memories to live for the rest of my life.
The pic was taken in the low-lit basement parking of my home – the same evening after fitting and when it rained: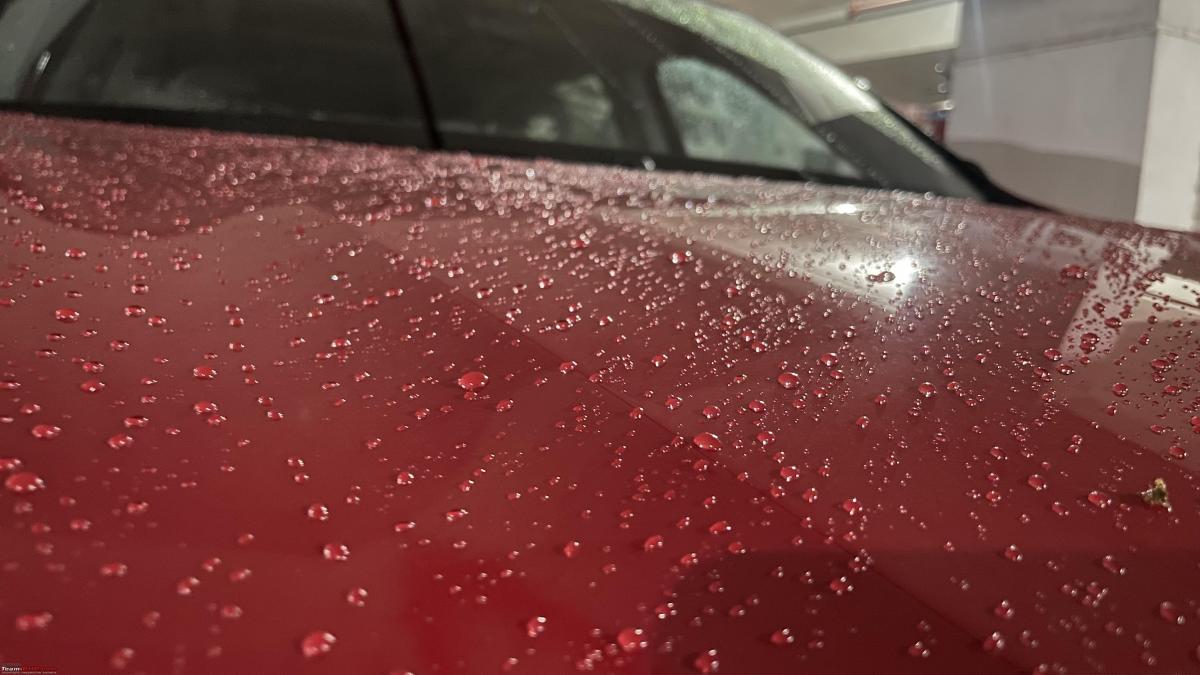 Stay tuned for more updates and wish me the best to continue to explore our incredible country!
Check out BHPian comments for more insights and information.
Source: Read Full Article