I still haven't gotten to use the entire potential of it as it's still in its break-in period.
BHPian highcommand-GT recently shared this with other enthusiasts.
Yes, I know it probably seems like a very odd switch. From a sweet turbo petrol with a lightning-quick DSG to a dirty diesel. Most people I have known and seen have mostly switched from their GT TSI's to Laura 1.8 TSI's. But I went a different route clearly.
Let's get started from the beginning, shall we?
The itch to move on from my Candy White 2017 Polo 1.2 GT TSI began somewhere around mid-2022. Up until that point, the car was mostly stock and didn't have anything done to it. I started looking at my options on OLX and stumbled upon a few 1.8 TSI's that were marked up exorbitantly. The recent jump in the used market for Laura TSI's was definitely not helping my case.
The next option I looked for was a good used Jetta. But finding Jetta's that were low run was like looking for a needle in a haystack. Every car I came across was run above 100k kilometres (Speaks to what a workhorse the 2.0 TDI can be if treated well).
After a couple of weeks of searching, another thought popped into my head. People were building 1.2 TSI's left and right. I could take a run at it maybe? That was it. I decided to build the car without messing up its reliability and comfort.
After sweeping through almost all the GT TSI threads on here, I decided upon the following mods:
Yes, a BBK (Big brake kit) seems obvious, but couldn't afford it at the moment so I started searching for cheaper alternatives and keep it for another day. And I was not a very aggressive driver either, I only gave it the beans during safe overtakes and from stop lights (when it's completely safe to do so). And I almost always let off when I near the speed limit. I loved the acceleration that the GT TSI offered during those situations but the pull wasn't consistent towards the higher end of the rev-band given the SOHC engine.
I am not going in-depth into the build as this platform is already filled with a lot of GT TSI build threads and this thread is about my 1.5 TDI. What I ended up with on the TSI, was a Stage 2 tune from Etuners Greece with crackles/subtle pops, and all the other mods I mentioned in the list above. The car became a joy to drive. The exhaust sounded amazing and the acceleration was so seamless and enjoyable when mated to the DSG. I could not afford a TCU tune at the time but I somehow felt like the shifts and drivability of the gearbox had improved as well with just the ECU map (Maybe just in my head).
So why did I let go of it?
The DQ200 gearbox
Yes the gearbox from the GT TSI is infamous for its failures. But in the 75,000-odd kilometres, I drove the car, it never gave me any trouble. But all the horror stories about the DQ200 tend to always stay in the back of your head every single day. Every time I drove the car or pushed it, there was always some anxiety in my head that the gearbox could fail at any given moment. Nothing happened thankfully, but what use was your daily driver if you didn't have peace of mind while being in it?
The glass wall
The 1.2 TSI through a beautiful engine always had its limitations, after all the mods I had done, the only things remaining were TCU tune and suspension mods. It felt like I would maybe hit a glass wall on my build journey. Because going stage 3 on the engine would not yield a lot of effect I realised.
The itch for something new
Yup, who doesn't like a new project?
What pushed me over the edge to sell the car, was when one fine day I got the chance to experience my local tuners Stage 2 Jetta 2.0 TDI MT. I had gotten pretty close to him at this point after having tuned a couple of my friend's cars through him and my GT TSI. The Jetta had me lost for words. The way it pushed me into the back of my seat. The relentless pull. The monstrous torque. The way it shot off the line like a rocket launching. God. It was eye-opening. This experience was followed by the words "You could get a similar output and feeling from a Polo 1.5 TDI with a stage 2 setup". I realised TSI's could never give me that feeling unless I go stage 3 on a 1.8 or 2.0 TSI. That push was something I could never attain on my 1.2 TSI.
I started craving it. It haunted my dreams. And finally, after careful consideration and discussion with my tuner, I decided, why not try a different taste of the Polo? A 1.5 TDI. Preferably a GT TDI, but a 1.5 TDI would suffice too.
Found a solid 1.5 TDI on OLX run only 45k kilometres within my budget, and within a few weeks the 1.2 TSI was sold! It was hard to let go of her after years of bonding but I was excited for what was to come. Before I start with the 1.5 TDI, here are a few parting pictures of my beloved GT TSI.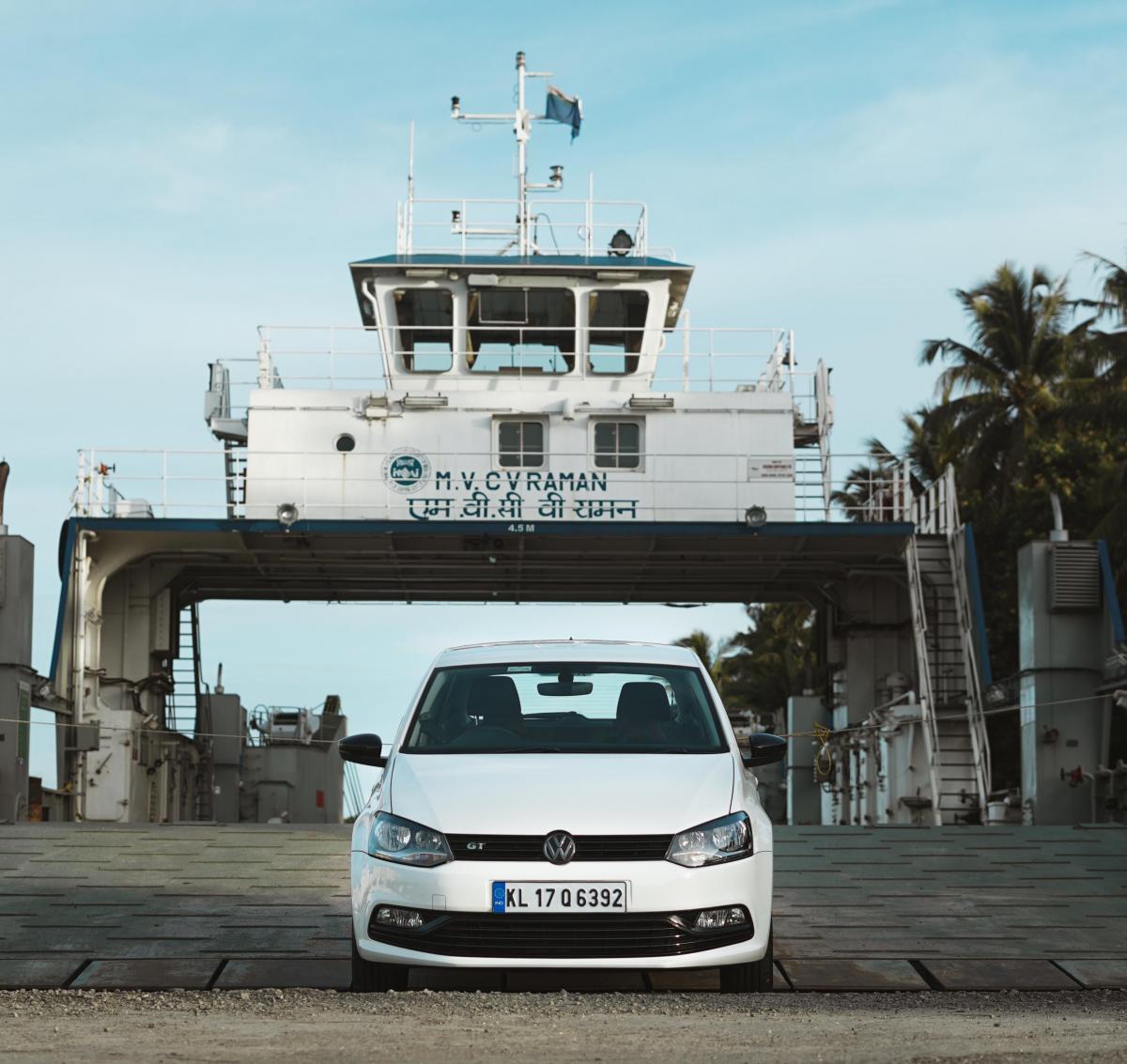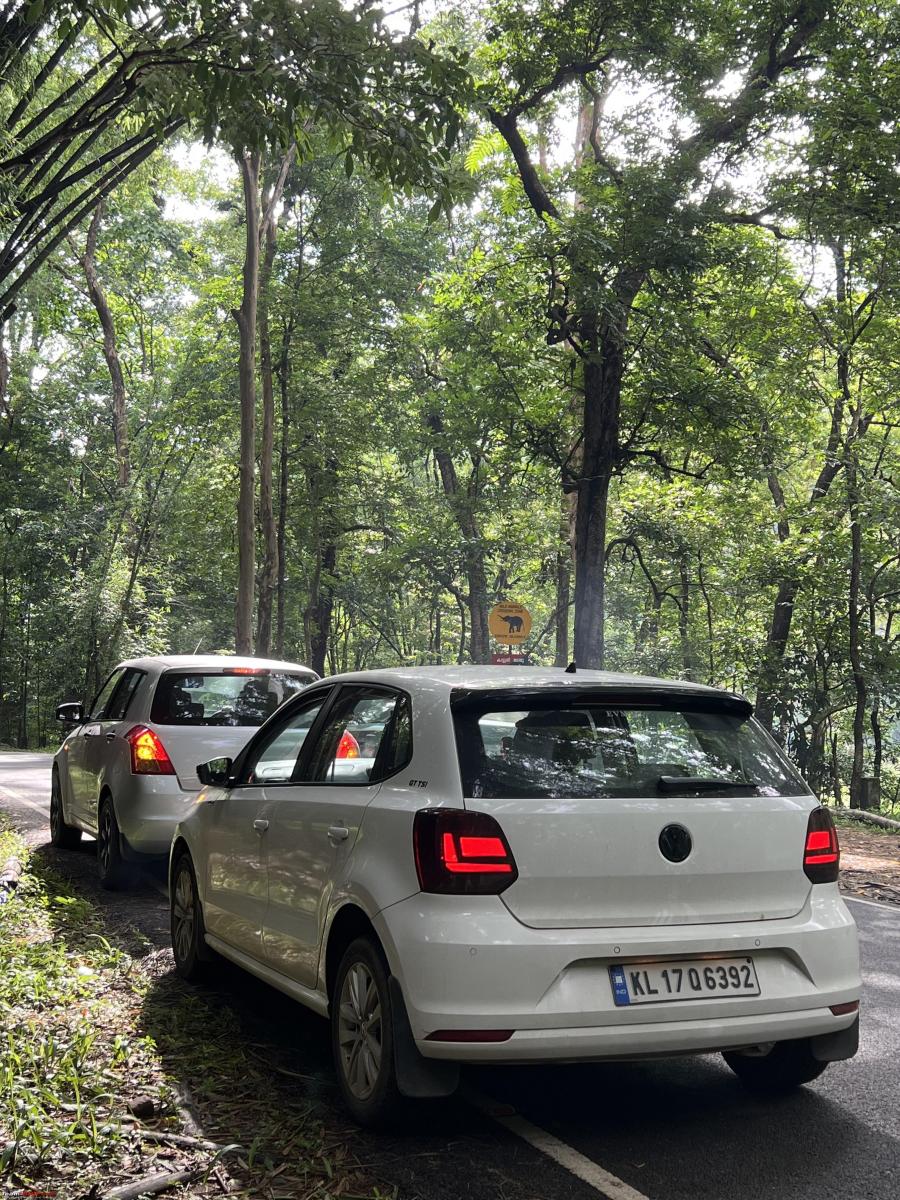 Within a week of selling the TSI, I had gotten my hands on the TDI. A Reflex Silver Polo 1.5 TDI Highline. I always had a thing for silver Polo and it was in perfect condition mechanically though it needed some love on the paintwork. I built a good relationship with the previous owner as well.
Before I even got my hands on the car, I had already ordered a pre-fabricated downpipe through my tuner and had planned out the project pretty well.
So what was in the cards for my "GTD" build?
A stage 2 tune
Downpipe
Performance Air filter
Euro Spec air intake and channel
Turbo Muffler Delete
OEM type 3 tail lights (GTI-like)
GTI Spoiler
Lowering Springs
Bilstein B6/B8
Good rubber
16-inch wheels
BBK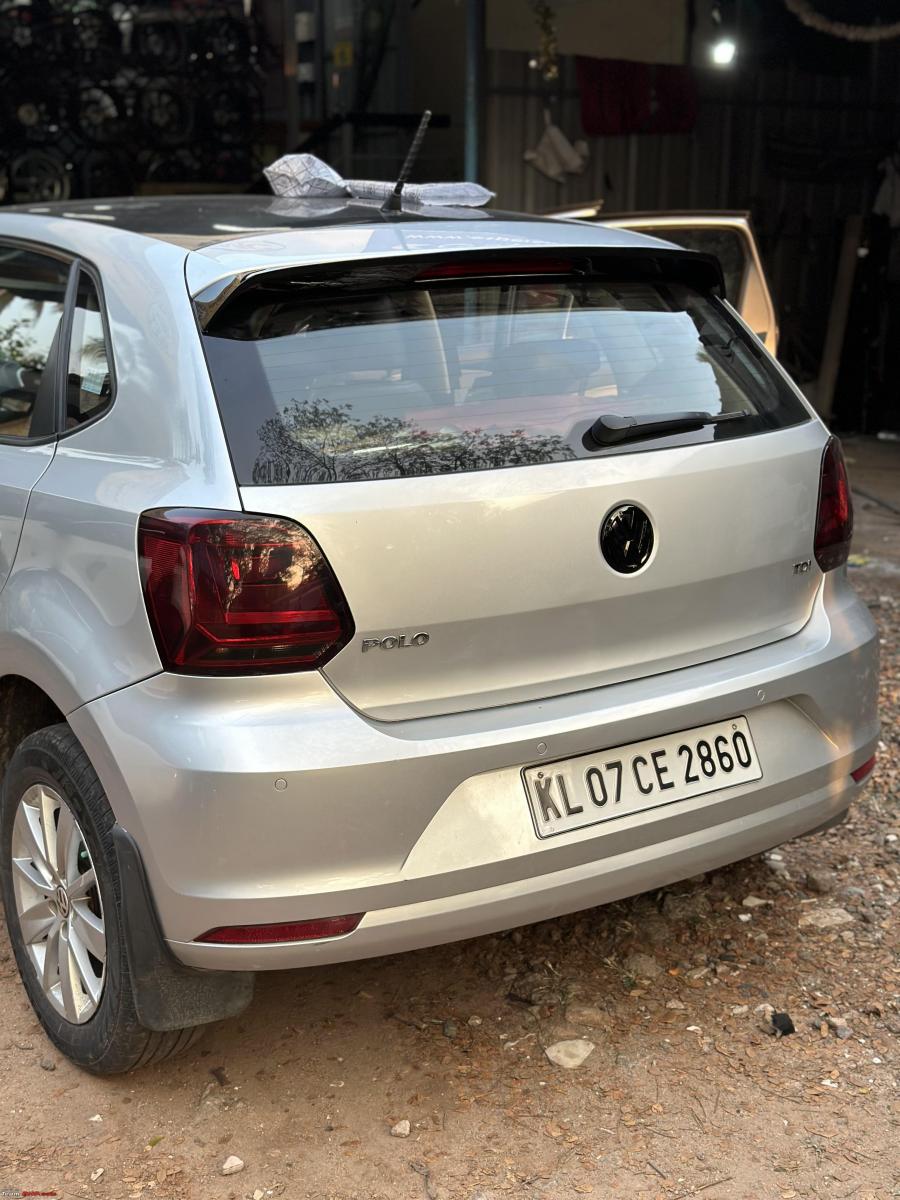 I wanted to get better rubber on it before I do the tune as the exorbitant amount of torque going to the front wheels post the remap would need sticky rubber for sure. But putting new tyres on the rather plain jane looking 15-inch stock wheels was not even something I was considering. I needed to source good wheels first. And what I really wanted were either the OEM 16-inch GTI wheels or the OEM 16-inch wheels from the MK1 Octavia VRS. Both were very hard to come by. And I was unfortunately put under a time constraint on the tune front as my tuner was going off for a vacation to Dubai within that week and would not be returning until the next month. So had to prioritise the tune first for then.
The downpipe had already arrived and one fine day morning I took the car to my friendly neighbourhood FNG and from there to a local exhaust place to get the downpipe fitted. The stop at the FNG was to pick up a mechanic from there as putting the downpipe on the 1.5 TDI meant the axle had to come out.
They started out in the morning but stumbled upon a hiccup very soon. The downpipe I received had a 3-inch diameter at its exhaust end. Presumably with the assumption that I would be going for a full system exhaust. But I wasn't planning to. So they had to figure out a way to weld it to my stock exhaust pipe. They had to fabricate a hinge and cone to progressively convert the 3-inch pipe to the 2-inch stock pipe (Forgive me if I am using the wrong terms but that was my understanding of what was happening).
That took the whole day. By around 8 PM at night we went back to the exhaust place with the mechanic again to fix the axle again and get the car out. We drove back to the FNG and in went the air filter and air intake while my tuner scanned the stock map and sent it to the master tuner. I should mention by the way that my tuner had switched from Etuners to Venom Performance by that point with the infamous Sreeram Kasaraneni as the master tuner.
All 3 of us were working on the car at the same time. The mechanic with the air filter and intake, My tuner in the process of the remap and I myself was trying to fit an RCD340 that I had sourced along with an auto headlight switch too.
This RCD340 wasn't the same as the one from the Indian version of the Polo. It was made in Poland and it lacked a 3.5 mm jack. In place of the mic that the Indian version possessed on the left side, this one had a "scan" button for the radio. The mic had been moved to where the aux jack was. I was told this would be of superior quality when compared to the ones produced in China that were present in the Indian spec Polos. And so far I am completely content with its performance.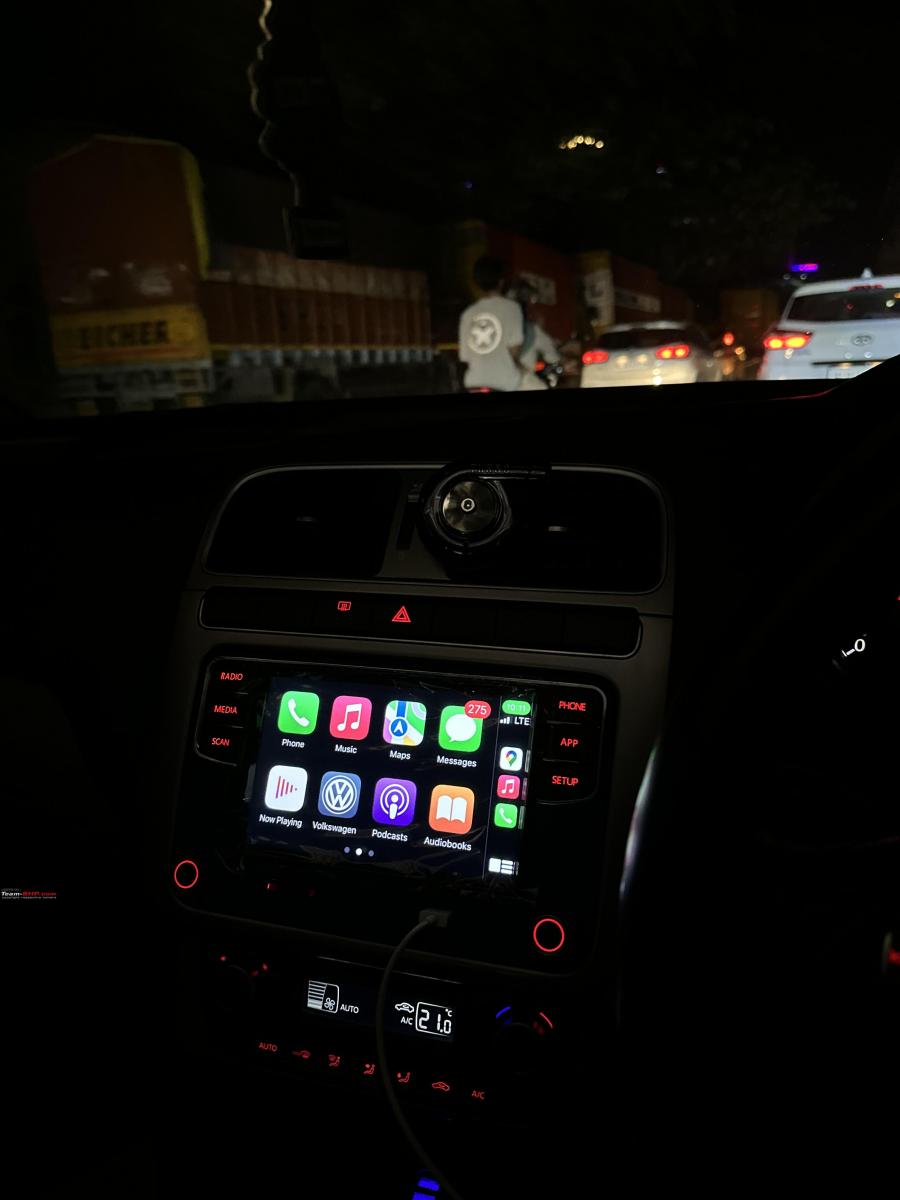 By around 10 PM, the new map was ready to be flashed and we went ahead with it.
And oh boy did the car transform. If somebody told me I was sitting in a car with a stage 3 setup, I would have blindly believed them. The push back into the seat. The wheelspin. The drama. The acceleration. It was utter craziness. The need for slicker tyres was made very evident by the wheels relentlessly spinning until 3rd gear. The 0-100 figures even on the stock JK Tyres were 9 seconds flat. And those were sure to be cut down by a lot when I have better rubber. The map by Venom Performance was out of this world.
The logs show the magic from the folks at Venom Performance India.
I was feeling a little bit of remorse for selling the TSI but it was all thrown out the window while we were taking logs and doing draggy runs for the map. After we wrapped up everything, I went home with a huge grin on my face.
Three weeks passed with that setup, and the need for better tyres and better brakes was made more and more evident every single day that I drove the car. And the search for the wheels was still going on. Thankfully my tuner found a neat example of the 16-inch MK1 Octy VRS wheels which were incidentally produced by Borbet. I was sure it was a safe bet as they were OEM wheels and I was in love with them from the pictures I shared. It was recently given a fresh coat of gunmetal silver and boy oh boy was it shiny.
There was no looking back. Got the wheels delivered within 2 days and kept it on a carpet in my bedroom to give it adequate cushioning from the floor.
I got caught up in work and had to wait until the weekend to get them in the car. Approached a local tyre shop I was previously in contact with and settled on 205/50 R16 Yoko Earth 1's as PS4s in 16's were non-existent at that point :(.
The tyre shop bought back the stock wheels and tyres from me for a decent-ish price and reduced it from the cost of the tyres. Win-win. Also got the brake callipers painted to blue as an experiment to see if they'd look good. I didn't wanna go the generic red or yellow route and thought maybe blue would look cooler along with the gunmetal shade wheels and silver car.
And it did. It was love at first sight. The car was getting cleaner and cleaner with every mod that went on it. Attaching some pictures below for you guys to enjoy as well.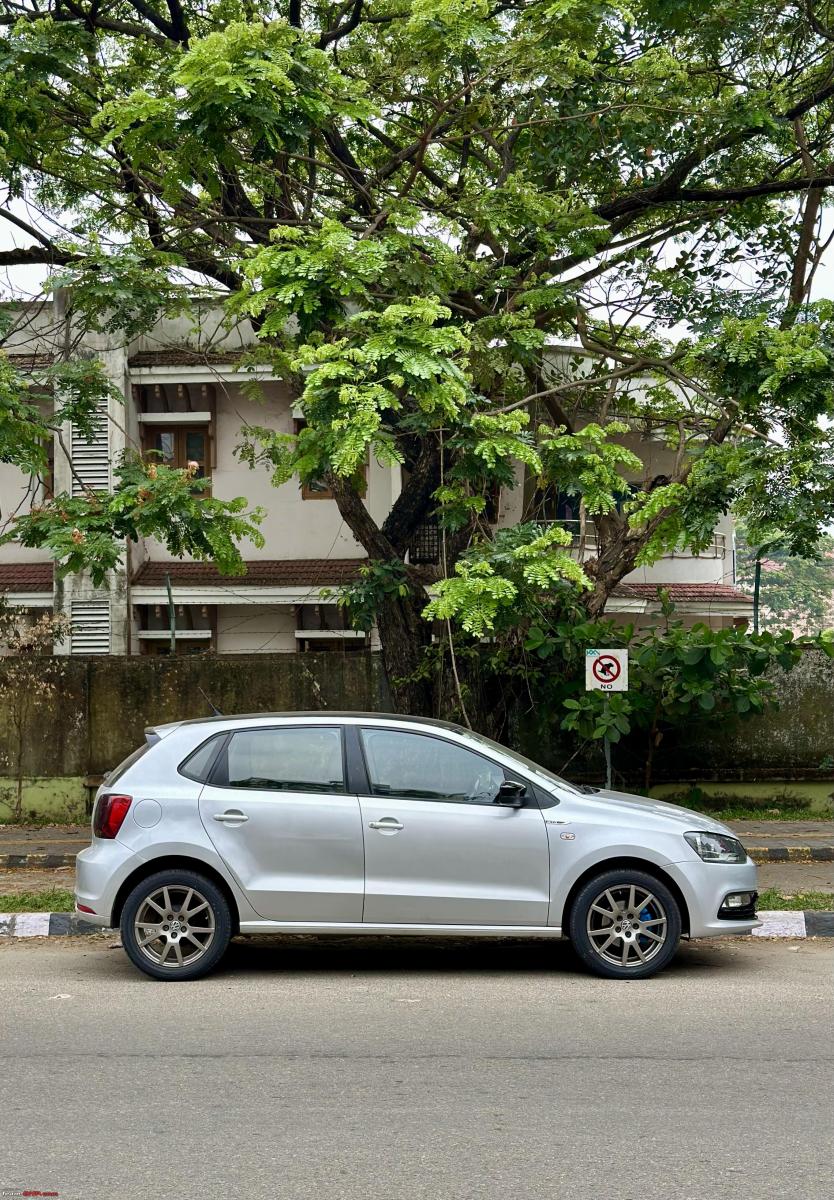 The only previous experience I had with a lowered 1.5 TDI was when I went to look at a used one before settling on my current car. It was a white car with Cobra lowering springs installed. I did not like its stance nor did I like the ride. It was very bouncy and flat-out uncomfortable. The car looked like a hunchback. Too low at the front and too high at the back (I suspect a lower load capacity rated springs meant for the TSI were put on this car). So after that, I was kinda sceptical about lowering my own car.
But one fine day I happened to meet up with a fellow friend of mine who owns a Wolf-tuned stage 2 1.0 TSI Polo AT that's running on Eibach lowering springs. I sat in his car for a bit and even drove it around and found the ride to be completely acceptable. Yes, it was not as comfortable as the stock suspension but it was not even close to how bouncy it was in the other car I checked out. I am not sure whether it was owed to the Cobra springs or whether he put the springs meant for a GT TSI with a lower load capacity on his 1.5 TDI which made it so uncomfortable.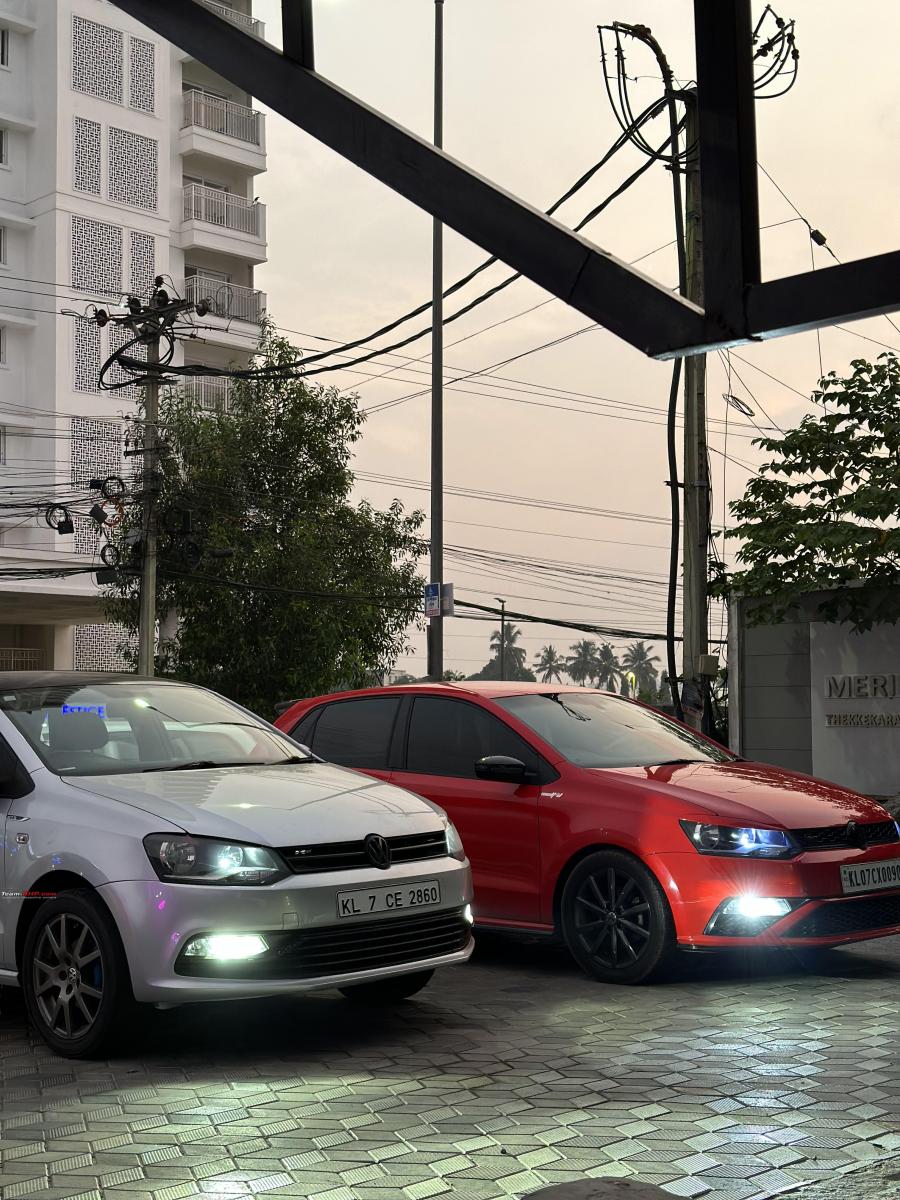 A small drag race with the Stage 2 1.0 TSI Automatic. (Don't worry we did it on a private stretch of road that had been closed off due to some construction going on in that area, and as it was a Sunday the construction works had also been halted. So the area was completely deserted). Look at the GTD fly. Both cars had two passengers. Running on the exact same specification and brand tyres.
After realising Eibach is a safe bet, the search began again. I was on the lookout for Eibach springs and about one week later my friend/tuner again calls me up and says, he's found a pair of used springs, they were not exactly Eibach but were OEM VW Springs imported from Europe.
As per the VW Accessories Brochure in Germany, there was a VW OEM Lowering Spring Kit available for the Polo 6R. This offered a 30mm drop on all four corners and for a fairly decent price. These were available in 3 different weights, 830kg (6R0071677A), 860kg (6R0071677) and 960kg (6R0071677B). They were dark blue in colour and were manufactured by Eibach in collaboration with VW. The springs he found were the highest load-rated ones. Best of both worlds much?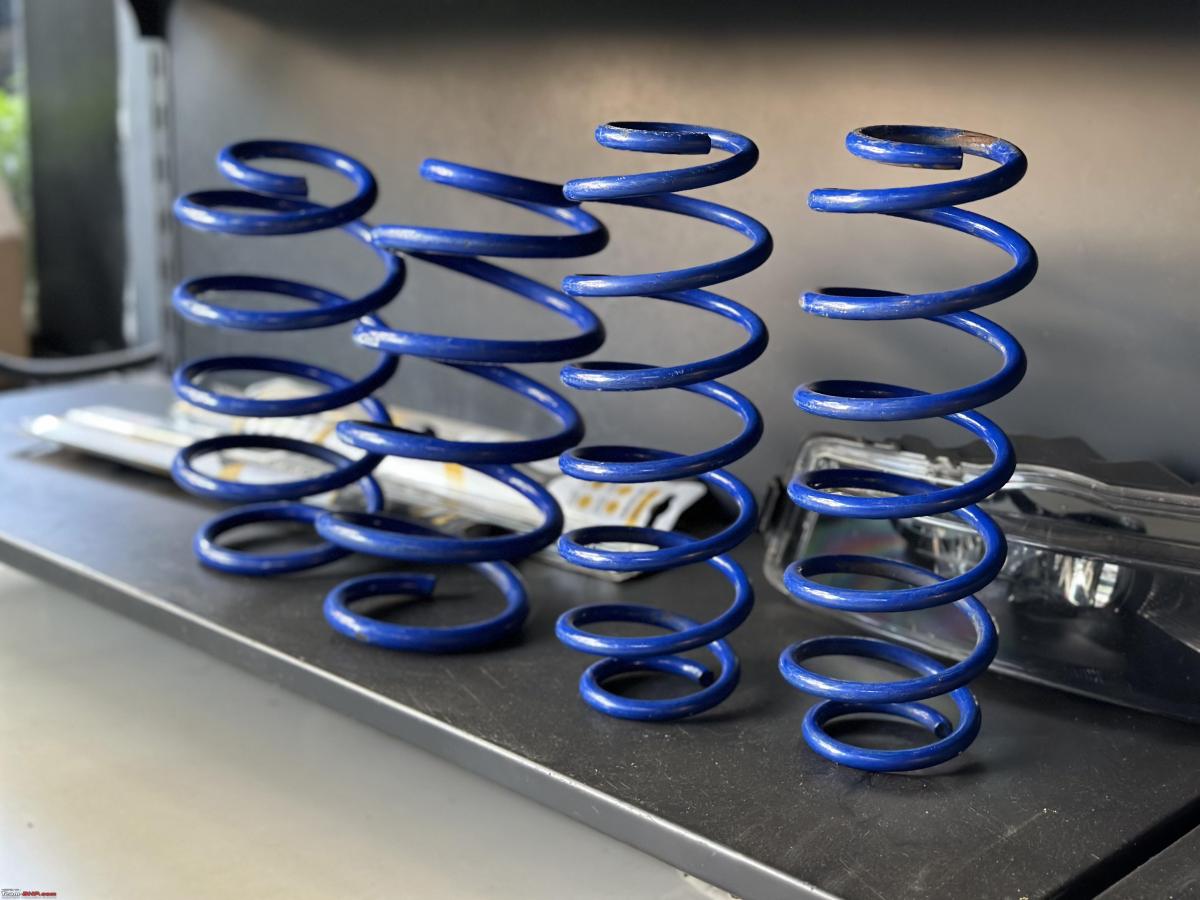 The car looked so damn good. The drop was perfection. The added handling benefits were great as well. Definitely worth the money spent. It was not very bouncy, it handled like a charm and wasn't uncomfortable at all. The car was absolutely turning into an OEM+ build xD.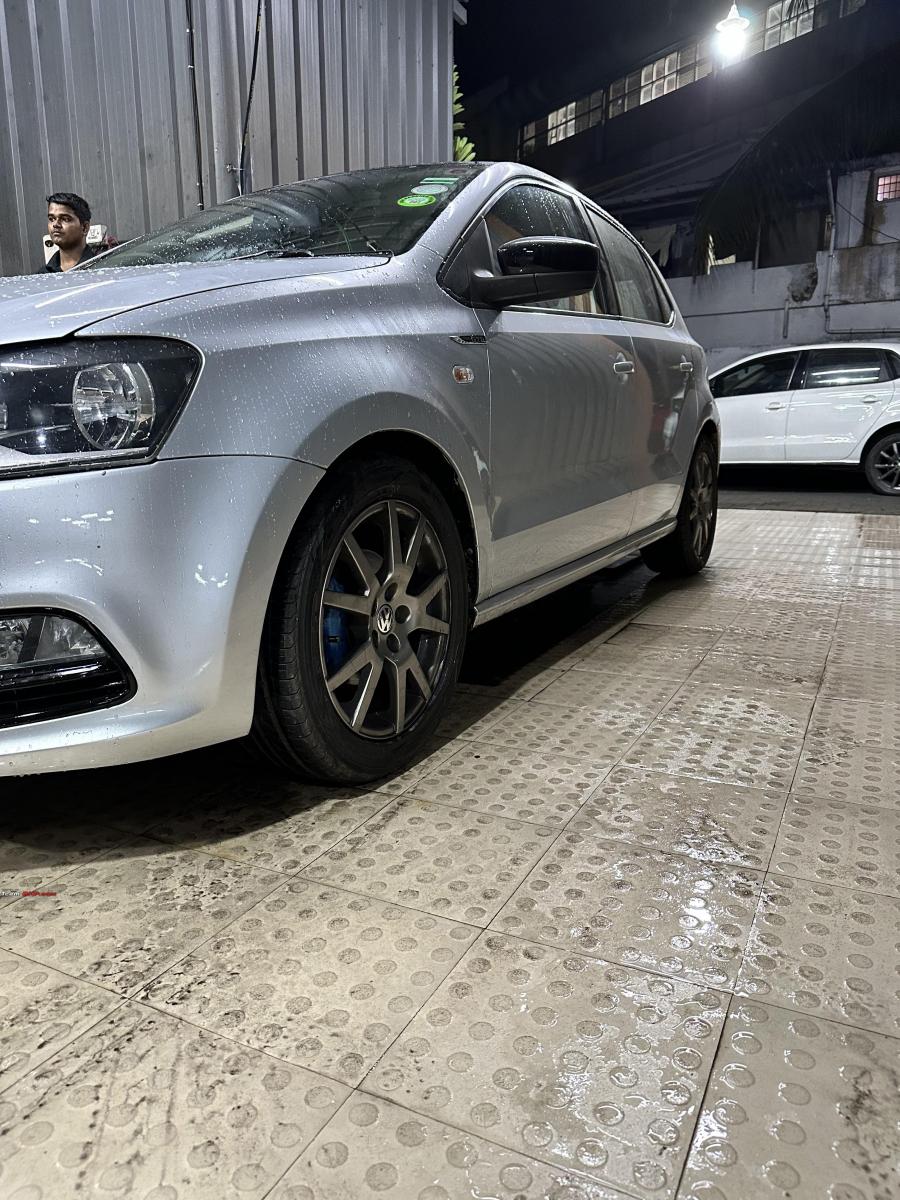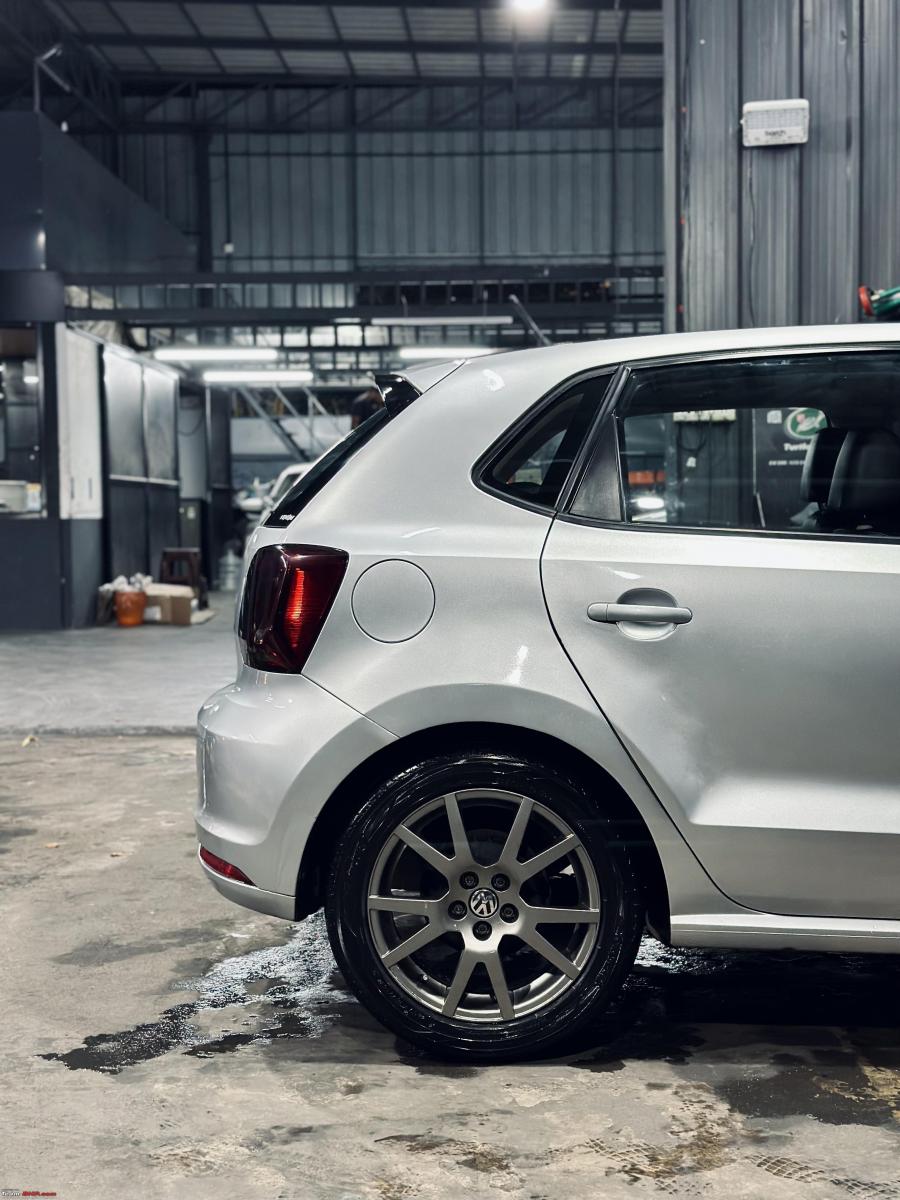 I wasn't done with the build but my bank account sure was at this point. The build was pretty silent for a couple of months until my beloved S/O got me a pair of EBC yellow stuff brake pads for our anniversary. It was a much-needed, upgrade considering all of the other upgrades I had done to the car. Yes, I know a big brake kit would have made more sense but all in good time.
The Yellow stuff pads were doing an amazing job at stopping the car. I still haven't gotten to use the entire potential of it as it's still in its break-in period. So taking it easy for now.
That was the last thing added to the build list. It has been a fulfilling journey so far and I am beyond excited for what is in store.
So what's left in the build?
Big brake kit
Turbo muffler delete (coming very very soon)
Bilstein B6 or B8
Anti-roll bars
GTI like tartan seat covers
And in the far-out future, maybe a 2.0 TDI or 2.0 TSI swap along with a DQ250 gearbox? A man can dream
Before I end my post, I wanted to give a HUGE shoutout to my dear friend Mr Jyothirgosh from Venom Performance Kerala. He has been the literal backbone of this entire build having sourced 99% of everything for me. I can't thank him enough for being there for me throughout this entire journey. And of course, I have to thank Sreeram from Venom Performance India for the absolute magic he has done with the remap. From a puny 90 bhp eco box to a literal monster that punches way about its weight.
So that's it guys, a bit of a long one I know but thanks for taking the time to go through my journey. I'll part ways for now with a few pictures of my "GTD" build. Be sure to be on the lookout for more.
Check out BHPian comments for more insights and information.
Source: Read Full Article