The 1.5 TSI DSG is the most powerful in the segment and makes for the most pleasurable driving experience. Tough to choose between the Virtus & Slavia.
Volkswagen Virtus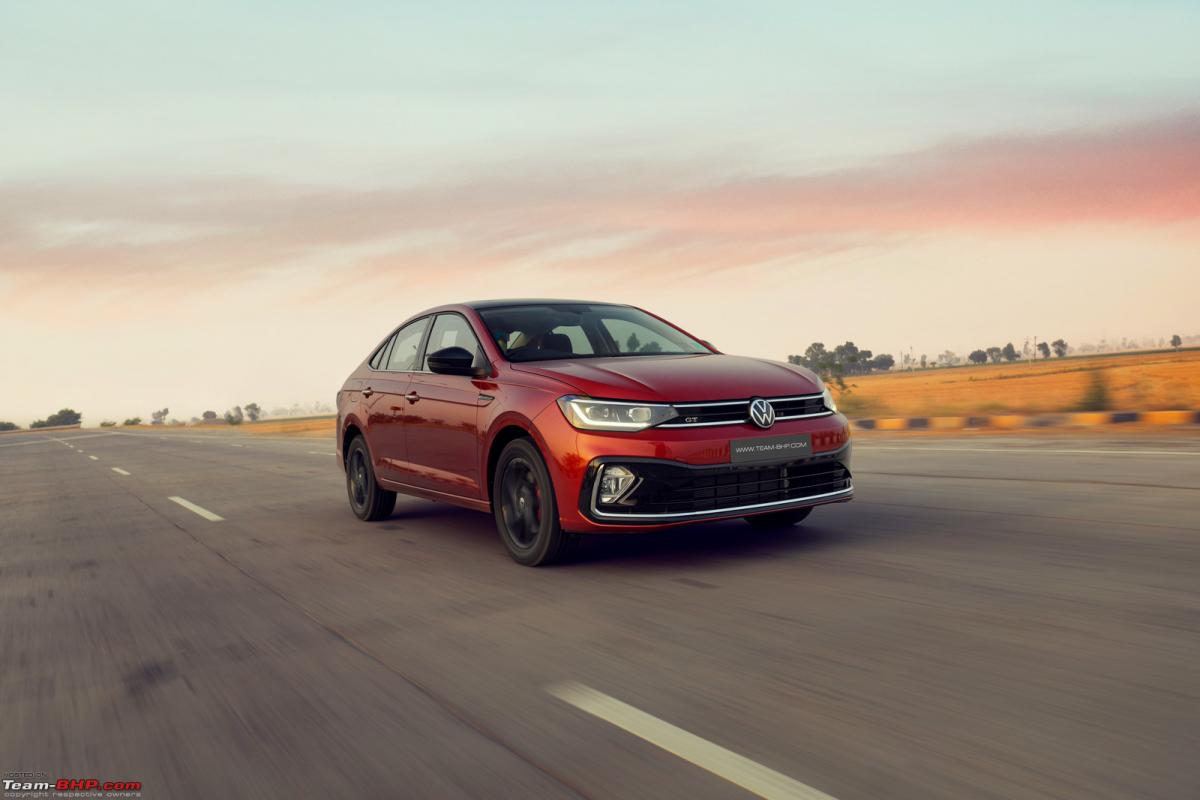 Volkswagen Virtus Pros:
A 'complete' car that just might bring some love back to sedans
Classy exterior & interior styling, along with solid build quality
Cabin has good legroom on offer, supportive seats, perfect ergonomics & enough storage
521-litre boot is the largest in its segment (along with the Slavia's)
148 BHP engine makes the Virtus among the most fun-to-drive sedans in the segment
Sporty 1.0L & 1.5L turbo-petrols are mated to smooth transmissions
Sorted suspension offers a balanced ride & handling package
Safety features include 6 airbags, ESC, 3-point seatbelts for all, electronic differential lock, brake disc wiping, multi-collision brake and more
Features like active cylinder tech, ventilated seats, sunroof, wireless Android Auto and CarPlay, auto headlamps & wipers etc.
6-year extended warranty & 4-year all-inclusive service packages available
Volkswagen Virtus Cons:
No 1.5L diesel is a major disadvantage in a world where petrol costs over 100 bucks/litre
DQ200 DSG transmission has a history of poor reliability & breakdowns in India
No MT option available with the 1.5L petrol. The Slavia offers this combination, as does the City
Backseat better for 2 healthy adults and a child, rather than 3 adults
Lovely 1.5L TSI is only available on the top variant. Should have been there in the mid-trim too
Interior quality doesn't feel up to old-school VW standards. Body-coloured interior highlights are polarising too
Missing some features such as a subwoofer, driving modes (sport), 360-degree camera & electric driver's seat adjustment
Turbo-petrols are very sensitive to driving style. FE will drop drastically when you drive hard
VW's after-sales service can be a hit or miss. The brand's long-term reliability can be patchy as well
Slavia's 'clever' touches are missing = no spot on top of the dashboard to place a deity, no smartphone holders on the front seatbacks, no ticket clip on the windshield, no elastic band in the door pad to keep items in place, or even something as simple as the small reflective tapes on the doors
Link to official review
Skoda Slavia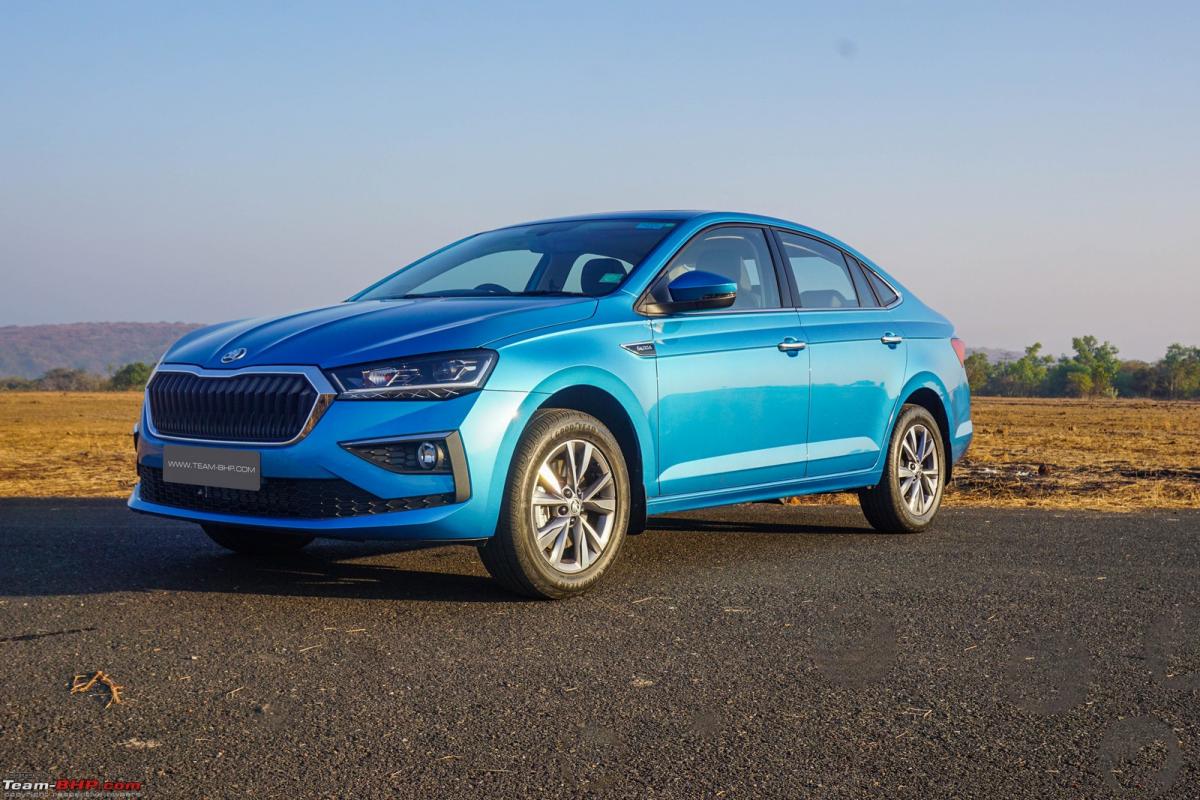 Link to official review
Honda City
Honda City Hybrid Pros
20+ km/l fuel economy in city driving conditions, giving it lower running costs than a diesel!
Seamless Hybrid system that makes driving a breeze. A car you will enjoy driving in traffic
Tractable power unit that delivers performance on par with internal combustion counterparts
Loaded with safety tech such as 'Honda Sensing' consisting of lane-keeping assist, lane departure mitigation, adaptive cruise control, auto high beam, collision mitigation braking system as well as ESP, 6 airbags and a lane watch camera
This generation of the City feels grown up in terms of overall feel & exterior dimensions
Spacious cabin will keep your family happy. A sedan you'd love to be chauffeur-driven in as well
Compliant ride quality in the city. High-speed bounciness (rear) reduced due to beefed-up suspension & battery pack weight
Honda's proven reliability is comforting, as the hybrid system is complex
Lower emissions in the city. Will appeal to the environmentally-conscious customer
Honda City Hybrid Cons
Not a car for enthusiasts – it feels like an alien experience and is completely disconnected
Honda Sensing ADAS system is too intrusive for Indian highways; requires the driver to adapt to it and be comfortable using it
Boot space is compromised due to the battery pack and spare tyre. Down from 506 to 306 litres!
We're worried about the price. Honda is usually optimistic with pricing, and there is no lower variant without the ADAS features
Build quality still feels light and not as reassuring as competitors
Overall road and tyre NVH levels should have been better to keep up with the refined & silent hybrid powertrain
Missing features for this price point = powered seats with ventilation, rear side sunblinds, wireless charging…
Honda City Diesel will give you comparable running costs at a far lower price
Some misses such as the puny 185-section tyres (upgrade is mandatory), outdated audio head-unit, ICE sound quality is just average
Link to City Hybrid official Review
Link to Initial observations
Maruti Ciaz
Maruti Ciaz Pros:
Clean styling & big footprint. Among the longest & widest sedans in its class
Value-for-money pricing that undercuts almost all rivals
Spacious cabin with lots of practical features. The rear legroom is particularly impressive
Petrol variant has now improved, thanks to the new 1.5L motor
Soft, compliant ride quality. A suspension that's tuned for comfort
Big 510 litre boot will swallow your airport & holiday luggage
Maruti's excellent after-sales service, wide dealer network & fuss-free ownership experience
Equipment such as the automatic LED headlamps, DRLs, 7″ touchscreen ICE, rear sunshade, cruise control, telematics system etc.
Maruti Ciaz Cons:
New 1.5L petrol is rather mediocre. City & Verna petrol engines are much superior
4-speed Automatic gearbox feels old & outdated. No Diesel AT option either
Petrol Ciaz has gotten more expensive by 34k – 65k (diesel has actually become cheaper!)
Uninvolving to drive. Enthusiasts, look elsewhere
Average under-thigh support of the low rear seat. Also, limited rear headroom for 6 footers
Light build & ordinary interior quality. The game has moved on with newer competitors
Maruti has missed the opportunity of a true top-end variant with 6 airbags, sunroof, auto-wipers & more
Link to official review
Hyundai Verna
Hyundai Verna Pros:
A true all-rounder. Styling packs appeal too
The overall package is well-priced. Offers good value for money
Refined diesel & petrol engines mated to smooth MTs & ATs
Precise build & quality (including interiors) are easily among the segment-best
Suspension delivers a compliant ride & neutral road manners
Loaded with the kit! Hands-free boot, cooled seats, sunroof, rear sunshade, AutoLink etc.
Dual airbags, ABS & ISOFIX mounts are standard on all variants. SX(O) gets 6 airbags
Hyundai's reliability, competent after-sales & 3-year unlimited km warranty
Hyundai Verna Cons:
Rear seat isn't as spacious as that of the City & Ciaz. SX(O)'s hard seatback makes it worse
Missing essentials! Reach-adjustable steering, auto wipers, auto-folding ORVMs…
On select variants, the diesel motor carries a steep premium over the petrol (SX = 1.35 lakhs)
Petrol AT isn't as fuel-efficient as a couple of its rivals
While the driving experience has improved, some competitors are still more exciting to drive
Loses the rear disc brakes that the last-gen Verna was launched with. Braking feel & bite leave a lot to be desired
Link to official review
Link to facelift launch thread
Here's what GTO had to say on the matter:
The 1.5L DSG for me. It's the most powerful in the segment and makes for the most pleasurable driving experience. Tough to choose between the Virtus & Slavia. I personally prefer the styling of the Virtus GT-Line (although Slavia is handsome too) and it would hence be my choice. Would have to figure out a way to add that amplifier & subwoofer from the Slavia though (or an after-market one). Have a good equation with the VW & Skoda dealers in town, so after-sales are not a worry. These are well-rounded sedans with the DSG failure being the biggest concern (I would mentally prepare myself for 1 failure in the warranty period and 1 out of it).

The Honda City CVT is a close second. Damn smooth, reliable & an equal all-rounder. Just that the VW 1.5L turbo-petrol's additional power seals the deal for me.

Ciaz only if I was looking for a beater or purely chauffeur-driven car. Verna only if Diesel AT was a must-have, I see no other reason to pick the Verna now.
Here's what BHPian attinder had to say on the matter:
I have a month-old City CVT With zero flaws or concerns it is boringly perfect. So that would be my pick.

I would not pay the extra premium of e:HEV over the regular City.

German twins have AC issues right now and reliability/maintenance concerns in the long run.

Others on the list are a bit old now.
Here's what BHPian sreerknair had to say on the matter:
I own a City, but if I were to ignore the additional premium on Virtus/Slavia, ignore the reliability concerns of DSG, and have another car in the garage then that 1.5 DSG will be my pick. The colour and body lines on both these cars are amazing as well compared to City. Voted for Virtus.

But if I were to have only one car, then I would still go for City. In Kerala's stop-and-go traffic, a CVT works wonderfully well.
Here's what BHPian Joelinf had to say on the matter:
I will go with the Honda City, for the peace of mind and the safety rating of 4-stars. I don't have to worry about the DSG failures. Also, both the German cars mentioned here don't have the solid nature of the erstwhile Germans. At least, that is how I felt. They are not crash-tested yet as well.
Check out BHPian comments for more insights and information.
Source: Read Full Article