I uploaded my Alto's data on Spinny & after a free doorstep evaluation, I was offered an assured price of Rs 3.64 lakh.
BHPian Chethan B G recently shared this with other enthusiasts.
Preface
Our family car Maruti Alto K10 AMT was going to complete 5 years of trouble-free ownership with 16,500 Kms on the odometer. Apart from the obvious fact that it is built to a cost, safety in rural city traffic was our only concern. As the prices in the used car market were moving northwards, we planned to take advantage and change the car if we get a good resale value.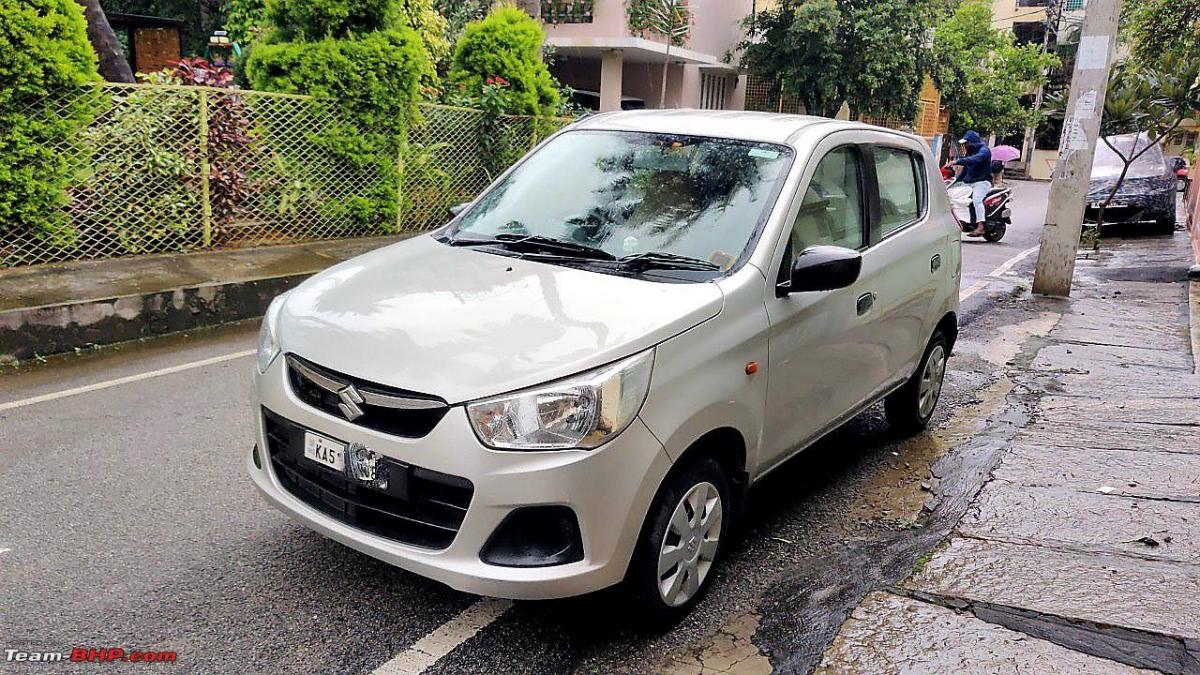 On enquiring around in the resale market, we were quoted around 3L for the car. This was not tempting as the car had clocked just above 16k Kms. We thought anything above 3.5L would be a tempting offer considering the present market condition.
Our initial thoughts and requirements for the new car were as follows:
Safety – Minimum 4 Stars under NCAP crash test.
Build Quality & Reliability.
Dependable aftersales service.
Naturally Aspirated Petrol Engine – As we have plans to keep this car for eternity.
CVT Gearbox – AMTs are too jerky for our liking – Manual Transmission not being family-friendly.
Decent ride and handling with reasonably good ground clearance.
Waiting period for the delivery was not a problem at all.
And thereafter, we started looking for the cars in the market to identify a worthy replacement.
A brief review of the cars we considered
As safety was our number one priority, Maruti and Hyundai hatchbacks were out of competition right at the beginning. What a shame I thought! These companies have maximum turnover and even then, do not consider passenger safety as a priority!
Tata Punch
Punch was primarily considered for its excellent safety and build quality, even though it does not have the CVT transmission. Ergonomics, interior aesthetics and features are excellent. We had almost finalised Kaziranga edition (just to avoid those full-white bits and the tacky-looking inserts around the air-con vents). But unfortunately, the test drive did not go well.
The car looks amazing with very good built quality; 5 Stars EnCap rating is of the highest order. Ride quality is excellent and feels like a car from a segment above. We were happy with the interior aesthetics and the features being offered too.
Naturally aspirated 1.2 litres 3 cylinder Revotron petrol engine lacks refinement, coupled with the jerky AMT; particularly in the first 2 gears, was the deal breaker for us . The AMT should have had 6 gears instead of 5 and I thought Tata could have provided Hill Hold Assist on this car. Brake feel, travel and bite was not linear and felt spongy to an extent. Overall, due to this combination and not just anyone aspect of it, the driving experience was very average. Those full-white bits on the doors and the dashboard stick out as sore thumbs; bad choice of color selection!
However, I have to agree that it was a tough decision to make as the car itself is excellent and well packaged too. If this car had a CVT, it would have sealed the deal for sure. With a heavy heart, I thought I will wait until the launch of Mahindra XUV 200, take a look at it and then decide.
If the Altroz was offered with a Torque converter instead of the DCA, we would have considered it. But with DCA on offer and our plans to retain the car for the long term, I decided to stay away from it.
Nissan Magnite
This one is an absolute looker! With EnCap 4 Stars and a long list of safety features, car is quite safe and loaded with features. Refined 1 litre 3 cylinder Turbo petrol engine and the CVT combination is peppy to drive within the city.
Suspension is noisy and gets busy over humps and potholes, which in a way gives away the fact that the build quality of the car is a segment below. Because of this busy nature, it feels like the car is moving faster than it actually does! Coupled with it, we were not sure about the aftersales service of Nissan in the long run. Our test drive car was not well maintained either.
Honda Jazz
I had seen the 2nd generation Honda Jazz in 2009. This was during the time when I was shopping for a hatchback and had finalised Polo-TDI. During those days, Honda dealers had a serious attitude problem (superiority complex); flimsy interior plastics and low ground clearance in the 1st generation Jazz didn't help either. With that in my memory, I had not even considered Honda Jazz this time around.
But everything changed after my daughter insisted on at least having a look at it.
Stumbling upon the car meant for the family
During the week, I had to meet my friend for an evening coffee. On the way, I dropped in at the Honda showroom and had a look at Jazz. To be frank, I was impressed with the fit and finish. Build is a step lower than that of the Volkswagen, but the quality is top-notch. To begin with, I thought the basic V variant would be good enough as it came with all the safety features and we could add the infotainment system from the aftermarket. When I was discussing this with the sales executive, he mentioned that the steering mounted controls will not work with an aftermarket infotainment system and suggested me to at least consider the VX variant, which has everything except the sunroof, LED headlamps and LED fog lamps. I thought this was a reasonable proposal.
I revisited the showroom the next day with my wife and had a thorough look at the car. We were convinced enough to go ahead with a test drive. Test drive was scheduled for the day after and TD car was brought to our residence. We parked the car inside the gate just to double-check that the space was adequate.
1.2 litres 4 cylinder naturally aspirated i-VTEC Petrol engine when coupled with the 7 speed Honda-CVT is butter smooth; Jazz is a pleasure to drive within the city. Well built with mature suspension and ride quality; it feels like a sedan more than a hatchback. Engine is not audible under city speed and the car literally drives like an electric vehicle. We took it through rough patches and bad roads to practically check the ground clearance and it came out with flying colors!
There were rumors of Honda closing down its operations in India. This was later found to be a hoax!
Sales of Honda Jazz in India have been officially slated to be discontinued from March 2023. This did not bother us as there are a lot of Jazz sold in India and Honda's product reliability, after-sales service, customer-centric policies are well known and proven with a healthy track record. 4th generation Jazz renamed as "City Hatchback" is being sold in Thailand and will probably not make it to India.
Courtesy
As our dear friend and fellow Bhpian Atul Chandra (Redline6800) owns a Honda City and a Brio for ages (literally!), I requested his involvement to finalise the deal with Honda. As always, he was sweet enough to help me out through his contacts and also suggested Spinny to sell my Alto K10 AMT.
Later during the day, I uploaded Alto's data on Spinny's website and scheduled a free doorstep evaluation. Evaluator came the next day and checked the car thoroughly and took a small test drive. Later in the evening, I got a call from Spinny and was offered an assured price of 3.64L for the Alto with a validity of 7 days. I gave them my consent the next day and handed over the car; settlement was immediate. As on date, they have sold the car and the RC has been transferred to the new owner.
Purchase experience
We decided to purchase the car from Brigade Honda, Yelahanka as they were very courteous and professional in their approach. They had provided us with the test drive car too. Price was negotiated without the Insurance, as I prefer to have it on my own. There was absolutely no discount on the ex-showroom price. It was agreed that the 2 years of extended warranty (total of 5 years including standard warranty for 3 years) and 5 years of roadside assistance would be provided as FOC. We opted for Jazz VX CVT in Platinum white pearl. Sales executive Mr. Bharath @ Brigade Honda, Yelahanka had a quick check at the upcoming deliveries from Honda and confirmed that the car will be available for delivery in about a month's time, which was fine with us.
We were also told that a Jazz ZX CVT in Platinum white pearl had left the factory and is en route to the dealership and can be delivered in a week's time. We discussed about it within the family; delivery time was not our concern. But there is one catch with the VX variant. And that is; fog lamps cannot be added easily, as the designated space for the fog lamps on the front bumper is occupied by the LED DRL. Fog lamps are useful and also, since we had plans to keep the car for eternity, we thought of going ahead with the fully loaded ZX CVT variant. And therefore, we booked the ZX CVT variant on 5th of August 2022, which was a Friday.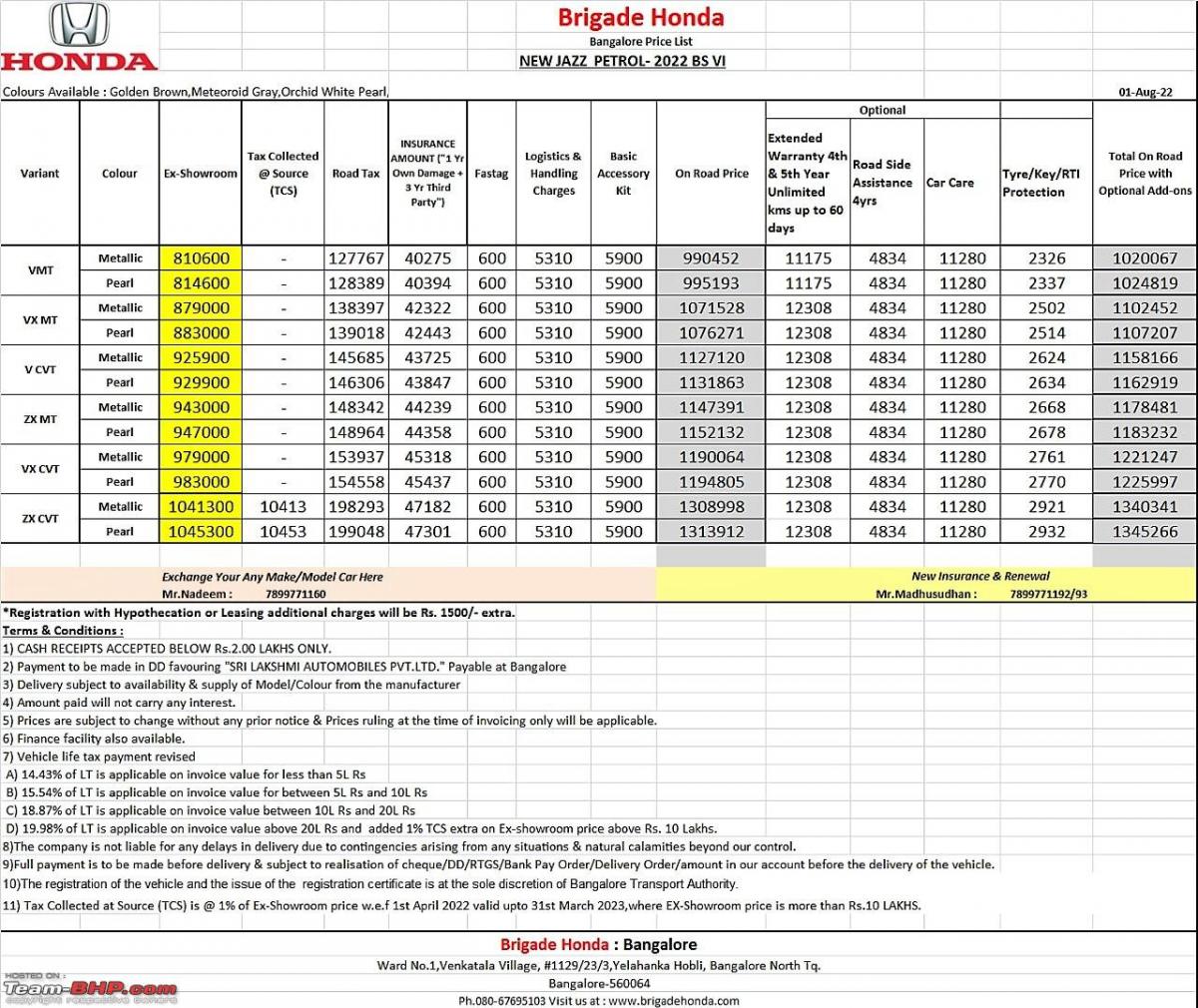 Accessories opted from the dealership
Basic kit; as it had decent foot-mats and mud flaps. But at the same time, we felt it was silly on the part of Honda to bundle 2 pillows, Honda key-chain along with the basic kit and force it on the customers!
Front / rear bumper corner moulding and body side moulding in body color.
Under body / wheel well rubberised coating and copper coating for the silencer.
70% transparency sun film on window glasses and rear windshield.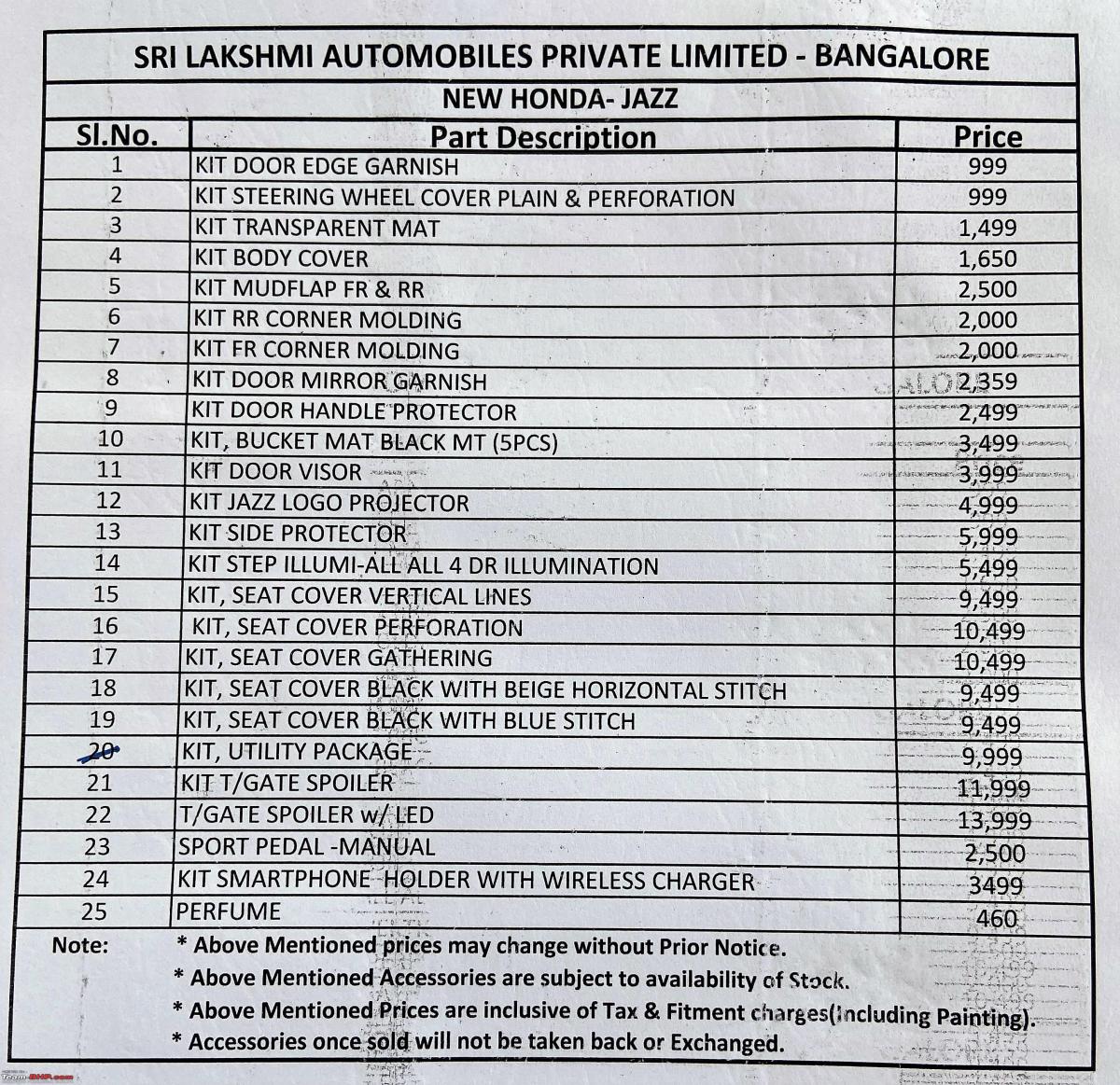 Honda Jazz ZX CVT in Platinum white pearl would be ready for delivery in a week's time!
Pre-Delivery Inspection
We were receiving constant updates from the dealership regarding the vehicle in transit. Once the car reached Bangalore, Atul Chandra and I visited Brigade Honda and completed the PDI. Payment was transferred on the next day and the registration was completed.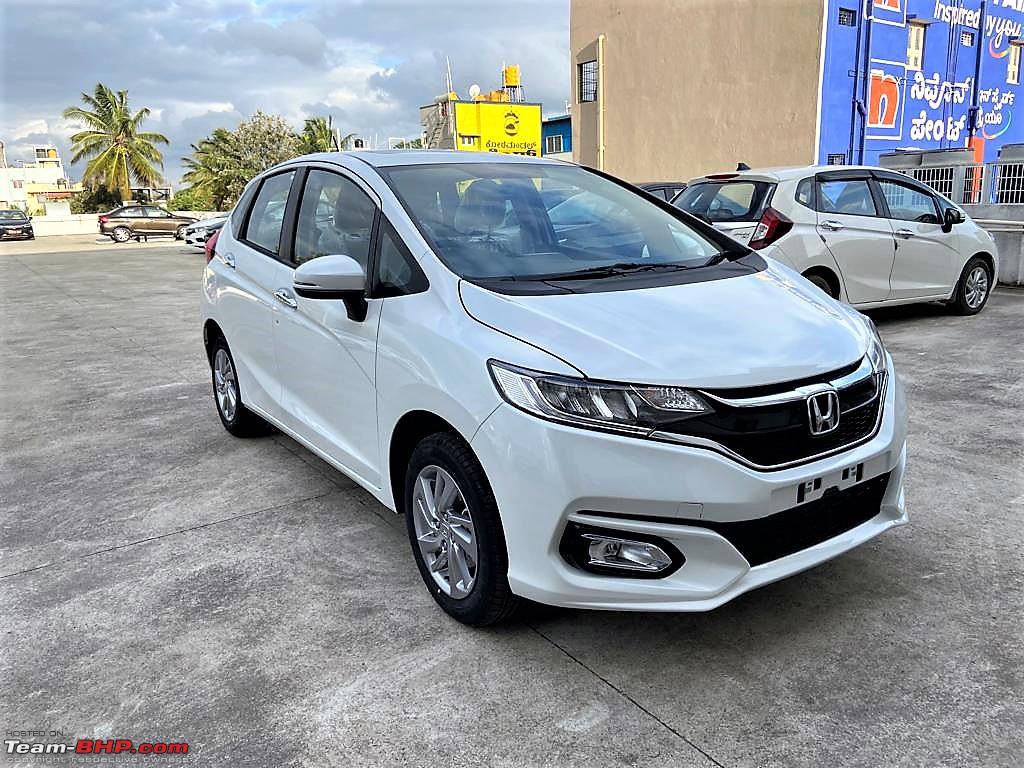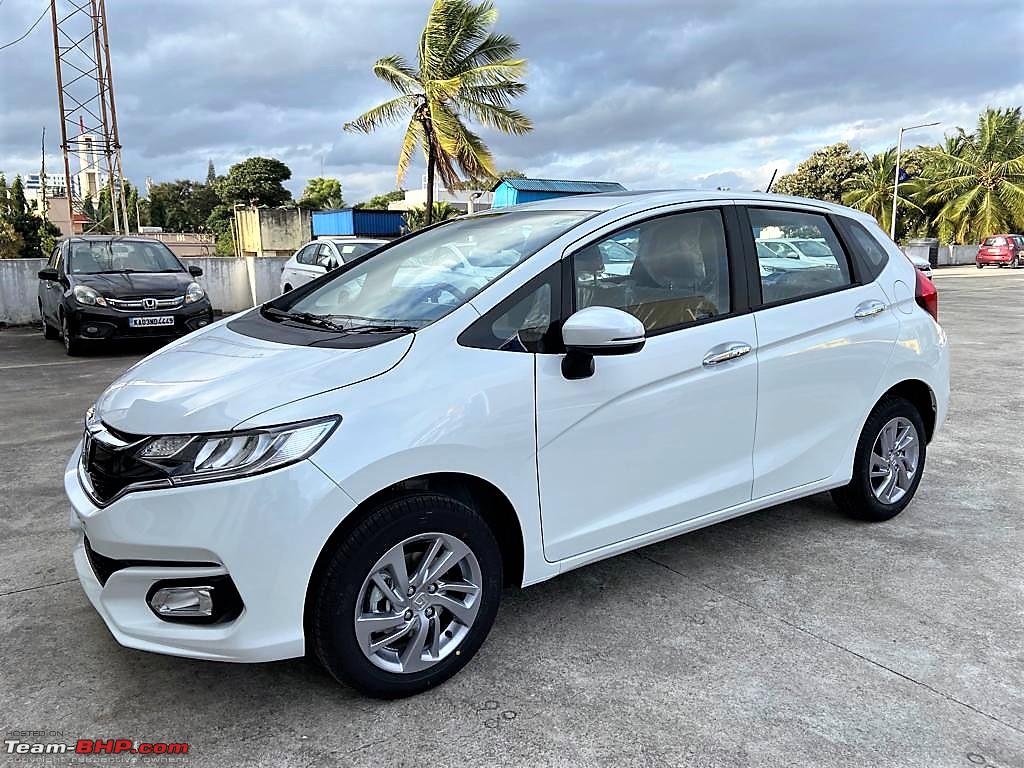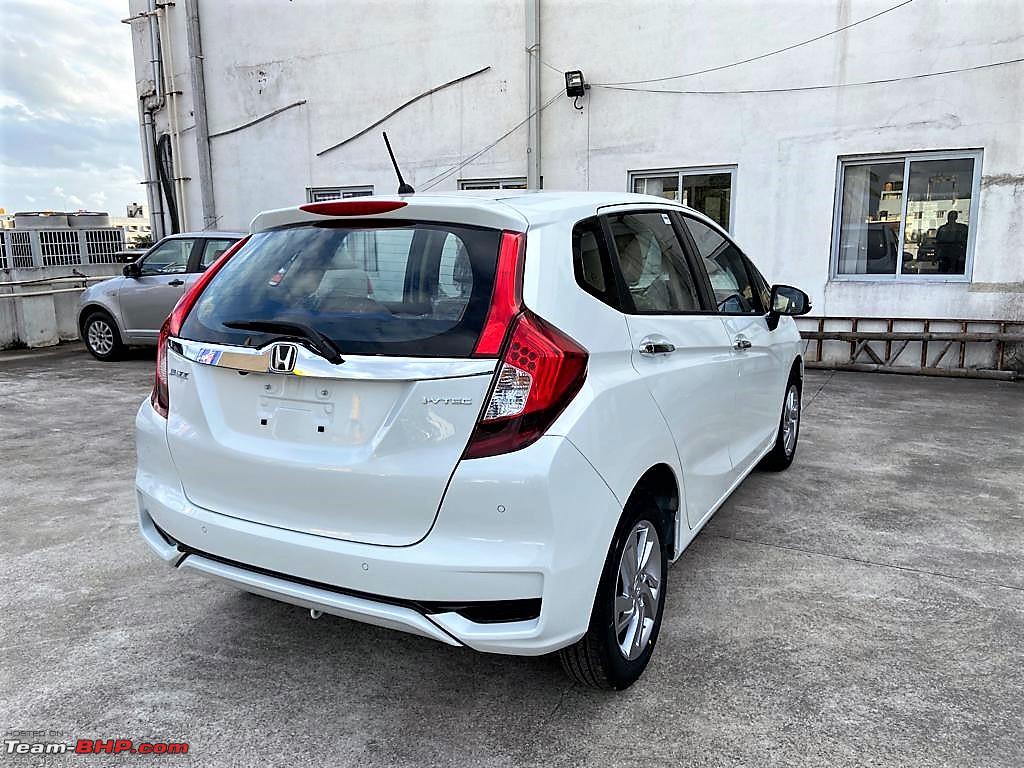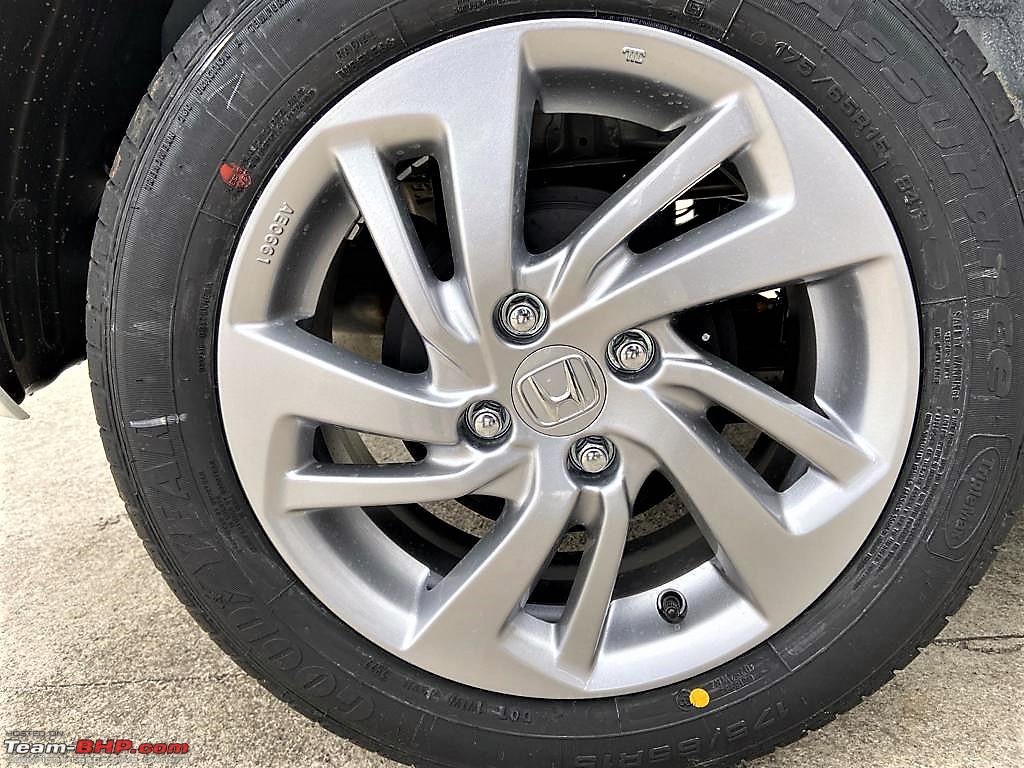 Insurance: Insurance from Tata-Aig covers every possible add-on.
Delivery experience
The car was kept clean and ready with all the accessories fitted. We took the delivery on the 12th August 2022 which was also a Friday, exactly a week after booking the car. Odometer indicated 4 Kms; served straight out of the oven!
After taking delivery, filled up the tank and drove straight to the Ganesha temple on Kasturba road for the customary Pooja.
Certificate confirms that the tint applied is within the legally permissible limit. Just in case the authorities want to check.
RTO Fine For Using Tinted Glass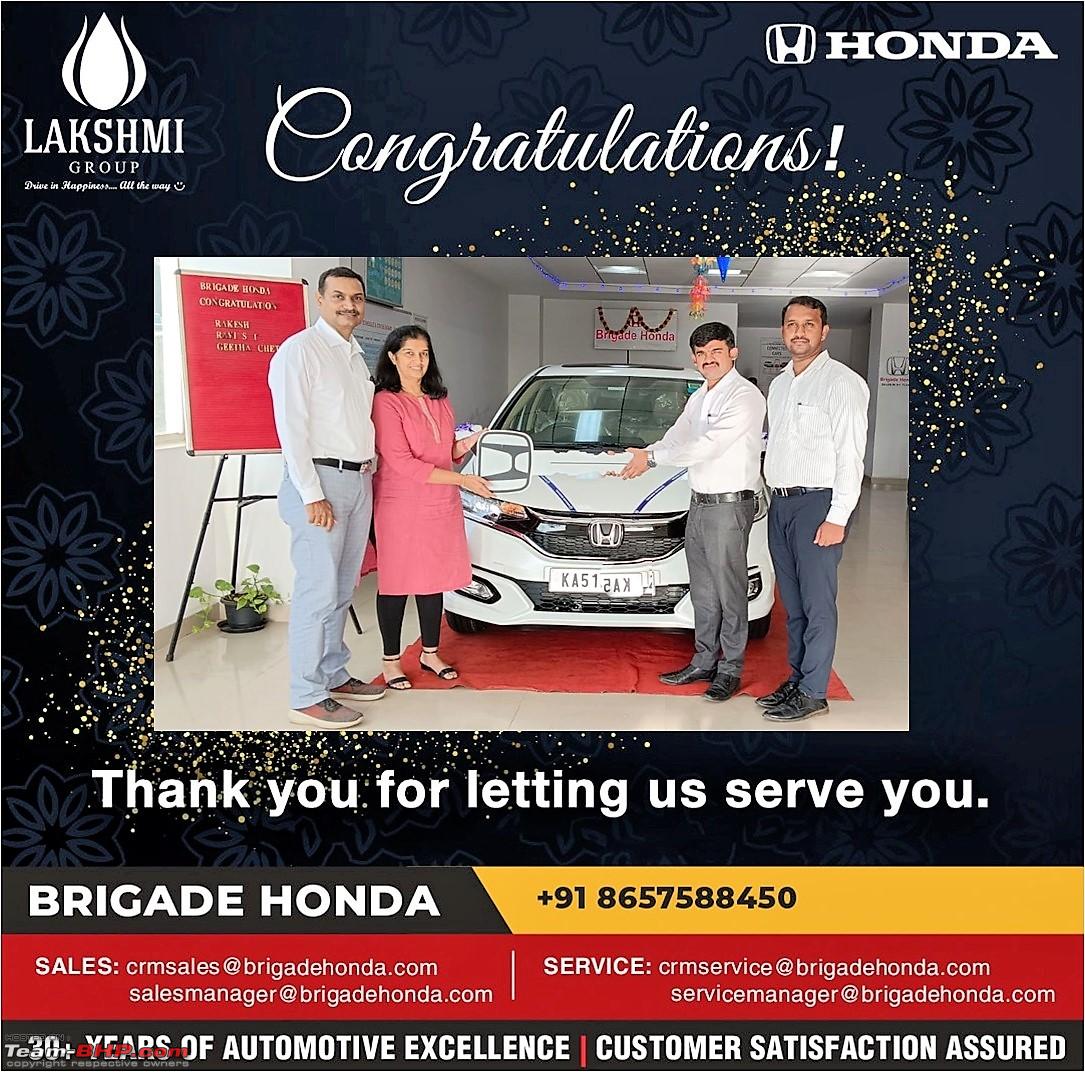 Tyre upgrade
Stock tyres were Goodyear Assurance 175/65 R15 84T and was changed to Vredestein Ultrac 185/65 R15 88V. Tyre upgrade was done on the very next day after delivery before the odometer reading crossed 100 Kms, to ensure a good buyback value for the stock tyres. Deviation in diameter falls within 2%, which is in the permissible range. The new tyres come with better quality rubber, wider gripper tyre, 6mm higher ground clearance, higher load and speed rating.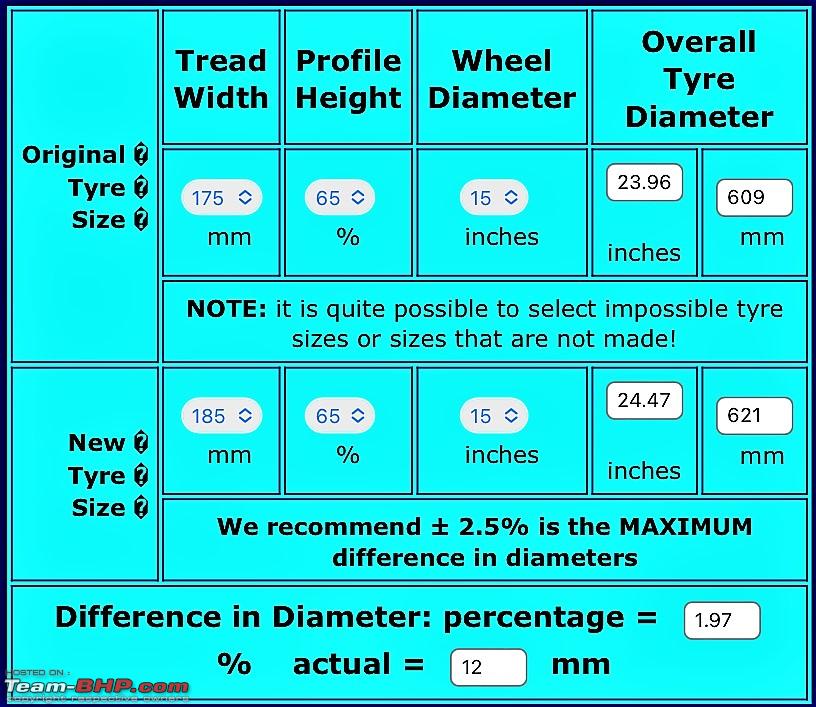 First two years of the tyre warranty cover all damages; even if the damage is due to bad roads.
TPMS
SensAiry TPMS was added to all the tyres including the spare wheel. Once we download and configure the app, tyre pressures are constantly updated and displayed on the phone. In the event of tyre rotation, the position of the sensors can be reprogrammed. The app has provision to set the desired high and low pressure; alarm comes on when the pressure falls outside the set limits. Very convenient.
Batteries in the sensors are internal, have a life span of over 5 years and cannot be replaced by the user. Therefore, once the batteries die, the sensors have to be replaced. Unfortunately, the app cannot be integrated into Apple CarPlay. That would have been a killer, if it was possible!
Both activities were carried out by Tyre professional, Basavanagudi which is a branch of Madhus Tyre Center, Bangalore.
Ceramic paint protection: Work on Ceramic coating, PPF on the electric sunroof glass and behind the door handles were carried out at Ultimate Detailerz, 4 days post delivery.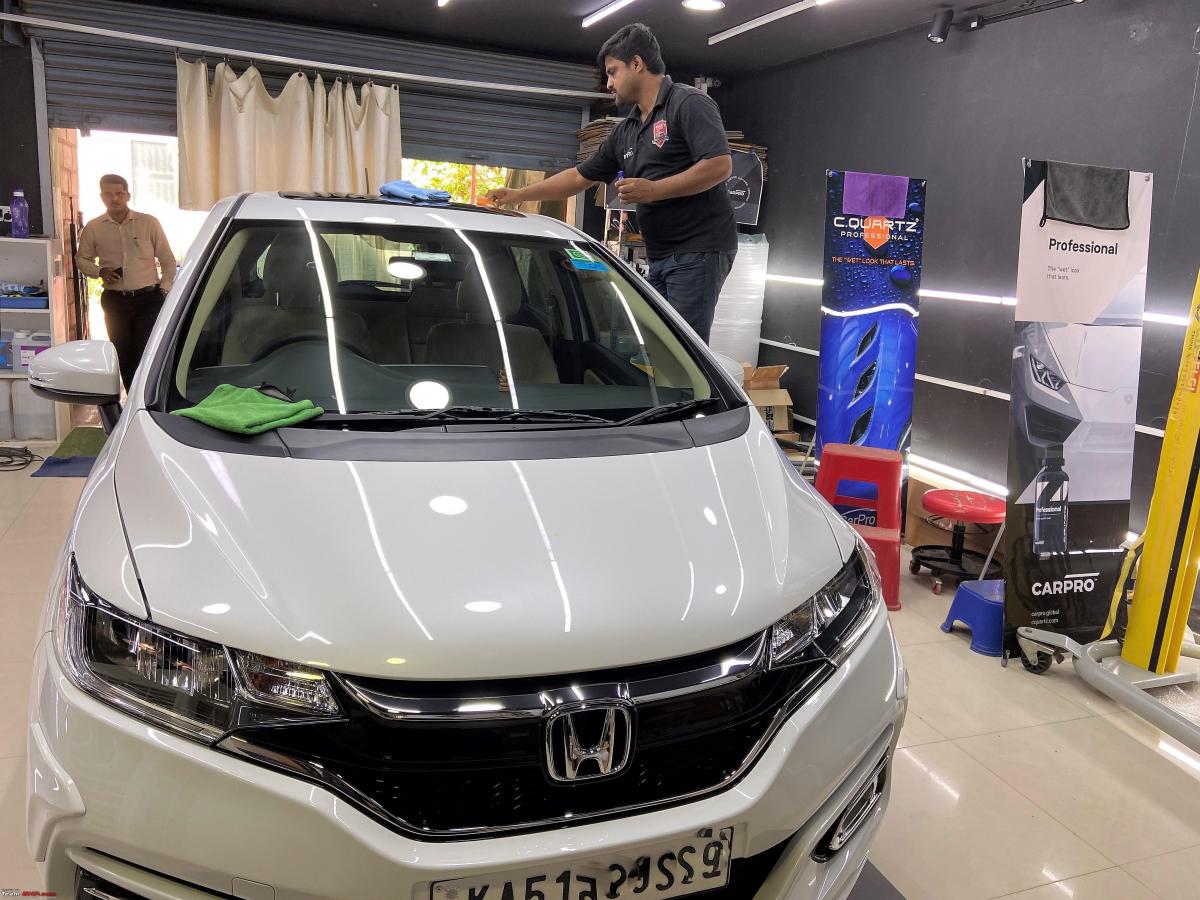 Jazz is eager to start its journey!
Continue reading about Chethan B G's experience for BHPian comments, insights and more information.
Source: Read Full Article