My favourite feature is the 360-degree cam. It has helped me park in congested spaces.
BHPian srkriz26 recently shared this with other enthusiasts.
Chapter 1 – RX 100
2019 – Finally, I decided to part ways with my 1989 Model RX100. Back in 2012, my friend who owned an RX moved to the US, and I took advantage of his departure. While the engine stood great, everything else was junk. Right from the handlebar to the fuel tank, everything. So, I took that to a mechanic and got that all fixed. I was riding the bull happily until my friend came back after 3 months. I was shell-shocked. He was slated to stay in the US for 5 yrs. I sold my Passion Pro and spent the money thinking he would not return. Luckily, he gave me time to ride the bike, till I get a new one.
I started looking for RX100 and ended up buying a 1989 Japan-made model for 15k in 2012.
I took along, a repair person from a mechanic shed opposite my office, to whom I had conversations earlier. He promised to bring the bike back to life and returned with it after 10 days. The bike was better. But, it was nothing like an RX. I lost trust in his words and took the bike to a mechanic whom I had known for years. He had a look at the bike and told me everything needs to be replaced. I agreed. He took time but returned the bike in a better condition. While it was good, I was never satisfied. Months passed, and I found another promising mechanic. This time, I wanted to restore it and he helped me do it. From then on, it became an integral part of my life. I explored my riding nature with it. After a couple of years, I found a new mechanic who tuned it better. It was then, I realized the full potential of what I was riding. Words can't express the happiness and finesse of the machine.
Chapter 2 – Parting ways with RX100
On May 2019, decided to part ways with my bike and buy a pre-owned car. I sold my bike to get out of my comfort zone. My colleagues, who bought cars were reluctant to drive at first and often relied on their bikes. I don't want to be like them and decided to sell the bike, so I had to rely only on my car for transportation. Never thought about the consequences and sold my bike. I miss my RX to date.
I have ridden a lot of two-wheelers – Star City, Passion Pro, Pulsar, Max 100 R, FZ, R15, Bullet, KTM, scooters, etc., But RX 100 is unique. It is an engineering spectacle like nothing else. No other bikes offered the road grip, accessibility or balance it did. The old-style suspensions were starting to affect my lower back and new-age suspensions didn't help either. One fine Saturday, a guy who messaged me for my ad, tested the bike, paid on hand and took it away. It was one of the hardest decisions to make.
Chapter 3 – Search for a car
I always enjoy the process before buying something. I think through a lot, filter and browse a lot of options, before buying one. Similar to the routine, I started browsing through used car ads on OLX, Facebook and Quikr. I was hell-bent on buying a used Alto VXI. I like the design of old gen Altos. They looked international compared to the curvy designs of the 2014-2021 Alto. I nearly found a perfect match for my need but ignored it due to the asking price. While the asking price was only 2.4 L for a first-hand Alto 2014 VXI model, I thought the price was high and didn't proceed with it.
I took a test drive of the Tiago and my better half convinced me to go for a new car instead of a pre-owned one. Along with a friend, who was also looking to buy a car, we started testing a host of budget hatchbacks – Swift, Grand i10, Santro, Wagon R and Tiago. I almost finalized Tiago and decided to book the car 2 days later.
Just a day before booking Tiago, I saw an ad for a used first gen Honda Jazz and fell in love with it instantly. I went ahead to look at the car and it was terrific. I always had a crush on first gen Jazz and this looked like a perfect match. Took my friends and advisors to negotiate a deal with the agent and things were screwed completely. 3.5 L was the quoted price. While I was ok with it, my friends played a spoilsport saying, it's a 9-year-old car and not worth the price blah blah, and the purchase didn't go through. Eventually, a convinced my wife that, a used car would help me learn to drive in city traffic and started looking for used cars again.
Chapter 4 – Hyundai i20
I always ignored Hyundai for no reason and preferred Maruti or Honda over Hyundai. Would mock someone buying a Hyundai due to their Korean nature. As fate would have it, my first car was a Pre-Owned Hyundai i20. I saw the car, test-drove it and booked immediately from Hyundai's pre-owned car division in V3 Hyundai, Tiruvanmiyur, Chennai. From a quoted price of 3.9L, I negotiated a deal for 3.5L with fresh paints on the Bumper.
I was a novice car driver and wasn't convinced about driving 15+ km on a busy evening. One of my friends agreed to drive me home. Despite differences in the bumper paint job and body colour, I took delivery of the car with a promise of bumper repaint during the first service which was honoured later. Anything and everything that happens in my life will be escorted by rain. I was born when it was raining heavily, I met my wife for the first time in the rain and it rained heavily during my wedding. On the day of delivery, it rained as usual and I was convinced due to the sentiment. My friend came on a scooter and asked me to ride that back home as he had other commitments.
The next morning, I left the scooter at his residence and spent 15 mins trying to start the car.
Driving schools are a fraud. They teach us the mechanics of driving a car and nothing else. They don't even let us start a car, to understand whether a car lunges forward or vibrates when it starts. Never knew I had to press the clutch and start the car
The next episode was about parking. My apartment didn't have exclusive car parking but decided to park the vehicle opposite my flat. However, when I brought the car home, I was wrecked to find 2 cars parked in the space I planned to park my car. Thankfully, one of the parked cars had a mobile number on it. The driver was kind enough to come down and move the car for me.
While space is cleared, I did not know how to park a car within the given space. That driver was watching all my theatrics to park the car, and offered to help me finally. Without hesitation or shame, I sought his help and everything was sorted out on the first day.
Chapter 5 – Living with i20
I decided to drive the car for 30 mins to 1 hour every day until I get used to the dynamics of driving. Every morning, I will start at 6 and drive till 7. While driving was easy, parking was the toughest task in managing a car. Bumped several times on adjacent walls and water tanks.
Until I bought a car, I never cared about the time I left to office, or reached home. With a car, I would call my wife and ask her to protect the parking space from auto walas and cab drivers. Looking back, it was all fun.
I scolded myself for buying an i20 often. The prime reason behind my decision to buy a pre-owned car is to get used to driving a car in the city. Alto would have been the best bet. But, ended up buying a luxury hatchback. In my initial days, I never felt I was in control of my car. The car was so damn smooth.
Until 2020 the car was a charm. Didn't spend anything other than 3.5 L and it was so good. Come to the Covid restrictions, things started going haywire. I20 started showing its age slowly. Spent over a lakh in the next 1 year and decided to part ways.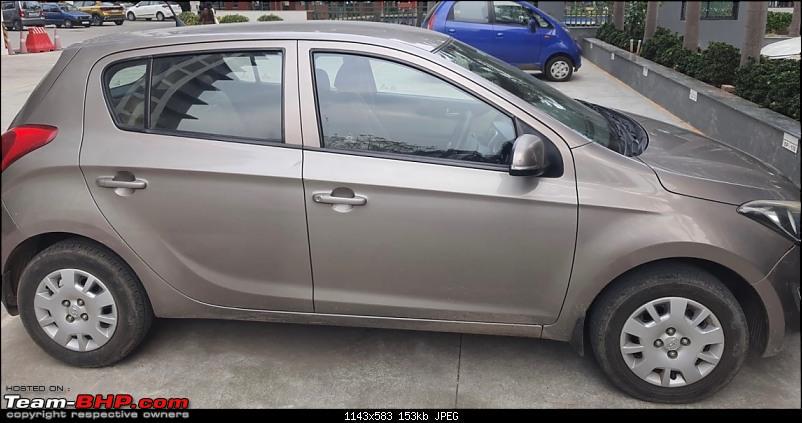 Chapter 6 – Look out for a new car
Altroz was on top of my list for its looks and design. When Turbo was launched, I was sold. But, things took a turn and I ended up testing 13 cars altogether and bought a car which I didn't test throughout the whole process.
I complicate things by pondering over the top for every little purchase. I bought a Samsung Note and then Ipad & Apple pencil, primarily to pen down my opinions and breakdown for every purchase, despite knowing none of this might turn out to be true, just because I like the process of filtering, writing down my analysis and thinking about different aspects.
The first car I wanted to test drive was Altroz. Due to poor response and inattentiveness by the sales reps at Gokulam Motors – Chrompet, I skipped Tata altogether. I raised a Test Drive request at the Tata motors website, and they never bothered to check despite raising complaints. Tata's sales numbers are on the rise, only because of the change in design and mechanics of the car, rather than their sales network. After a couple of months, I went to Gokulam motors in person to test the car. Nobody bothered to attend to me for 20 mins. I lost patience and told them I am there for booking. They hesitantly arranged a Nexon petrol which was covered with dust and had a spare wheel on the front. Still, the car impressed me with its driving dynamics. But the dashboard layout, rear design and Tata's service issues pegged me back.
Reached out to Lakshmi Tata for a test drive and they were better to arrange an Altroz test drive just before Covid's second wave. While I like the car, it scrapped the underside a couple of times. The Main put down for me was the central lock lever and implementation. Anybody can open the car while it is on the run. As I have a kid and this is a serious safety concern, I decided against Altroz.
In extreme contrast, Hyundai brought an I20 for a test drive within 2 hours, but the car offered nothing substantial from my I20. Nothing else has changed in the NA engine. Be it the responsiveness, the way it drives, or the suspension, nothing has changed except the steering response.
Honda was a different story altogether. While I had suspicion over the longevity of service and presence of the car in the market, Honda kept on pushing to sell the car without committing to the delivery, or any hint of positivity. I wanted to test Jazz CVT, but was given WRV manual
Next was Sonet & Venue Diesel. While both were good, nothing offered the space of WRV. While Magnite and Kiger impressed me with their engines and value-for-money proposition, their clutch was on the heavy side and I wasn't an automatic person.
On Jan 26 2022, I decided to book Sonet or S-Cross. Took my family to SVM Kia and checked the car in person. The salesperson said, the official waiting period is 3 months, but he can deliver the car in 45 days. His lead was genuine and mentioned it could take 50 days. I booked Sonet HTK+ NA Petrol, after the sales guy and his manager gave solid confirmation of delivery within 50 days. However, the booking docket from Kia mentioned the waiting period as 5 months. There was no alignment on the waiting period mentioned in the docket, agreement with sales, or the initial information from the showroom.
Chapter 7 – Sonet
On Feb 26, the sales rep called to inform me, my car would be ready next week and asked me to prepare for financials. I sold my i20 for a 50 K lesser because I need to pay the initial within the next 2 days. Come Mar 4, nobody in the showroom answered my call. On Mar 5, I was asked to wait till the 14th, as there is a huge shipment coming to their yard and I can take delivery immediately after payment. I agreed.
On Mar 14 & 15, there was no word from the sales guy. I dialled the regional manager and got a response saying, it will take another 2 months for delivery. I lost my patience and decided to walk into their showroom and hear them out. My sales rep's lead (who was genuine and confirmed to deliver in 50 days) told me there is a delay and it will take another month, which is again not in sync with the regional manager's status. At this point, I lost my cool and started calling out his outlandish commitments, and his team made me sell my car with a 50K loss. He was silent at first, and then made some calls to tell me, there is a diesel variant available which is 2.5 L more than my preferred variant and can be delivered immediately after RTO (4 days). I denied and cancelled my booking due to the way they handle customers and think we are fools.
I complained about this showroom to KIA, via email and on Twitter. The showroom manager visited me personally and apologized for all their mistakes and asked me to take back the complaint.
I got a call even last week, saying the car I had booked is now ready for delivery. They had called me 6 times till now, asking me to pay and collect the car I booked, despite returning my booking amount and acknowledging my cancellation on 16th Mar 2022. Customer service is a joke to these guys.
Chapter 8 – Title winner
A day before cancelling my Sonet, I casually visited the Maruti showroom in Chromepet, to check out the 2022 Baleno. I was impressed with the increased kerb weight and solidity of the car. It was late in the day and I could not test drive the car. I told him about my KIA booking and looking for an alternate car, the new Baleno's official waiting period stood at 45 days.
After cancelling my booking, I was en route to the Maruti Nexa showroom to book for Baleno. On my way was Harsha Toyota Pallavaram where I stepped in to enquire about the just-launched Glanza. I spoke to the showroom head and told him my experience about a cancelled Sonet and enquired about Glanza delivery. The car was launched on Mar 15 and I was enquiring on the 16th. They agreed to deliver before 1st Apr if I booked the top model on the same day. It was within my budget and I made a booking. As promised they delivered the vehicle on 31 Mar 2022. First registered customer all-new 2022 Glanza in TN. They invited me to unveil the car and launch the sale being the first customer. I asked the sales guy, to click photos of the delivery on my phone. But, he was stupid enough to click on his mobile, which was shaky and sub-par, eventually leading me to delete all those photos.
I analyzed my usage, thought about Diesel cars, and EVs, and booked a car I always liked, but bought a car which was never on my list. Still, I was happy about the purchase. The only nagging thought was, I bought a hatchback again than upgrading to an SUV. Me being short, an SUV would have helped a bit on potholes and road awareness due to visibility. Would have bought Brezza or waited for Fronx if it's 2023.
Chapter 8: One year with all new Glanza
This new Glanza impressed me right away with its rev-happy DNA on the city. My main requirement back then was 80% city and rare intercity highway drives.
I was able to reach 80KMH without even noticing it. The only thing I couldn't get used to was the sharpness of the clutch.
Things took a turn after Aug, as I had to make frequent trips to Bangalore and my car is already close to 10k km.
I constantly drive between 100-120 on highways and pick-up hasn't been an issue for me. I could see a lot of them complaining about a lack of eagerness and spirit in Maruti engines, but I have no complaints. This is by far, the best NA petrol engine you could drive on Indian roads today. I am not a pro and for a commoner, this is a perfect hatch for city n highways. The improved build quality and stability of the new Baleno/Glanza are very much apparent till 130 KMH. It isn't meant to drive beyond 120 in the real world.
My favourite feature is the 360-degree cam. It has helped me park in congested spaces. HUD is only a gimmick in its current state. But, can be improved with updates.
Another gem is the suspension. For someone coming from Hyundai, the level of tuning and suspension not affecting your present inside the vehicle is a great boon.
My personal experience with Harsha Toyota has been great. They helped me replace my front bumper and scratches with insurance without much fuss.
While the voice assistant was irritating at first, I switched it off to have a happy ride. As others say, overtakes should be planned. At times, this turned me off while trying to overtake a passing truck or a slow moving vechicle.
All in all, 2022 Glanza has been a brilliant car for me. I enjoy driving it within city and also on highways.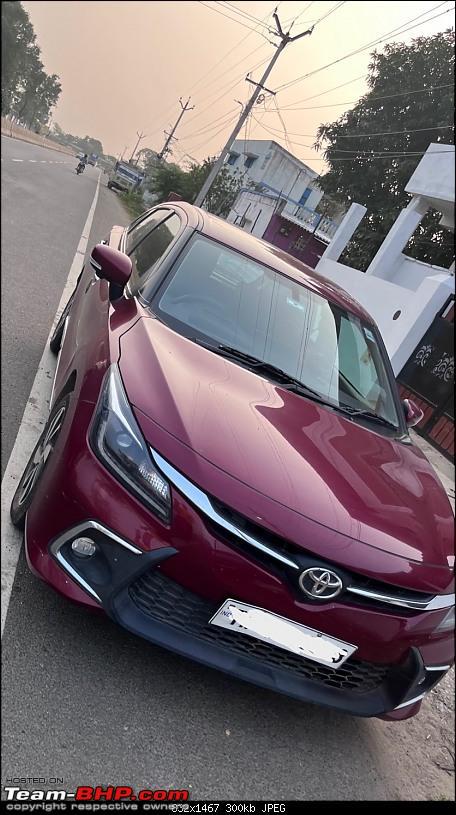 Read BHPian comments for more insights and information.
Source: Read Full Article