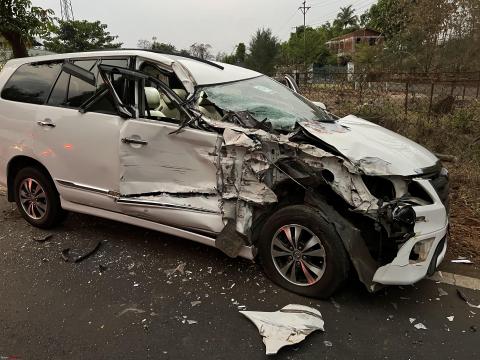 There was a huge whiplash and I for once thought it was all over.
BHPian ex-innova-guy recently shared this with other enthusiasts.
This happened on 9th March, 2023 in our 2015 TOYOTA INNOVA 2.5 V (E4)-7S X and thus explains my username.
Background:
We were travelling from Mangaon in Raigad to Mumbai and started around 6am. We were 5 people in the car; Mom, Dad, Sister, Grandma and myself. Since we were going back after a long trip the boot was fully packed and the Right Rear Seat was folded too. The seating arrangement was like this. I was the one driving it; my sister besides me in the passenger seat; my Mom behind my seat; my dad behind my sister's seat and my Grandma was seated behind my Dad.
Around just 15 minutes into the Journey there is a 2-Lane very short passage of ~3km consisting of uphill section which has loads of Trailers 24*7. I knew this and even though the roads are wide I give them more space to pass. 2 trailers passed and I expected the next to pass too. And to my absolute shock this guy rammed the trailer carrying 20 Tonnes of Steel Coil straight into our car. He hit the Front Headlight and from there he dragged the whole impact till the driver side door. There was a ditch besides but we were saved because there was a heap of Mud on the left side and the left rear tyre bursted out there and absorbed all the impact. There was a huge whiplash and I for once thought it was all over but to my surprise I was awake within 2 seconds while my dad was checking up on all of us. Me and my sister were belted so didn't suffer any impact but the others just got a few scratches here and there. Surprisingly the 2 front airbags didn't deploy.
Few pictures of the accident: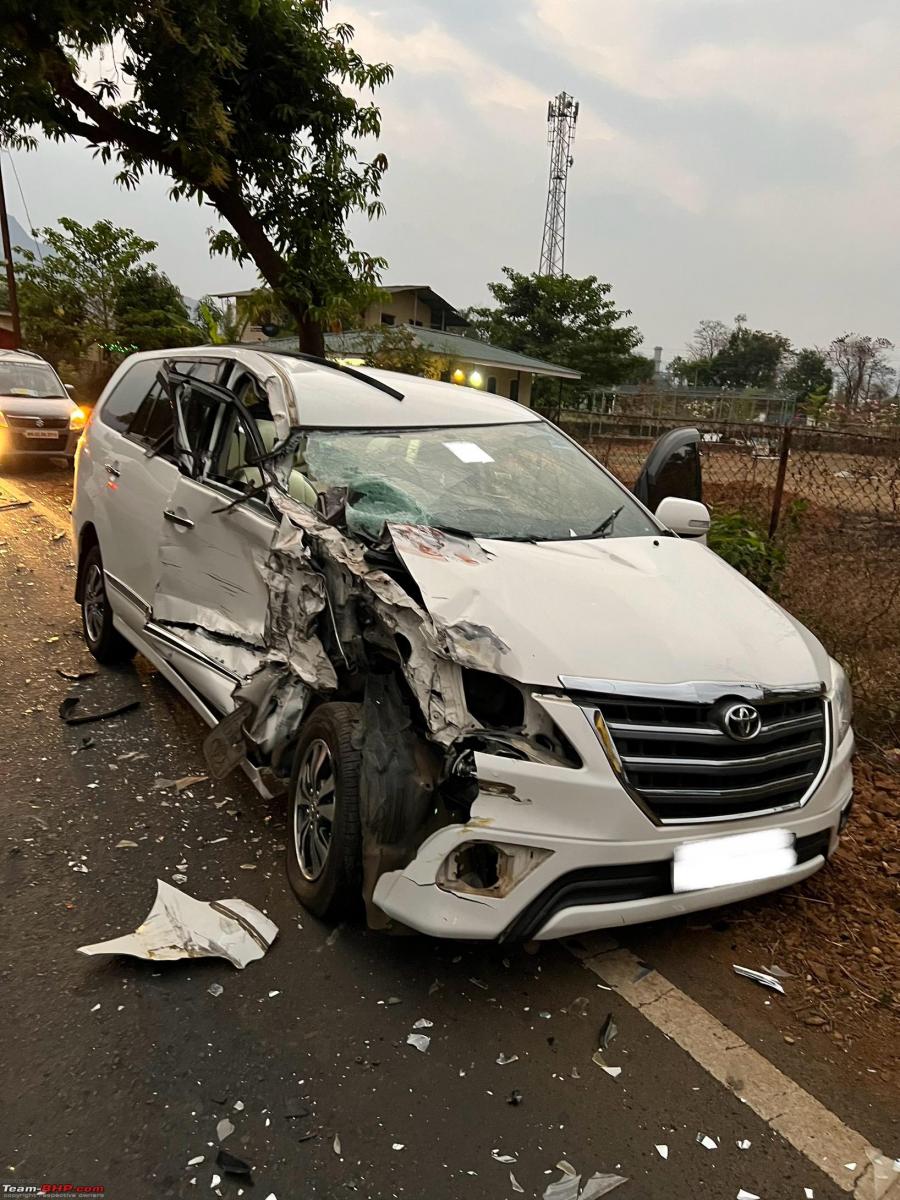 Trailer had completely Torn off the Driver's door and I was probably saved by a few inches.
Dashboard was completely destroyed but notice the unharmed Lord Ganesha.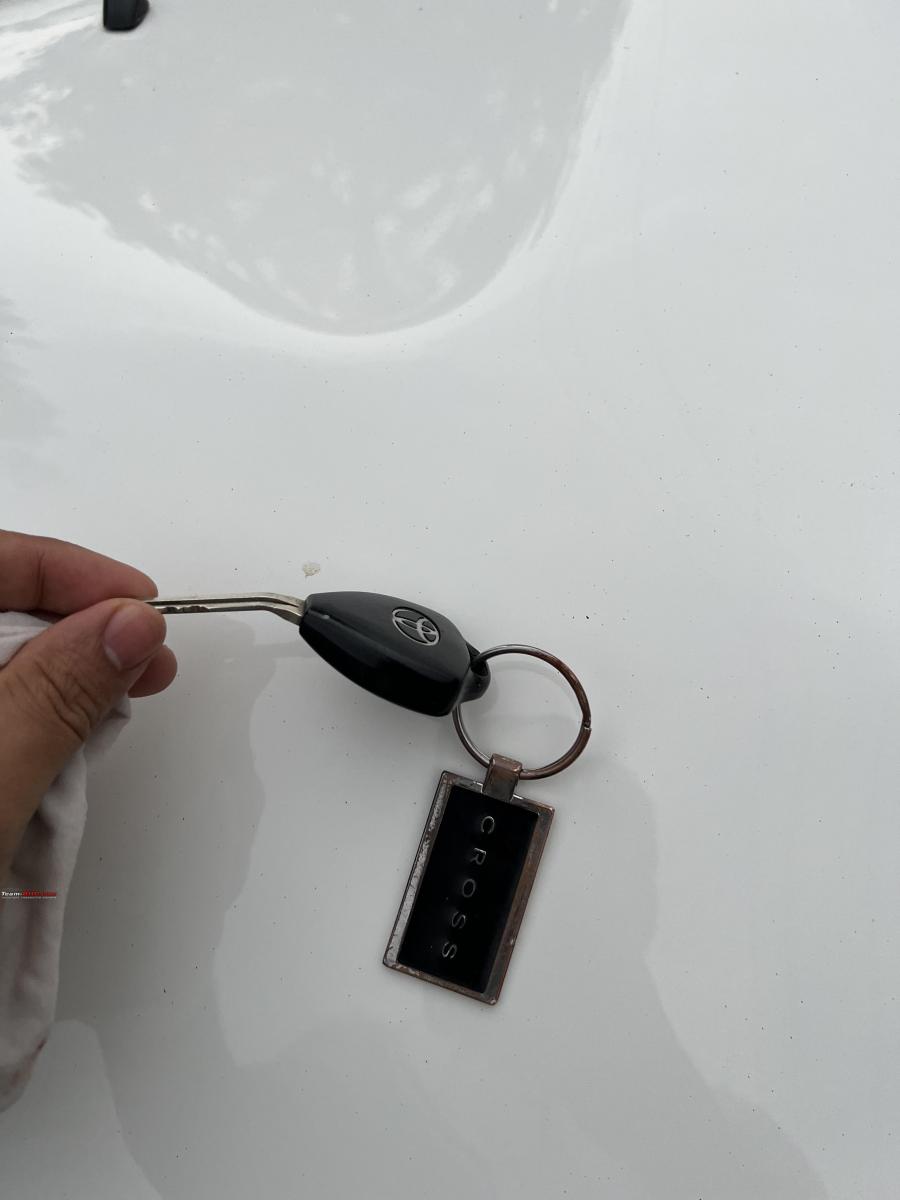 he key was completely bent.
The trailer driver had tried to fled the scene since he thought it was a fatal accident but we got out of the car inside a minute and soon caught him. Upon asking what happened he said sir I slept at the wheel.
Trailer and Driver.
Here in background you can see how off road I was.

Rusting started after it reached the workshop.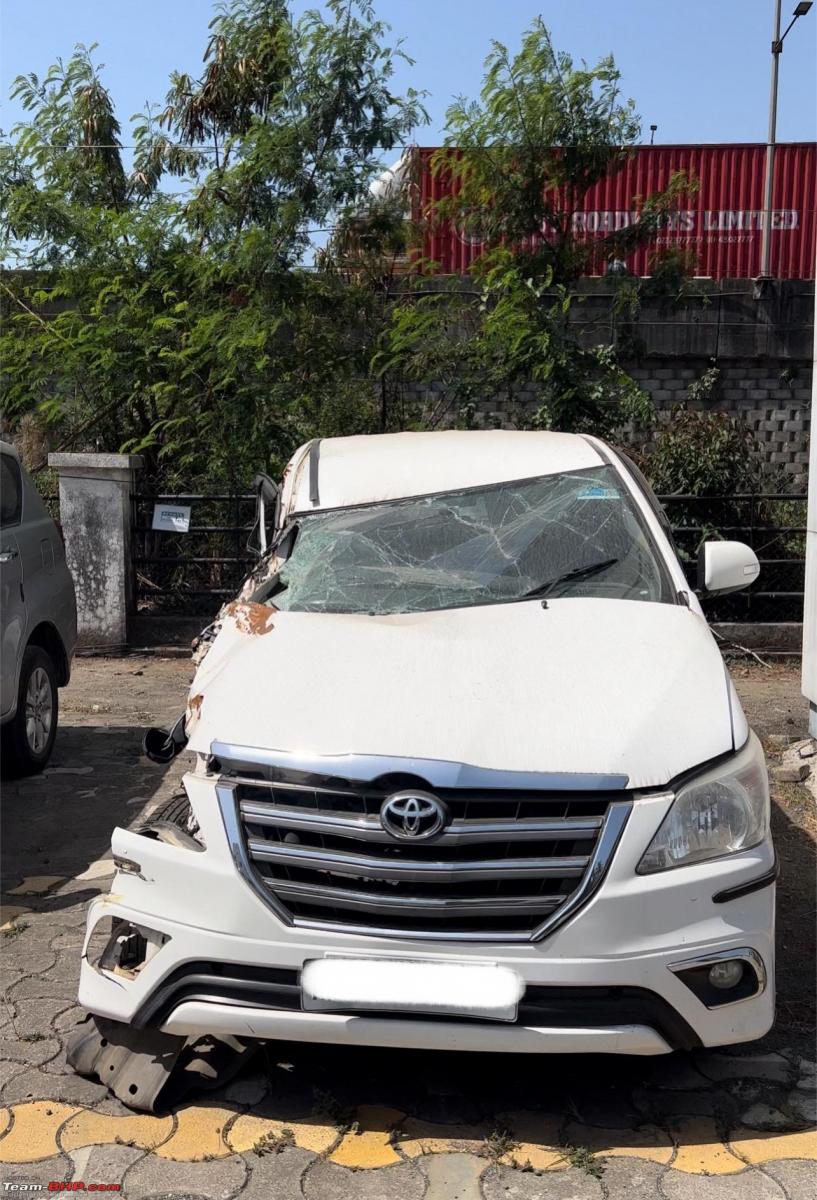 Here it looks as if the Driver Side is Carved out and also how disproportionate it is from both sides.
Post Insurance Survey it was totalled. I have also cross posted some background and insurance claim procedure.
Final Thoughts:
Reason for posting this is to make people aware what someone else's fault can do to you. I hope to encourage people to buy Safe cars which have a good NCAP score or atleast good passive safety features. Our car took all the impact and saved us.
One thing that we have now learnt and adopted is wearing seat belts even in the rear.
We travel a lot on 2 Lane Roads and whenever a vehicle appears from a turn, till this day my mom and sister get scared and their first reaction is to put their hands on the dashboard even when we our travelling well within the speed limits.
Check out BHPian comments for more insights and information.
Source: Read Full Article