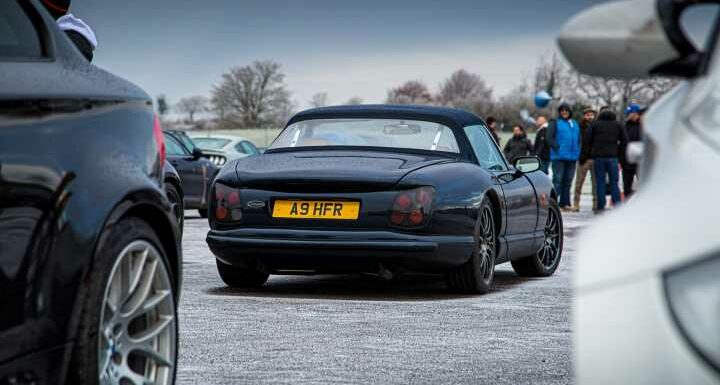 Our 25th anniversary celebrations come to a close at Thruxton – here's how to join us!
By Ben Lowden / Thursday, 9 November 2023 / Loading comments
If you're looking for an excuse for one final drive this year, look no further. Thruxton has proven to be hugely popular in the past, and even a -5-degree start last year didn't stop hundreds of you from pouring into the circuit.
We're heading back to Hampshire on Sunday 3 December to close out our 25th anniversary celebrations and handover our PH Project Car to its lucky winner, Morgan Brady. We'll have space for 500 cars and Thruxton will be opening the doors to their Motorsport Centre, serving up hot brews and breakfast baps, so come hungry. Moreover, our friends at Mission Motorsport will be back running the skid pan for the morning, where you can take your own car for a spin (quite literally) or hire either an MX-5 or F-Type from their fleet.
No matter what you own, be it front-wheel drive, rear-wheel drive or all four, a skid pan is undoubtedly the perfect place to learn car control in slow motion. Want to provoke some lift-off oversteer in your hot hatch or flick out the back end of your MX-5? This is where you do it, safely. Plus all of the money raised will go towards helping the MM team do what they do best.
The skid pan will be run in 30-minute sessions with six cars per group, costing £25 (plus booking fee) per car. Book your space here and be quick, as they won't hang around. Ensure that you're at the skid pan at least 15 minutes before your allocated session for a briefing and to keep the groups moving on time.
There will also be a rare opportunity to walk the track at 11:00, the full 2.4-mile circuit available to warm up. Book your spot here for £5 (plus booking fee). All proceeds raised from the event will help Mission Motorsport, The Forces' Motorsport Charity, which helps wounded, injured or sick Armed Forces personnel on the recovery journey.
Don't miss out on our final event of 2023 – sign up for free via this page on the Thruxton website. See you there!
---
When: Sunday December 3, 09:00 – 12:00
Where: Thruxton Motorsport Centre, Thruxton Circuit, Andover, Hampshire, SP11 8PN
Cost: FREE
Spaces: 500 cars
Tickets: Book your place here
Latest General News articles
Latest Mini Countryman JCW fully unveiled
Thruxton Sunday Service 03/12
Maserati goes back to black with new MC20 Notte
Aston pays tribute to V8 Vantage V550
Alan Mann Racing ePower Mustang | PH Review
Source: Read Full Article