The sun is out and the Summer season is in full swing for players in Forza Horizon 4. This week sees the kickoff for Series 14, which also marks the first anniversary since FH4's launch.
A fresh summer Playlist brings forth new and returning prizes for 50% and 80% completion. This week marks the series debut for a new McLaren supercar.
Our events breakdown is below.
Baby McLaren Leads The Way
Sitting amongst the pool of returning prizes is the debut of a hardcore baby McLaren.
The 2018 McLaren 600LT is the flagship variant of Woking's Sport Series lineup, with substantial changes over the 570S. The 3.8-liter twin turbocharged V8 has been cranked up to almost 600 horsepower. Bodywork changes include a new front splitter and fixed rear wing to generate more downforce. The 600LT's more focused approach should make it a riot on the winding UK roads.
Joining it is the 2005 Honda NSX Type R. Considered a giant killer, the NSX-R is one of the most iconic JDM cars around. Its 3.2-liter V6 might make just 290 horsepower, but a curbweight of 2,800lb mean that this is no slouch in the slightest.
Prizes for completing the Playlist are the Cadillac XTS Limousine and the Ferrari 166MM.
Occupying the seasonal championship prize pot are the 1984 Honda CRX Mugen and the 1979 Chevrolet Camaro Z28.
One of the standout championship prizes is the Ferrari 599XX Evolution. This track monster features a different aero package than the standard 599XX, as well as an uprated 740 horsepower V12. The FXX can be acquired by winning the "Race Central" championship.
Summer's Showcase Remix sees players racing against a Deltawing aircraft. Your weapon of choice? The Lamborghini Countach. There's also a new Monthly Rivals event with the Lamborghini Centenario.
This week's prizes are listed below.
Horizon Heats
Series: Dirt Racing Series
Cars: Retro Hot Hatch
Restrictions: C Class, 600 PI
Prizes: 15,000 CR, 25,000 CR, 1984 Honda CRX
Race Central
Series: Road Racing Series
Cars: Extreme Track Toys
Restrictions: S2 Class, 998 PI
Prizes: 15,000 CR, 25,000 CR, Ferrari 599XX Evolution
There's a Snake in My Boot
Series: Street Scene
Cars: Shelby Cobra
Restrictions: B Class, 700 PI
Prizes: 15,000 CR, 25,000 CR, Classic Race Suit
The Trial: Mustang vs Mustang (Co-Op Championship)
Series: Dirt Racing Series
Cars: Ford Mustang
Restrictions: A Class, 800 PI
Prizes: Ford Mustang RTR #25
Summer Games – Series 14
Series: Playground Games
Cars: American All-Stars
Restrictions: S1 Class, 900 PI
Prizes: 1979 Chevrolet Camaro
Moorhead Wind Farm Speed Trap
Season Objective: 244 mph
Bamburgh Castle Danger Sign
Season Objective: 705.4 ft
Derwent Water Speed Zone
Forzathon Events
To celebrate FH4's anniversary, Forzathon turns to the cover star of the original Forza Horizon; the SRT Viper GTS. Get things started by owning and driving this American beast.
Next, show your Viper has a bite and earn 10 Trading Paint skills. Hit the streets for the third objective, as you'll need to win 3 Street Scene events.
Finally, take some brave pills as you'll need plenty of driving technique to earn a total of 750,000 Skill Score.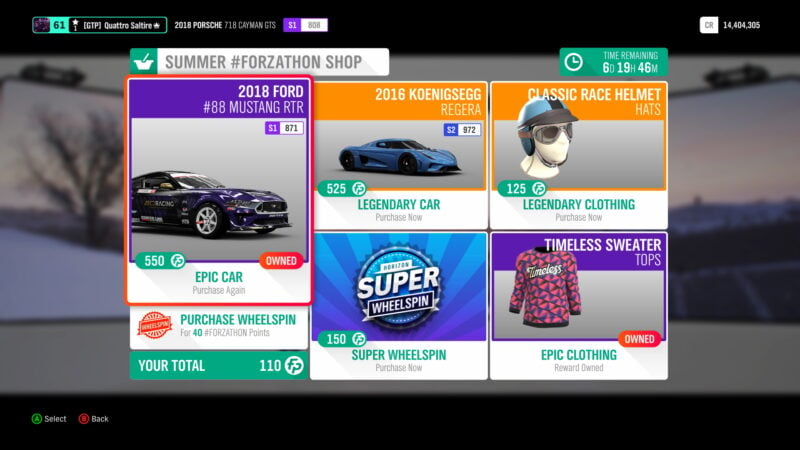 Forzathon Shop
Big horsepower dominates the shop lineup this week. Kicking things off is the #88 Ford Mustang.
This drift-tuned Mustang is built specifically to go everywhere sideways. Helping to destroy those rear tires is a Roush-tuned V8 pushing 1,000 horsepower.
The price for all this tire smoke is 500 Forzathon Points. If you already picked one up during its previous store appearance, then you'll want to look elsewhere to spend your points.
Joining it is the even more insane Koenigsegg Regera. This hypercar marks the company's first hybrid model, producing a combined 1,500 horsepower. This hyper-hybrid will set you back 525 Forzathon Points. If you're after a hypercar to upset the establishment, then the Regera is the one for you.
Clothing items this week include the Classic Race Helmet and Timeless Sweater.
Source: Read Full Article