The cold front of Winter has swept over Britain once more in Forza Horizon 4. The snowy season brings forth a fresh helping of content.
There's a new update to the Festival Playlist, with prizes available for those who complete the season to 50% and 80%. This week is off-road focused, with a couple of sports cars thrown in as well.
Let's dive in to what's in store this week.
90's Sports Stars and Porsche SUVs
Returning content makes up the bulk of this season. First up is the 1995 Porsche 911 GT2.
This 993-generation model was the first to bring the GT2 badge to the 911 range. Built as a homologation special, the GT2 had a fearsome reputation and was nicknamed the "Widowmaker".
The 3.6-liter twin turbocharged flat-six makes 424 horsepower, sent to the rear wheels. In these conditions, a 911 as spiteful as the GT2 will be a handful.
Alongside it sits the 1994 Nissan Fairlady Z. This Z32 generation Z-car is something of an underrated JDM classic. The 3.0-liter twin turbocharged V6 makes a healthy 276 horsepower, though fans of JDM cars will look to extract much more power out of it.
Off-roaders populate the seasonal championships this week, with prizes including the 2018 Porsche Cayenne Turbo and Honda Ridgeline Trophy truck.
The big debut this week comes from Porsche's baby SUV, the Macan Turbo. This facelifted 2019 version brings in styling tweaks similar to the Cayenne. The twin turbocharged V6 engine goes down from 3.6 to 2.9 liters, but power goes up to 434 horsepower.
The Macan can be acquired by winning "The Grocery Run" seasonal championship
This week's prizes are down below.
Cheap as Chips
Series: Dirt Racing Series
Cars: Reasonably Priced Cars
Restrictions: B Class, 700 PI
Prizes: 15,000 CR, 25,000 CR, 2004 Honda Civic Type R
Winter Developer Championship
Series: Cross Country Series
Cars: Extreme Offroad
Restrictions: S1 Class, 900 PI
Prizes: 15,000 CR, 25,000 CR, 2015 Honda Ridgeline Trophy
The Grocery Run
Series: Cross Country Series
Cars: Porsche Cayenne, Porsche Macan
Restrictions: A Class, 800 PI
Prizes: 15,000 CR, 25,000 CR, 2019 Porsche Macan Turbo
The Trial: My Way or the Broadway (Co-Op Championship)
Series: Dirt Racing Series
Cars: Rally Monsters
Restrictions: S1 Class, 900 PI
Prizes: VW GRC Beetle
Winter Games – Series 13
Series: Playground Games
Cars: Sports Utility Heroes
Restrictions: A Class, 800 PI
Prizes: 2018 Porsche Cayenne Turbo
Astmoor Speed Trap
Season Objective: 203 mph
Rail Yard Ramp Danger Sign
Season Objective: 774.3 ft
Coppice Speed Zone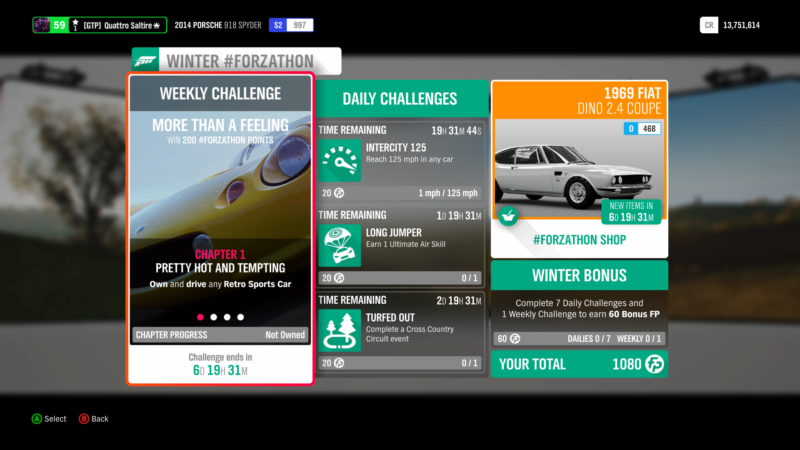 Forzathon Events
Forzathon looks back to Retro Sports Cars this week. With plenty of choices on hand, you simply need to own and drive one to kick things off.
Next, take advantage of the low Winter traction and earn a total of 9 stars in Drift Zones. The third objective is to win a Road Racing Series event at Astmoor Heritage Circuit.
To finish things off, unleash the best of your driving skills, as you'll need to earn a total of 250,000 Skill Score.
Forzathon Shop
Classic coupes headline the shop lineup this week. Leading the way is the 1969 Fiat Dino 2.4.
This car was overshadowed by its mid-engined sibling from Ferrari, but this carries an elegance of its own. The 2.4-liter V6 makes just 180 horespower, but you won't need any more than that for cruising the streets.
The Dino will set you back 550 Forzathon Points, meaning if you missed it's last seasonal appearance, now is the time to get one.
Sitting with the Dino, is the the 1993 Ford Mustang SVT Cobra R. This Fox-body generation of Ford's pony car was the last of its kind and is a rare beast, with just over 100 units made.
The Cobra R also has plenty of power for the winter roads. The 5.0-liter V8 makes 235 horsepower, but some tuning modifications should extract a lot more. At 500 FP, the Cobra may prove a valuable purchase if you're unable to win one on the Wheelspins.
Clothing items this week include the Patrol Outfit and the Pink Biker helmet.
Source: Read Full Article