You will not be able to tell the difference between the sprayed parts and the old/untouched ones.
BHPian Jeroen recently shared this with other enthusiasts.
This morning I picked up my Jeep from the annual MOT/APK at Brinkman. The owner Martin called me yesterday. They had noticed only one small problem. The rear fog light was not working. In fact, it was full of water. They just cleaned and dried it out and we are good to go for another year.
Very happy that all my other work on the Jeep has been approved now. Next couple of weeks I will be doing a lot of cleaning, polishing and waxing on the Jeep.
Attached below is the "Keuringsrapport" (Inspection report). You always get a paper copy. As it is mandatory to have a valid APK at all times, where applicable, you used to have to carry this report with you in the car. Not necessary anymore, all digital nowadays. Anybody can check any registration plate to see if the car has a valid APK.
Still, I keep all these reports for my W123 files, which is now grown to two full binders.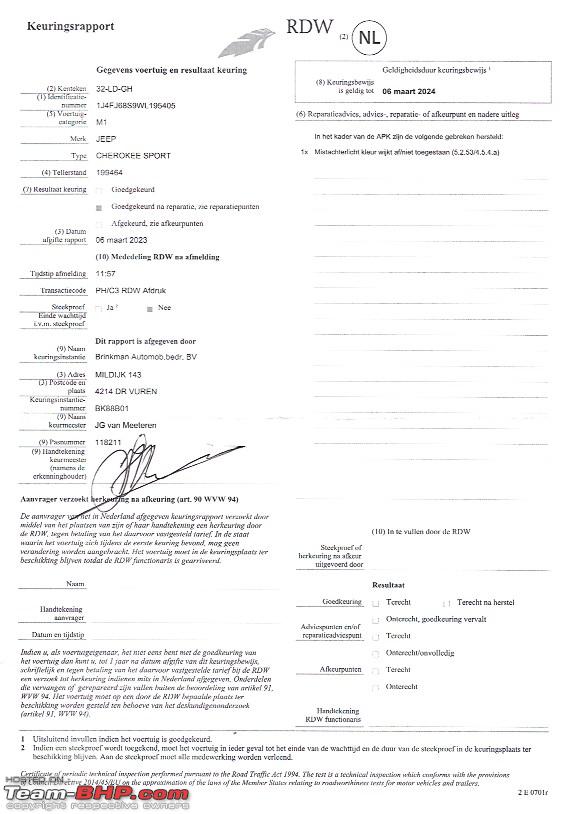 I also received a call about my W123. It was ready too!
They had lent me an electrical bicycle, so I peddled back. Unfortunately, I had forgotten to charge the battery. Half way the battery went dead. In the middle of an almost blizzard-like wet snowstorm. It is very heavy going on an E-bike if the battery is dead.
They gave a couple of images of the W123 during various stages of repair. They keep immaculate and very extensive records of everything and anything. These guys have built an excellent relationships with all major insurance companies. It is very rare they will send an expert. All approvals are done on the basis of their photographs, reports, calculations etc.
The dent in the bonnet
Indicator light destroyed and damage to the panel
Also this rubber bumper piece was damaged.
Prepping of the car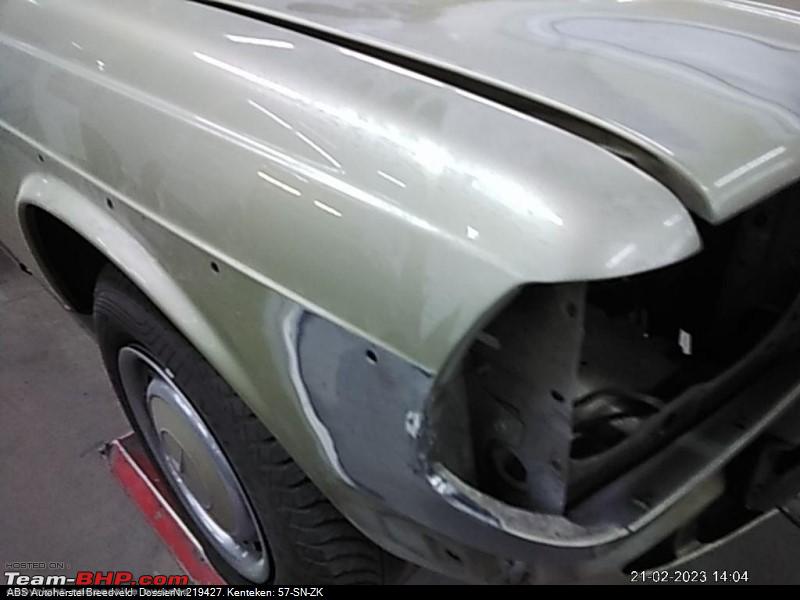 A bit of rust, they took care of it, obviously.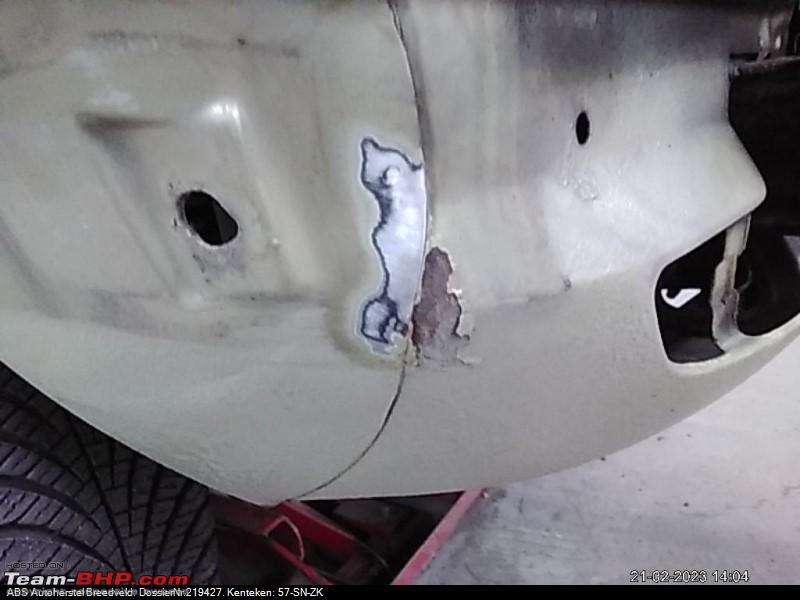 All ready for the primer
Primer done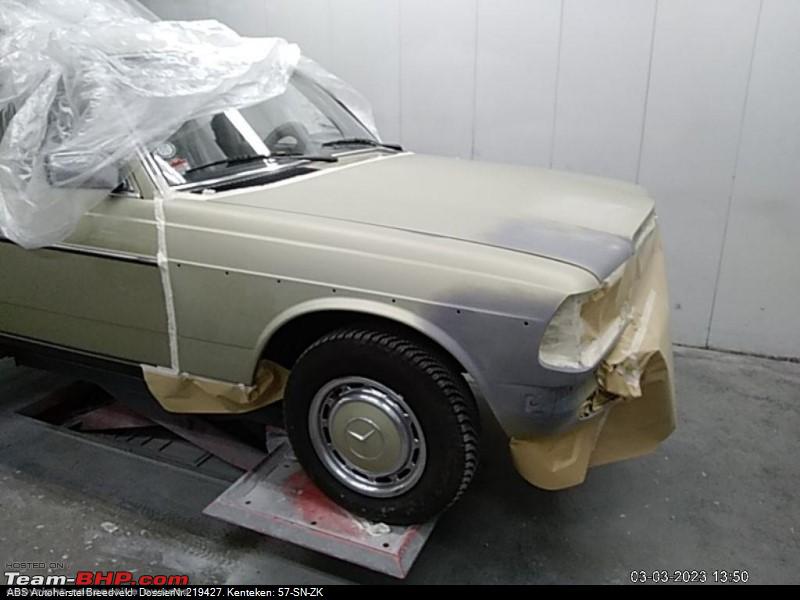 Paint and top coat on.
All done!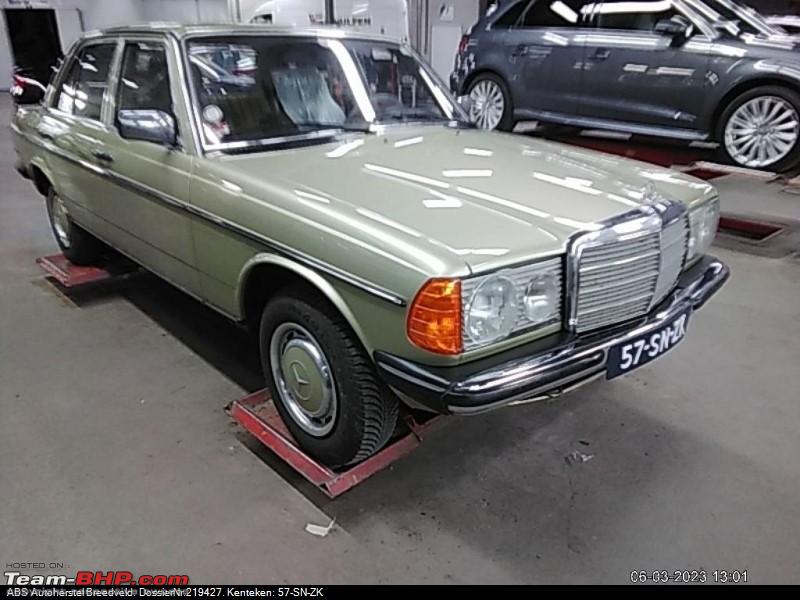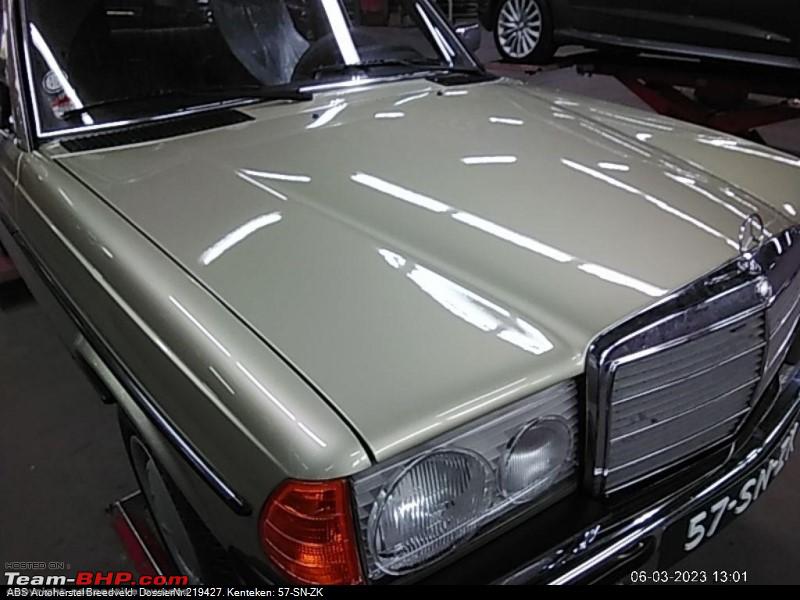 Very happy with the work they have done. These guys are very very good. You will not be able to tell the difference between the sprayed parts and the old/untouched ones.
These modern paint techniques are very good and also very quick and convenient. Half an hour after the last coat goes on, the car can go through a car wash or get a wax job! (But don't put big stickers on freshly re-sprayed parts, you should wait 10-14 days for that).
So all in all, very happy with all my cars in running order.
Then, unfortunately, this happened this morning. Scraped the bumper of the Jaguar.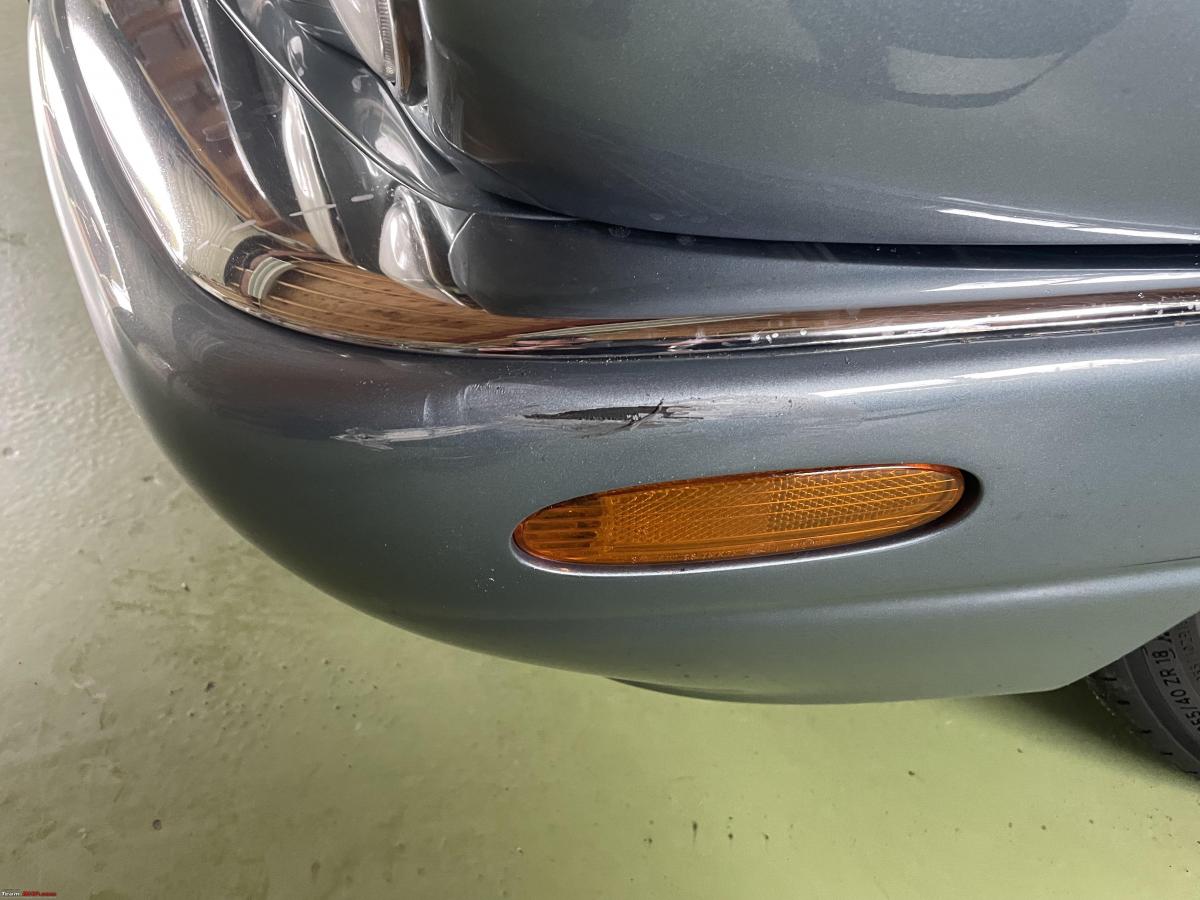 Real bummer!
I have already made an appointment with my new friend Gilbert, who did a great job on my Jeep. The Jaguar will go there this Monday and will be ready a few days later.
The W123 was an insurance claim, but for these small dents/dings, I don't want to bother my insurance. For these little jobs, Gilbert is now my favourite. He does a very good job and he has always time.
The total damage to get the W123 restored was a whopping Euro 2600 (including 21% VAT). INR 227000 is a lot of money.
I spoke to spanner mate Peter today as well. Unfortunately, something has come up and we had to postpone the work on his Jaguar XJ6.
Check out BHPian comments for more insights and information.
Source: Read Full Article