The car was mostly trouble free barring the need for constant wheel alignment/subframe shift required. Just that the drive experience was never good on longer journeys.
BHPian tp_dominator recently shared this with other enthusiasts.
This is going to be a long post since I had started writing an ownership review, but the journey of the car itself has been short-lived with me, so I would try to capture the essence of my ownership of 9 months and 24,000 kms. This car is now sold and will be replaced with another one shortly. Kudos to mods for encouraging me to share the report nonetheless.
Man proposes, God disposes.
The above line holds very true for me for what I can only call blessings showered upon me to have been able to own, drive and write reports about various cars which I have owned in a short span of time. Without wasting much time, let me introduce to you all my Tata Safari Kaziranga XZA+.
The Day I Got Her Home
Likes
Great looks
Pliant suspension
Smooth Automatic mated to a potent engine
Good audio quality from the JBL speakers
Ample space for 5 people even with a child seat
Proper Big Car feel
Ventilated Seats
Good boot space with the 3rd row folded
EPB with Auto Hold
Dislikes
Infotainment is buggy – needs to be restarted every once in a while
Small fuel tank – lower range on the highways
Poor reverse camera quality
Pathetic fog lamps and high beams
Boot space with all three rows up
Lesser space for knick knacks in the front row
After a brief stint with my Azure, Ford Ecosport S Diesel, where I drove it for nearly 77k kms in a little over 3 years and whose ownership review is there on Team-BHP, I was constantly on the lookout for a bigger vehicle ever since we knew our family was about to grow with a little one joining our lives soon. The basic requirements were as follows (in no particular order):-
Good boot space – my wife loves to carry the house along with her and with the addition of a little one, the boot space on Ecosport was going to be an issue – precisely one of the reasons why I chose it over XUV 300 over 3 years ago.
Pliant and smooth suspension – I had started despising driving my Ecosport over rough patches since it resulted in a lot of cabin movement and jerks were felt inside the cabin due to super low sidewall height. Once it gained enough speed, the issues were less but with a baby on board that would not have been an option.
Diesel and automatic – the combo I wanted since forever – restricted only by budget. Also, added advantage of getting a good fuel efficiency.
As feature rich as, if not more, the current Ecosport S. Once you get used to certain features, its probably very difficult to leave them – for example auto dimming IRVM.
Budget to be under 25 lakhs with BH registration (so max ex-showroom cost to be 23.5 lakhs).
ISOFIX child seat mounts – though its now available in most cars in the given budget.
Presence, features and looks of the car and should most definitely have that fun to drive factor.
Timeline for purchase was anywhere after August 2022.
Below vehicles were considered before purchase:-
Hyundai Alcazar:– I was quite sure of getting this car since it fitted all my requirements including the features list and a frugal diesel automatic. But this was rejected by my Mom who did not find it spacious or comfortable enough. Though, as a family car package, this was hard to beat. Reluctantly I agreed on letting this one go.
MG Hector(Pre-facelift):- We walked into the MG showroom right next door of the Hyundai one in Wakad, Pune and once we sat inside the Hector, the quality interiors immediately made us forget the Alcazar. However, this car is plagued with a perennial problem of not providing a diesel automatic, which was non negotiable. Hence, this too was rejected. If MG had a diesel auto Hector, it would have been sitting in my parking space right now.
Mahindra XUV700:– I had booked a XUV700 in January 2022 and this was supposed to be delivered in March 2023 as per the Mahindra portal. We were in August 2022, so I did not even bother contacting any dealer as I knew, I won't be able to get my hands on one soon. Further, few missing features like auto dimming IRVM and the niggles reported at Team-BHP were making me apprehensive of moving ahead with this one. Though, a great vehicle in all respects, this had to be the last resort if all else failed.
Jeep Compass:– Diesel Auto out of budget, like wayyy out. However, was one of the most feature rich and premium looking car. Combined with my knee constantly rubbing the left console and a general feeling of crampedness, this was out of contention after a test drive on the diesel manual.
Tata Safari:– Around the same timeframe IIRC, Poitive had updated how he tackled the knee console issue with the Safari/Harrier by adjusting the seats on his excellent thread. "Choosing a car upto 22 lakhs". I had liked the Safari earlier but constant niggles reported and this specific knee console issue were putting me off. Also, when I had booked the XUV700 in January 2022, I tried getting a TD of the Safari which was elusive and never happened. However, things had changed by August 2022 and dealers were eager to sell their Safaris. Suffice to say, with the updated features like ventilated front seats, and my requirements, this was the most close to perfect vehicle for me. One TD on the bad roads and I was sold on the car. The JBL 9-speaker audio is also one of the best in the segment and the whole drive experience was pretty enjoyable.
Got it home in just 2 days. Booked on 6th September 2022 and got it delivered on 9th September 2022.
Let me spare you the details of the delivery and start with the review. However, delivery was just satisfactory with the car missing one rubber stopper on the bonnet and shabby cleaning of the car. However, my sales advisor at Saibaba Tata, Pune was among one of the best I have come across.
Drove about 120 kms on the day of the delivery and concluded the day with dinner at Sunny da Dhaba at Lonavala with my friend, as the family was away at the time of delivery.
Within a week I had completed a 1000 kms with one round trip to Kolhapur and got the first service done.
Issues noted before first service:-
1. The famous left pull – the steering would just move to the left at higher speeds if I was not holding it tightly enough – fixed with a subframe shift which took a whole day.
2. DEF was low – topped up.
Long trips undertook with the car:-
1. Regular Pune-Sangli-Kolhapur runs.
2. Pune-Alibaug/Kashid beach.
3. Frequent home runs to Bilaspur via Nagpur.
4. Pune-Panchgani.
5. Pune-Goa.
6. Frequent Pune-Mumbai runs.
7. Pune-Ahmednagar-Aurangabad.
Near Kashid Beach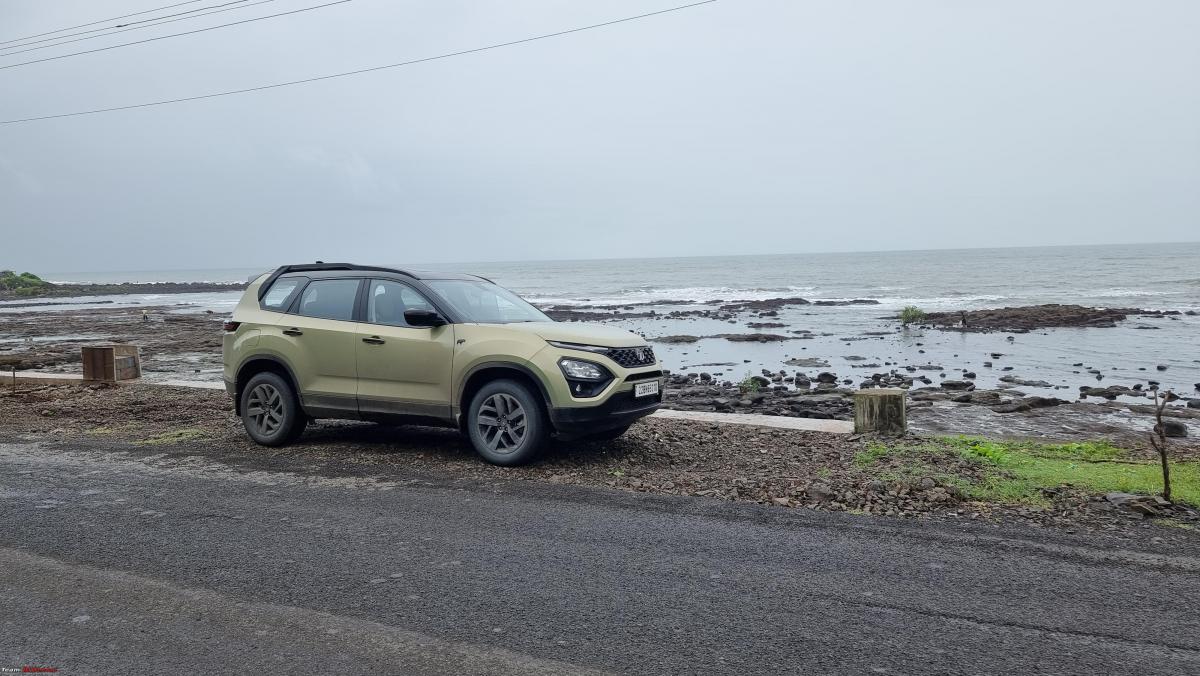 At Panchgani
First Drive On The Samruddhi Mahamarg
Durg Bypass while returning to Pune
Modifications on the car:-
1. Ceramic coating with PPF on headlights, ORVMs, all outside Piano black surfaces (excluding the roof) and interior piano black surfaces from Aquatint, Pune.
2. Nano ceramic films installed on all glasses except sunroof again from Aquatint, Pune.
3. Aozoom LED headlights on the fog lamps and high beams from Car Cupid, Pune.
The Aozoom LEDs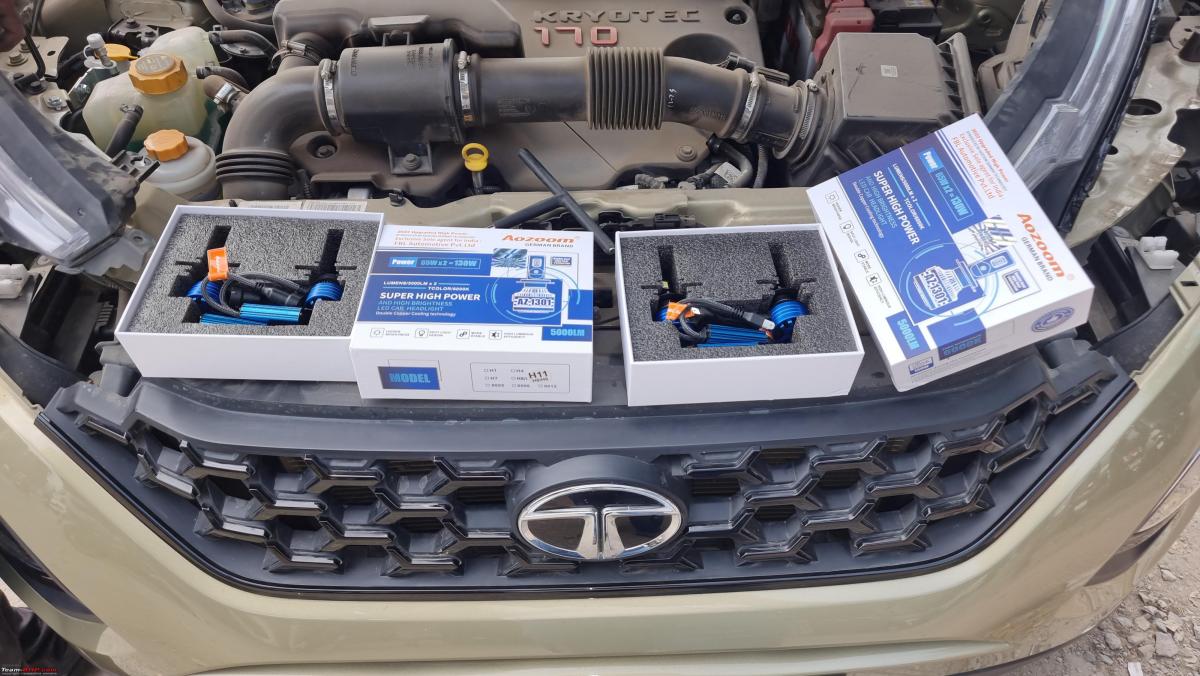 While the car has various positives highlighted by others as well, below are a few points which I encountered particularly on my long journeys. Points to note here are due to the nature of my job as well as my driving pattern, I like driving for as long as possible without taking a break. This is true for solo drives which I mostly undertake and others opinions or experiences might differ from mine.
1. The seatback is stiff and this made me uncomfortable on 10-12 hour long journeys. My back would start paining and nothing short of stopping would help.
2. The left pull would come back to haunt me everytime. Multiple alignments needed after every 5000 kms. Also, the steering was a touch too light at highway speeds. Needed a firm hand on the steering always. This would make my shoulder start paining unless I took a long break.
3. The throttle response is dull and it meant pushing the accelerator hard to gain speeds once lost due to traffic – leading to lower FE as well. However, with time I got used to this behavior of the car and used cruise control to counter it. However, CC is also slow to resume the set speed after it has been disengaged.
4. While on the point of the accelerator, the A-pedal is placed at an awkward angle which made my ankle numb and pain started transmitting to my calf area and subsequently to the under-thigh. I never had to check the A-pedal angle before buying a car. These are some basics which a manufacturer selling a 25 lakh rupee car should have been able to address and assess. The feet don't fall naturally to the pedals, combined with not being too close to the pedals due to the knee console hitting the upper-thigh or the knee region, this added to overall discomfort.
5. Small fuel tank of just 50 litres. My Ecosport had a 50l tank too but then the efficiency was also around atleast 70% better in similar circumstances. This meant scouting for a fuel pump at the 500 kms mark before I could proceed further safely.
6. The car fishtailed on quite a few emergency braking situations. No warnings were shown on the MID. This made me lose confidence on the car.
7. The pièce de résistance – the front seats. I mean apart from the stiffness, how bad can somebody design a seat on such an expensive car. The car lacks under-thigh support and this became evident on the long journeys. Moreover, this might apply to a very few individuals who are of similar shape and size as me. But this was a H-U-G-E deal breaker for me. Also, if one monitors closely, the driver's seat is at an angle to the steering so you are always sitting in a cross position. This, with the nervous steering and the left pull – compounded the problems to a very uncomfortable level.
I seriously started missing my Ecosport which was just perfect barring a diesel automatic and the bumpy ride. Every long journey I took, firmed my belief that something was actually wrong and all these things were not in my head. I feel more fatigued at the end of every drive than what I felt on the Ecosport. With the last journey which I took and came back to Pune on 19th June, 2023, I had made up my mind that enough was enough and this is not the car for me. I was ready to bear the loss I would take after selling my 9 month old, 24k driven car. But comfort on trips was paramount. This had to be the basic premise of buying a D1 segment vehicle – the basics of seating and driving need to be right which Safari royally failed to do with me.
20th June – the car was put up for sale and I had parted ways with it in a week. The car was otherwise trouble free barring the need for constant wheel alignment/subframe shift required. Just that the drive experience was never good on longer journeys. In the city though, it was manageable and quite comfortable with the awesome suspension.
The Last Photo For The Ads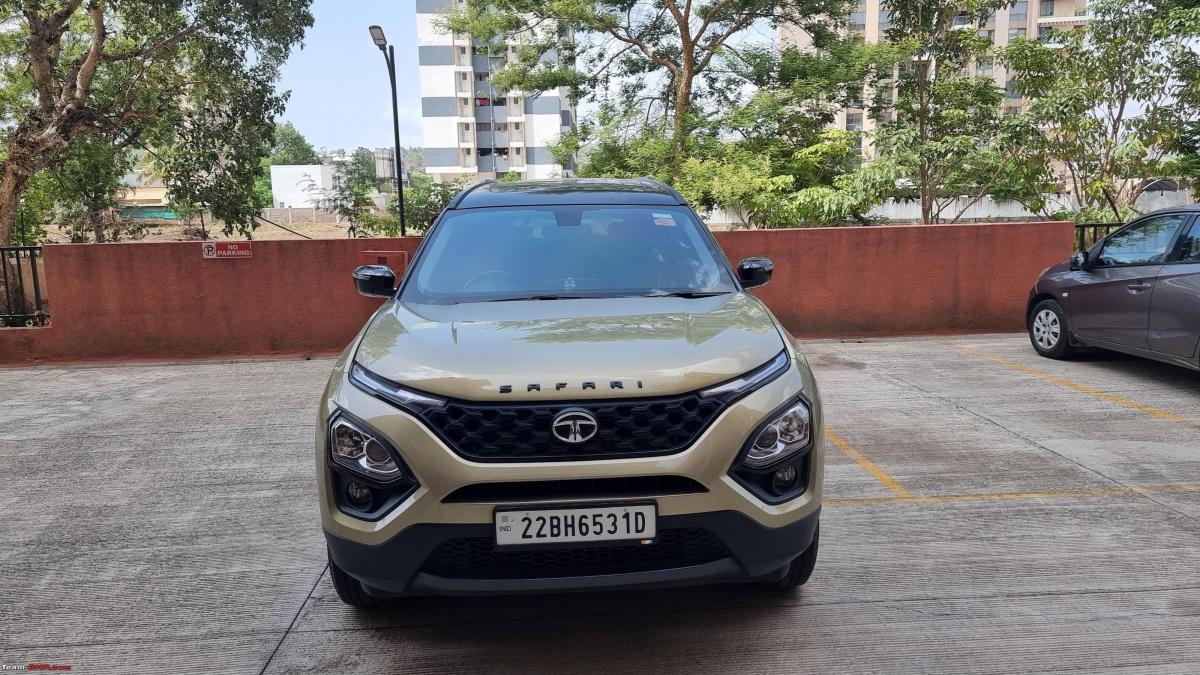 The search for a new car led me to two contenders – the Scorpio N and the XUV700, both of which have got the basics right – seats are supportive, steering is well weighted at speed and not nervous, great under-thigh support on both and moreover the A-pedal is not at an awkward angle. Lets see how the new ownership goes. That's it from my end.
Disclaimer:- The above views expressed might not apply to a lot of owners but this has been my experience. I was not willing to do this write up but had to let it out of my system before I embark on a new ownership journey. Wish other existing and future owners a trouble free and joyous ownership with their Safaris.
The Last Photo At The Handover
The Final ODO Reading
The Next Ride
Read BHPian comments for more insights and information.
Source: Read Full Article