The long drives with the amazing fuel economy & countless other memories created with this car will forever be etched in my heart.
BHPian tp_dominator recently shared this with other enthusiasts.
Time to say Goodbyes!
With the increased running and my job consuming me, I have not been able to pen down regular updates about my Azure. As destiny had it, this is going to be the last and final update as the blue buddy has found a new home.
It all started with needing a bigger car with more luggage space and eventually I wanted a diesel automatic. So, sadly after 3 years and 3 months, I decided to let go of the steed and bring a new one home.
The final ODO at the time of selling was 76k km. 34k km was added in the last year out of which nearly 25k was added since January, 2022. Below are a few updates before the final sign-off (in no particular order).
Tyres at 53K km
Thanks to the heads-up provided by fiat_tarun who sourced and negotiated on the Michelin Pilot Sport 4s for himself as well as for me, I got the Ecopias changed to Michelins. The difference in ride quality was evident. However, I am not too technically inclined to comment much but these tyres too picked up quite a few punctures which were noticed at 73k km wheel alignment and balancing.
The Ecopias were also plagued with quite a few punctures towards the end of their lifecycles and I was told Michelins would also need to be changed by max 80k ODO. Well, that was another 40k expense waiting in line.
The new tyres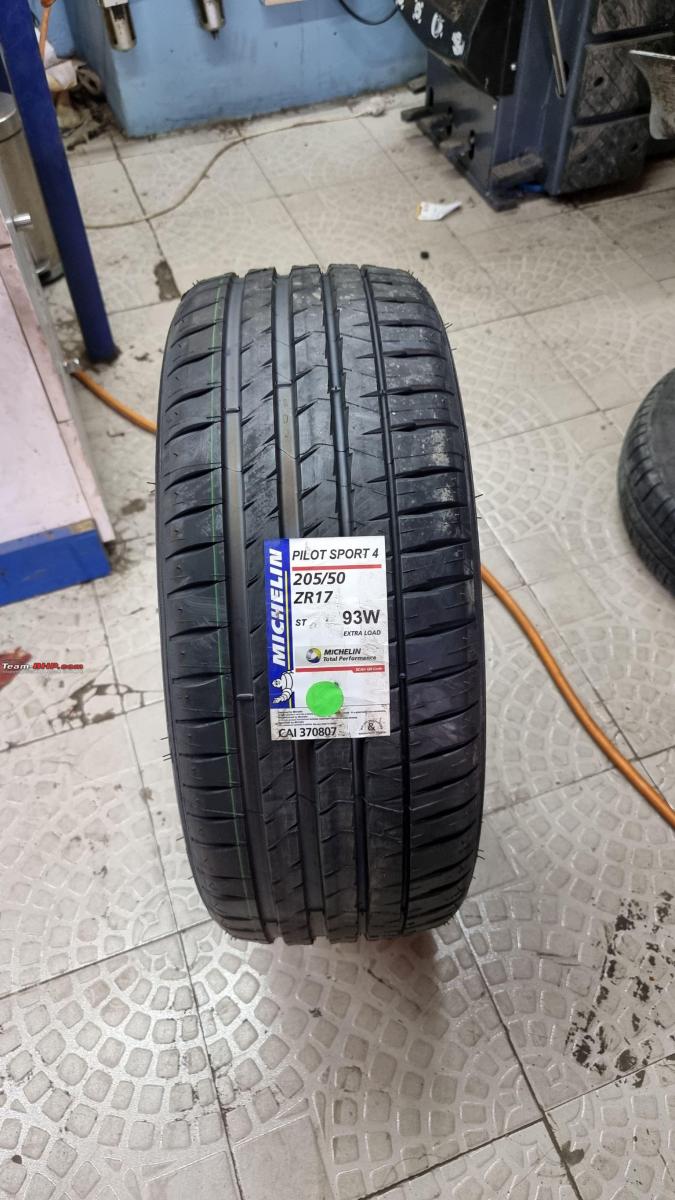 Stance After Getting The Michelins
New Battery at 57k km
Somewhere around 55k km, I started seeing random messages which were indicating a weak battery. I checked with outside vendors but none of them was providing the exact battery specs of the original one, so went ahead with the battery from the Ford ASS. He mentioned it carried 3 years warranty too, which was fine with me – cost 4200 IIRC.
Headlamp Upgrade to LEDs at 68k km
I had just got the high beams upgraded to LEDs and they were performing flawlessly. Rains were also not an issue as I drove in a heavy downpour while going to Igatpuri and back in very low light conditions but it was the LEDs which were illuminating the roads.
Drive to Igatpuri
Between The Big Daddies
Service Experiences After Ford Exit
I got 3 services done between the last update and this one – 50k, 60k and 70k, among which all three were done post Ford's exit from India. My experience was the same as before – hassle-free and flawless. No idea whether it will continue but I did not face any issues. Here's an interesting observation – 60k kms service cost me just 3600 bucks in June, 2022 since there was some monsoon camp going on.
Apart from the regular services, got my brake pads changed again at 56k kms ODO since they had again started squealing on applying pressure. The brake pads needed to be replaced again had I got the 80k service done too. Wipers were also replaced at 70k service in July, 2022 which I had replaced in July 2021 too. Other than the above, nothing else was required to be changed. However, I had started to feel that the clutch was on its last legs and would have needed attention at 80k. At no point in time, however, till now, the service bill exceeded 6k rupees. Very happy with the upkeep costs!
Some Final Words
Ecosport is truly a gem! Those looks coupled with the great and cheap aftersales support which never let me down, those long drives with the amazing fuel economy and countless other memories created with Azure will forever be etched in my heart. This thread will help me reiterate those memories time and again. Though the time span was short-lived, the distance was not. My butt thanks me for making it relax on the hard cushioned seats which made those long 1000 kms a day drives relaxing and less tiring. The left leg says otherwise and hence the decision to change.
Initially, I had planned to change in 2023 but by that time I would have driven more than a lakh km. I am not justifying the next upgrade, but my heart wanted something newer, bigger and automatic for those long drives. Until next time, here are a few parting shots before handing over Azure to the next caretaker.
Last odo reading
And the New Entrant (Thread Coming Soon)
Check out BHPian comments for more insights and information.
Source: Read Full Article