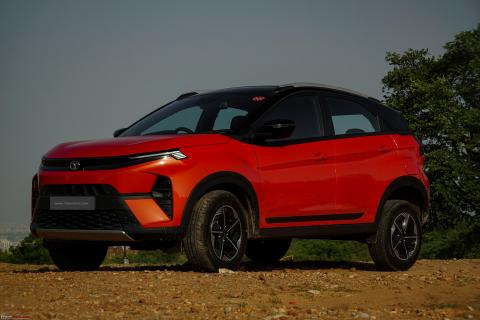 Given our current limited use of cars as low as 1,000 – 1,200 km a year, of which 50-60% is in the city we thought going for a hatchback with auto-transmission for ease of use.
BHPian Devansh88 recently shared this with other enthusiasts.
Garage:
We are a couple in mid-thirties and we currently (and proudly) own a 2005 Baleno Lxi, which extremely well maintained and is only 55k done. Most of our office commute is on two wheelers, mostly for convenience of avoiding Bengaluru traffic. Car runs are limited to couple of times a month, and half a dozen airport runs a year, when parents or friends visit, maybe totaling 1000-1200kms a year. However we do acknowledge that like our car, we are also aging and will need a reliable vehicle for our day-to-day needs – and eventually for office commutes. I am currently considering retaining the Baleno for sentimental reasons, but deep in my heart I know we won't get much use out of even one car, let alone two.
Dilemma:
Given our current limited use of cars as low as 1,000 – 1,200 kms a year, of which 50-60% is in the city we thought going for a hatchback with auto-transmission for ease of use. Such limited use doesn't justify spending big bucks, which can be used better elsewhere.
Priorities:
1. High on safety – 4 star or higher, but 5 preferable
2. Auto Transmission – to make city use more bearable
3. High on reliability – I certainly don't want to be visiting the service centers except for scheduled maintenance. Longer service intervals preferable, but not a dealbreaker
4. Decent power – Not expecting 1.6L type outputs, but shouldn't be a complete laggard either.
Good to have:
1. Parking assist – front + back sensors or 360 degree cameras
2. Cruise Control – while not relevant for the city, a big help on the highways, for whatever road trips we might take
Thus we started our research with Tiago AMT. A 2km test drive was enough to give a sense that the suspension setup was not adequate, but more importantly, the gearbox was not something we could live with. Nor was the interior any better than what cars had 20 years ago. This was quickly rejected.
We checked out the Altroz in the showroom, and it did feel spacious enough, so the DCA can be kept in consideration. However the interiors still feel dated, and even the top end version has a basic ICE, which puts the value under question.
We did sit inside a 2023 facelift Nexon Creative, and while we are yet to test drive it, it did feel more premium and liveable compared to the Tiago. But in terms of absolute space, the difference between the Altroz and Nexon was minimal, apart from the boot.
Next we test drove the XUV300 W6 AMT – the ride quality was fair and the AMT was a bit better but for the price, the interiors still feel dated. Maybe this is because we sat in the Nexon Facelift before this. W6 is priced competitively at 13.13 but lacked even a colour screen ICE. The W8 AMT was already more than the Nexon, hence out of consideration.
Lastly we sat in the Elevate in a nearby Honda showroom. The V CVT version is barely 70k more than the Nexon Creative+ DCA, and apart from the lack of cruise control, it feels like it offers much better VFM in terms of a reliable 1.5L engine, time-tested CVT, longer wheelbase and more boot storage. Only problem is we're already in the 17L bracket and big car segment.
Original budget was about 12L, but ready to stretch for a car that we can use for many years.
Pending test drive of Nexon DCA, I have the following questions
1. The Tiago felt impractically underpowered, and given the same state-of-tune of the engine in heavier Altroz DCA, is it a viable option for the city? Haven't driven the DCA yet, but I doubt that will make much of a difference.
2. I'm having a hard time justifying the incremental cost of Nexon Creative+ being >4L over the Altroz top end, given space is nearly the same, and just 10% lower boot capacity? Except for the Turbocharger, and 4 additional airbags, price premium seems high for the bells and whistles, but maybe I fail to see the complete picture. Thoughts?
3. Somehow paying ~16.3 for Nexon Creative+ DCA with a relatively unproven gearbox feels unreasonable when the Elevate is available for 17L OTR. Only reason I'm favouring Nexon is that it has some useful features like 360 degree camera, cruise control, while Elevate will be too big for the city (and the parking spot of my rented apartment, but that can change soon).
Happy to hear your thoughts!
Here's what GTO had to say on the matter:
Couple of thoughts:

Avoid all the AMTs.
You keep your cars for long (2005 Baleno).
1200 km means the car will spend a lot of time standing still.
You need something simple, robust & reliable.
Go for the Elevate CVT or the Nexon DCA, whichever pulls the strings to your heart more. Elevate = Perfect size for the city. Space for 4. Butter-smooth CVT, bulletproof 1.5L NA engine, compliant ride quality. Nexon = superior to the Elevate in many ways, but won't be as fuss-free to own as the Honda (but the Tata has a lot more tech too). If I were buying something for family members to use and some rough usage, I'd get the Elevate. On the other hand, if it was purely my own car, I would get the Nexon DCA.

Take a long TD of both and go with your heart. End of the day, the car & driving experience have to keep you happy. Maybe, just maybe, a great car will make you road-trip more.
Here's what BHPian PaddleShifter had to say on the matter:
For keeping a car till 15 years or more, prefer a Honda, Maruti or a Toyota. Avoid a TATA.

As you need a 4-star safe car, eliminate Maruti (only Brezza and Grand Vitara are capable of being equivalent of 4 stars) but given your limited running, lets explore others as well.

Toyota does not have a suitable model in this range. Glanza safety would be same as Baleno while HyRyder iis also same as Grand Vitara.

Honda Elevate seems to be the most suitable option.

You have mentioned that you are finding it hard to justify Nexon over Altroz. Have you checked out the Amaze by the way?
Here's what BHPian Kosfactor had to say on the matter:
When you are keeping your vehicle for a long time, take the larger vehicle from the higher segment. Families expand, needs may change and a larger vehicle always helps.

Ageing in your 30s?!

Think about it, the last thing you want is a boring car.
Here's what BHPian IshaanIan had to say on the matter:
I think you would be best suited to buying a Japanese product. Go for the Elevate  considering it has a more balanced 4cylinder petrol motor that is smoother than any Tata petrol also considering it comes with a CVT (Honda is known to make bulletproof CVTs) which is any day more reliable than a twin clutch autobox, the Elevate is clearly a mechanically more finessed product. Forget the 360degree parking camera and the cruise control as you will not need 360degree camera in a simple hatchback design and cruise control while sometimes useful, I find is a feature that I use rarely even more so nowadays as the number of idiots on the highways have definitely doubled in the past decade.

The Fronx ought to also make a good candidate (pending a crash test report).
Read BHPian comments for more insights and information.
Source: Read Full Article