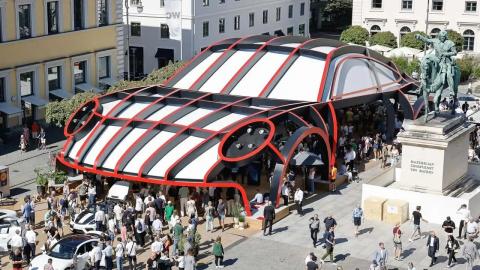 Porsche recently unveiled the 911 S/T and the 2024 Cayenne Turbo E-Hybrid.
Porsche made its presence felt at the recently held 2023 IAA Motor Show in Munich, Germany. The carmaker has built a massive outdoor space in the shape of a 911 sports car. The display space is said to cover 1,000 square metres and showcases a number of Porsche's sports cars, including the recently launched 911 S/T and Mission X concept car.
Porsche has also installed a photo box near the display area, allowing visitors to take a photo of the giant 911. Porsche also has hostesses who offer Polaroid photos of guests, for those wanting a physical photo.
Ragnar Schulte, Head of Experiential Marketing, Porsche, stated, "This sculpture is first and foremost a symbol representing the many stories and experiences of enthusiasts, fans and customers that have shaped the iconic image of the 911 worldwide."
The German sports car maker recently unveiled a bunch of models, such as the 911 S/T and the 2024 Cayenne Turbo E-Hybrid.
Source: Read Full Article