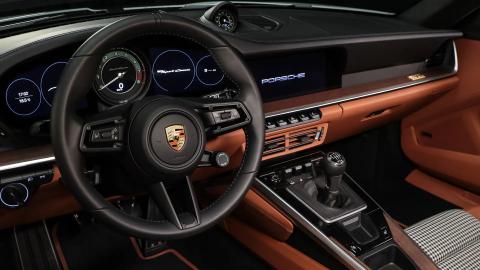 Porsche though isn't the only carmaker to offer stick shift, brands like Toyota, Honda and BMW are also offering manual transmissions
During a recent interview, Frank Moser, Porsche 911 & 718 boss, confirmed that the carmaker is planning to continue selling manuals at least till the end of this generation of sports cars.
Moser, stated, "Manual transmission is always what the customer wants in the 911, so we have been and are working as long as possible to save the manuals." He added, "That's absolutely relevant for the 911. That's why we have the 911 T with a manual gearshift, and now the 911 S/T with a stick shift, and that's really because customers want a stick shift."
The boss went on to state that they are working on ensuring that as long as the current 718 Boxster/Cayman and 911s exist, they will be offered with manual transmission.
Porsche though isn't the only carmaker to offer stick shift. Brands like Toyota, Honda and BMW are also offering manual transmissions on a couple of their models. Toyota is even going one step further to offer a tech which replicates manual gearboxes on its future EVs. Referring to this manual tech in EVs though, Moser stated, "What we want, and that's the key for Porsche, is to make it authentic. So, therefore, I don't know that there's a way for us to have a stick shift in an electrified car."
Source: Read Full Article