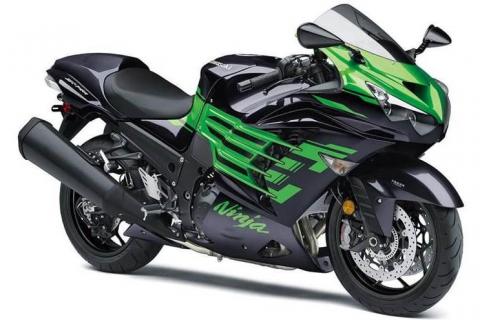 In the recent past, I have owned a Kawasaki Ninja 650 (ridden ~32k kms) and a KTM 390 Adventure (barely ridden – sold due to relocation).
BHPian OmV recently shared this with other enthusiasts.
Hello Folks,
I am currently based in Massachusetts and I am looking to scratch the itch to get a motorcycle again. After a brief consideration of other brands, I settled on Kawasaki again due to my previous ownership. I had almost made up my mind to play it safe and get a current-gen Ninja 1000SX which does it all. At the dealership, I spied a ZX-14R and a long-time dream resurfaced. Mind you, I have never ridden a 14R but always salivated at the idea of owning it someday whenever I have seen it in the flesh. The dealership did not have the bike ready for a TD, but just sitting on it I did not find it overly intimidating or very heavy. The ergonomics also felt very comfortable.
I initially did not pursue it due to the cost differential between the 1000SX and the ZX14R. I scourged dealerships within 500 miles and found one that was offering a decent (15%) discount on the MSRP. My local dealership has offered to match the discount making the ZX14R almost on par with the 1000SX financially. There are no discounts on the 1000SX due to the demand.
The ZX14R is not a dinosaur yet but is definitely long in the tooth. The only real piece of equipment I (think I) will miss compared to the 1000SX is the 6-axis IMU. Bluetooth connectivity, riding modes, display screens etc do not matter that much to me. I am not planning to drag race or do insane speeds. The only draw the 14R has for me is a long-time pull towards it and limited availability. The replacement for this bike may probably have a supercharger and will be even more expensive.
Use Case
Mostly B roads, some interstate, no ungodly speeds due to fear of tickets. I understand this is too much bike for my needs, but it is more of an emotional need. Admiring it in the garage over the winter is also rewarding for me (even if it may sound ridiculous to others). The main question is does the ZX14R make sense in 2023 at this price point?
Background
In the recent past, I have owned a Ninja 650 (ridden ~32k kms) and an ADV 390 (Barely ridden – sold due to relocation). My wife and I both love riding and have been missing being on 2 wheels. (We actually met on a ride in Mumbai and ended up getting married!). My wife has made up her mind on a Ninja 400 (she has owned a Ninja 400 before and does not want to change).
Any comments will be highly appreciated.
Here's what BHPian Xaos636 had to say about the matter:
Considering you get the 14R for the price of 1000SX, I would pick up the 14R if I were in your place. You have enough experience with the 650s and I feel you have your heart set on the 14R too after reading the above lines. A few years down the line on the 1000SX (assuming you pick one up), the upgrade itch could eventually take you to the ZX-14R mothership. I love how the console and less intrusive electronics on the 14R work, and loved it every bit riding back to back with its real rival, the Suzuki Hayabusa. I would definitely suggest you pick something like the ZX-14R and call it a day, keep in mind that it won't be as high as a sitting posture on the 1000SX, but everything else works in the 14R's favor.

Please note that this is completely my thought and I know people who vouch for the Ninja 1000SX. But a 14R at N1000's price point seals the deal for me. Do consider others' opinions, and more importantly try to get a test ride which can finalise the perfect ride for you.
Here's what BHPian no_fear had to say about the matter:
Have you considered the insurance for the ZX14R? MA insurance rates can be quite insane, especially for the higher cc bikes. Progressive / Geico charges even upto 4k USD for annual insurance. Having read your post, I am guessing you have only ridden in India before and not ridden in the US. Check the insurance premiums of both the Ninja 1000 vs ZX 14R and then decide on your purchase.
Here's what BHPian CrAzY dRiVeR had to say about the matter:
Reason enough to go for that 14R, IMHO.

Motorcycles are never going to be safe decisions, these purchases should be from the heart or else the itch will keep coming back.
Here's what BHPian 46TheDoctor had to say about the matter:
My perspective as I own a 14R since 2016 and have done 39k kms so far:

Get the 14R for the following reasons:

14R is the best combination of Speed, Comfort, and Reliability among all the other bikes across multiple segments. As fast as the Supersports category on the public streets. More comfortable than any other bike except the Adv Tourers and Goldwings. Extremely reliable as expected from Kawasaki.
14R is extremely powerful and torquey, no other Touring bike comes close to it.
Excellent for riding with a pillion also given the comfy and spacious seat for both.
Basic essential electronic safety net is there but no unnecessary electronics, making the ride very engaging and reliable.
Even though it's heavy, CG and seat is low making it very manageable and it's surprisingly nimble through twisties also.
Inline four symphony sounds great, the bike is very smooth and refined both in terms of NVH and power delivery.

Avoid 14R in the following cases:

If the rider is tall, say more than 5'10". Ergonomics aren't suitable for tall riders for long distances. So not applicable at your height.
If most of the riding is expected at slow speeds. 14R starts giving all the thrills as you start exploring its power which is seemingly unending for public streets. Even beyond 200 kmph it keeps pulling very strongly. Inline fours don't create much excitement at low revs, only mid-range and Top End are enjoyable. High-engine capacity Twin-cylinder bikes are always more fun at low and mid-range due to their torquey natures.

Some other tips:

Stock seat is very comfortable so don't change it. I am around 5'5″ and I can manage the bike perfectly.
I like the sound of Akrapovic, it is great – my favourite, but the stock exhaust is too silent in 14R, N1000 sounds much better.

But, for your use case, I would have gone for some 1000+ cc twin-cylinder options with more upright seating like T120, Speed Twin 1200, Africa Twin, V-strom, GS, etc.
Check out BHPian comments for more insights and information.
Source: Read Full Article