The torque pull is addictive; it pulls like a train. But it won't scare you like a KTM or a Royal Enfield Interceptor 650.
BHPian Boringrider recently shared this with other enthusiasts.
Here's a little update on the bike after having done the 1st service and riding a bit more.
You will be an instant celebrity wherever you go. People of all ages love giving long stares of admiration. Nobody has asked me anything about the bike yet except for one RE Classic guy who enquired about the fuel efficiency. I happened to stop next to a guy driving a commercial mini truck and he instantly started off with the "The real gems were the old Jawas & Yezdis. The modern ones have lost that feel." Yeah ok, at least don't trash my brand-new bike in front of me but whatever. My office watchman told me about his dad owning a Yezdi around 25-30 years ago. Instant stardom and exclusivity are guaranteed when you ride a Yezdi, something which if you think about it, they have managed to retain from their olden days.
There was a time when I was having doubts over my decision of purchasing this beast because the engine felt rough around the edges even at speeds as low as 40kmph or above and the whole top speed issue. Well, safe to say, all that has vanished as the engine is opening up more & more with every passing kilometre and I am now a happy owner, all smiles. How do I know this? Because I am trying to find excuses or rather opportunities to ride it like a young boy who has got his hands on his first prized ride.
Took the bike to OMR for some "spirited riding" and boy, this thing can blast down the roads covering stupid distances all while keeping you comfortable. The entire nature of the engine itself has changed and how. The gear ratios are now longer, if that makes sense. First gear is no longer useless, and I can take it up to 20kmph, then shift up. Similar story follows with each gear, the speeds which you can now pull up to in gears have all increased a bit. The refinement is getting better but some amount of vibes are ever-present at the top of the rev band.
Service Costs
Time for the first service was up and the odo reading was just 650 kms. The usual engine oil, oil filter, chain clean & lube and some other minor consumables were used. No labour was charged. Total Bill – Rs. 2,081. Pretty reasonable for a bike this size, I guess.
Saw an interesting promotional campaign in the service centre where they say if you ride to Ladakh, they'll take care of the service costs for you. I didn't enquire about the detailed T&C but that's something if true. Also, they provided me free 1 year RSA even though I opted out of it at the time of delivery. Another goodwill gesture from the brand – well done!
There is one weird persistent issue which they haven't been able to resolve. Whenever I push the bike backwards from a standstill, there is a squealing noise from the rear end. Also, if you push down hard on the rear seat, it makes that noise. I raised this issue and they claimed to have fixed it but it does reoccur on its own randomly.
The good difference is now that sound doesn't occur when pushing down hard on the rear seat. I was worried that the suspension might be problematic, but it doesn't seem like that. The service guy there told me it's due to dirt on the rear disc/pads and another friend of mine also suspected the same. They gave it a nice blast of compressed air to clean out any dust and it seemed to work for a few kms but by the time I was home, it happened again. I was told not to worry as it should get better with time as the brake pads bed in. No issues are observed in braking performance whatsoever. If any of you could suggest a potential fix for this, it would be wonderful.
I am enjoying every ride on this and have no regrets at all. Been taking it out for some night rides and weekend rides. The torque pull is addictive, pulls like a train! It won't scare you like a KTM or an Interceptor but that's not a bad thing either. Yes, there are times though where it masks the speeds well and I have caught myself doing speeds I normally wouldn't. Now that is a sign of a good engine to me.
Some pictures to follow:
Headlight seems adequate for now and brights up the roads well. Haven't tested out on highways though.
Low beam light
High beam light
Got my first proper bike helmet from Gears – The Helmet Boutique, Thousand Lights. The SMK Stellar, cost me Rs.4,800. Fits me nice and tight, the visor opens in a 2-stage action and requires effort. I can hear the wind noises as if I'm sitting in a theatre and hearing it in a movie. Cool dramatic effect, I don't mind it. In fact, enjoy it!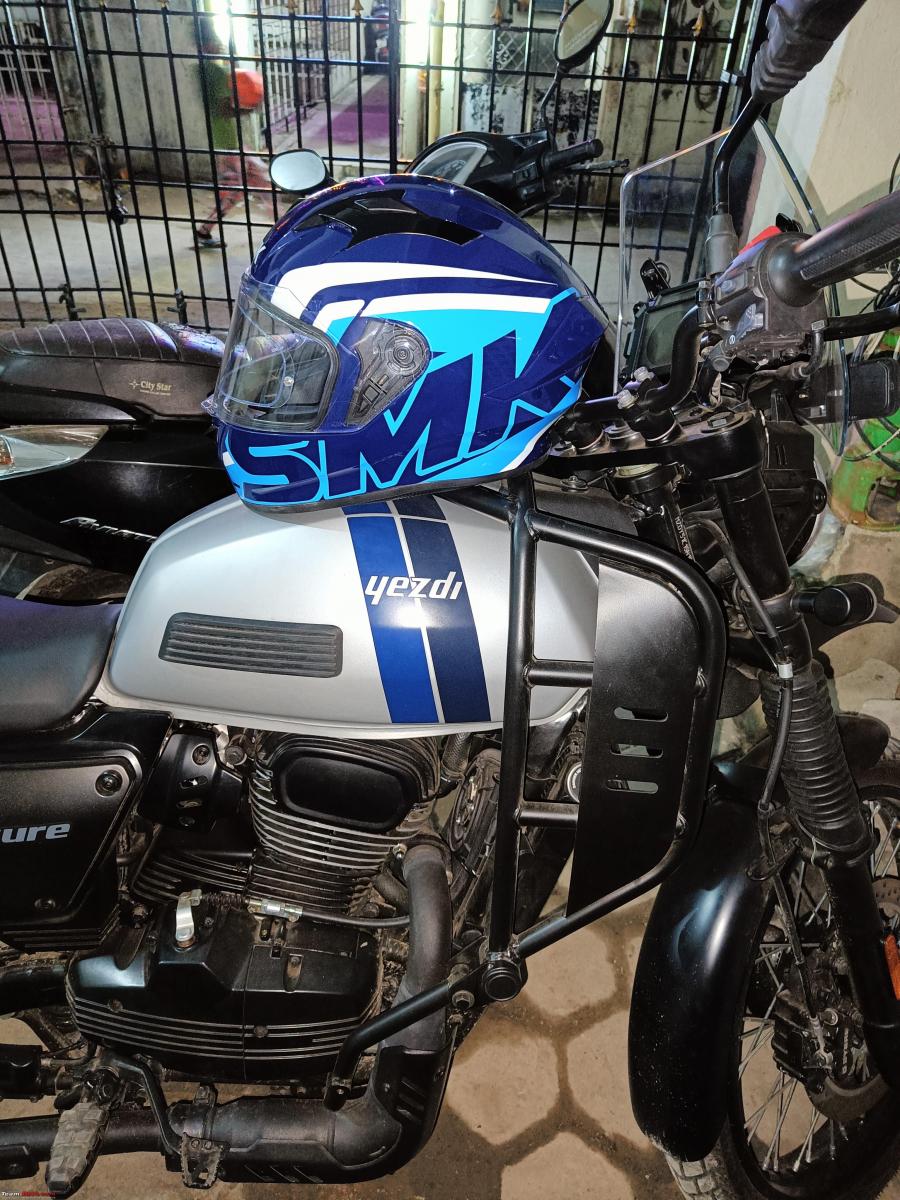 The first ride I went on was to Joe's Cafe, Mahabalipuram on a Saturday morning along with my sales advisor, his friend from another Jawa dealership and a fellow Yezdi owner (Yezdi Roadster). This was the first stereotypical biker thing I did and it felt amazing parking up the bikes in a line outside the cafe. I felt cool and like a "real biker".
Some pics from the ride:
Saw a lot of early morning bikers riding, SBKs, RE 650 groups roaring on the ECR, a Ferrari 458 Italia, Mercedes AMG A-Class. Out of everyone, only 2 exhaust notes really stood out to my ears – one was the Ferrari which was audible from a kilometre away and the other was a Honda CBR650R which had some custom exhaust. Others were also excellent but these two clearly stood apart.
While coming back home, we took a small detour onto a side road and reached this spot for clicking some pictures, making Instagram reels and the like.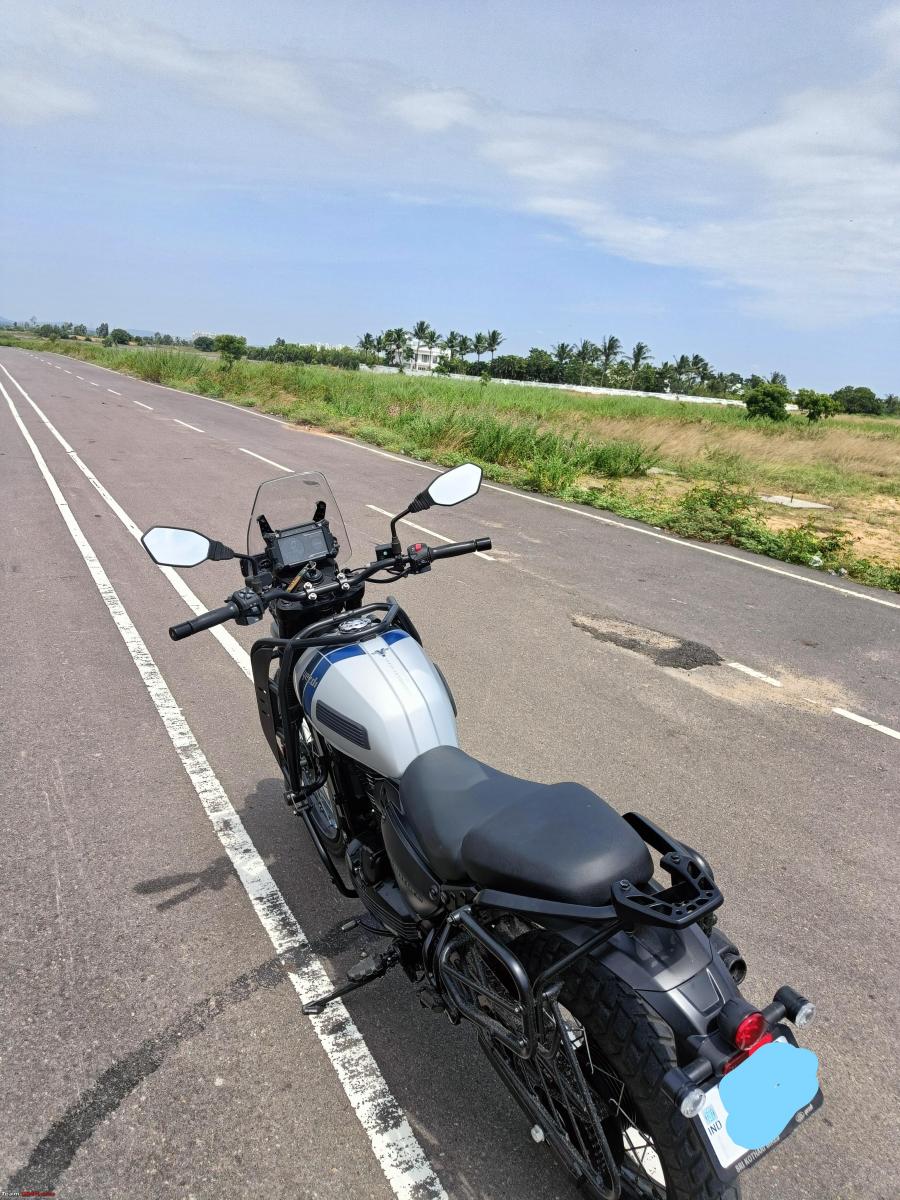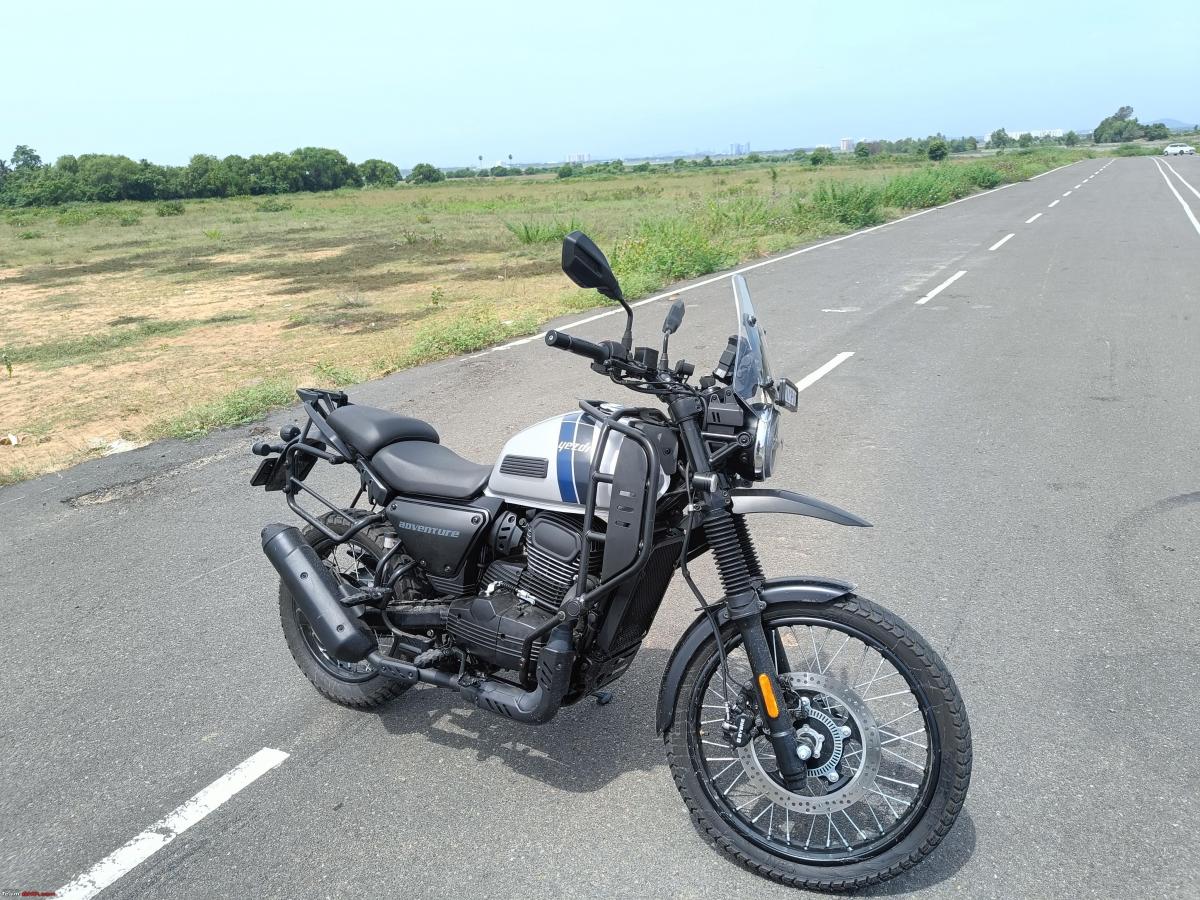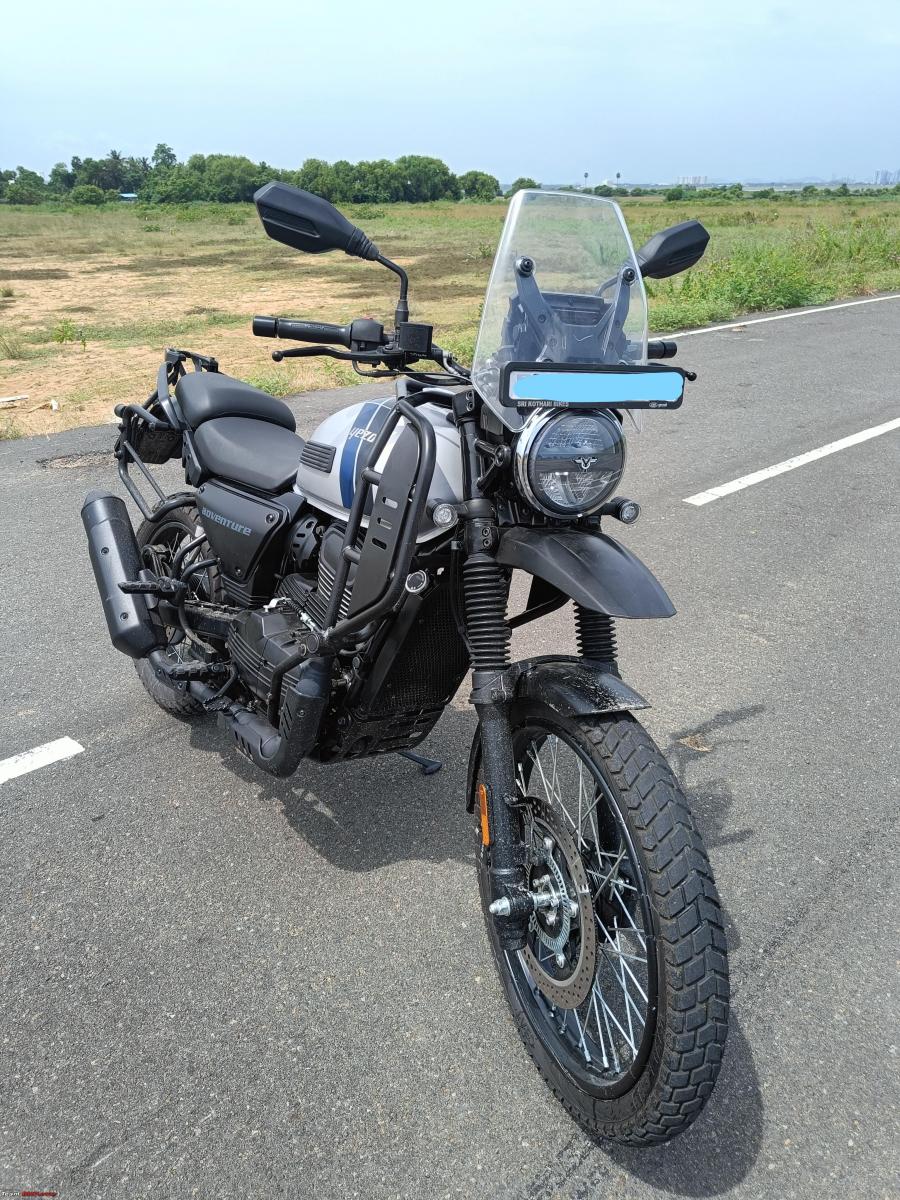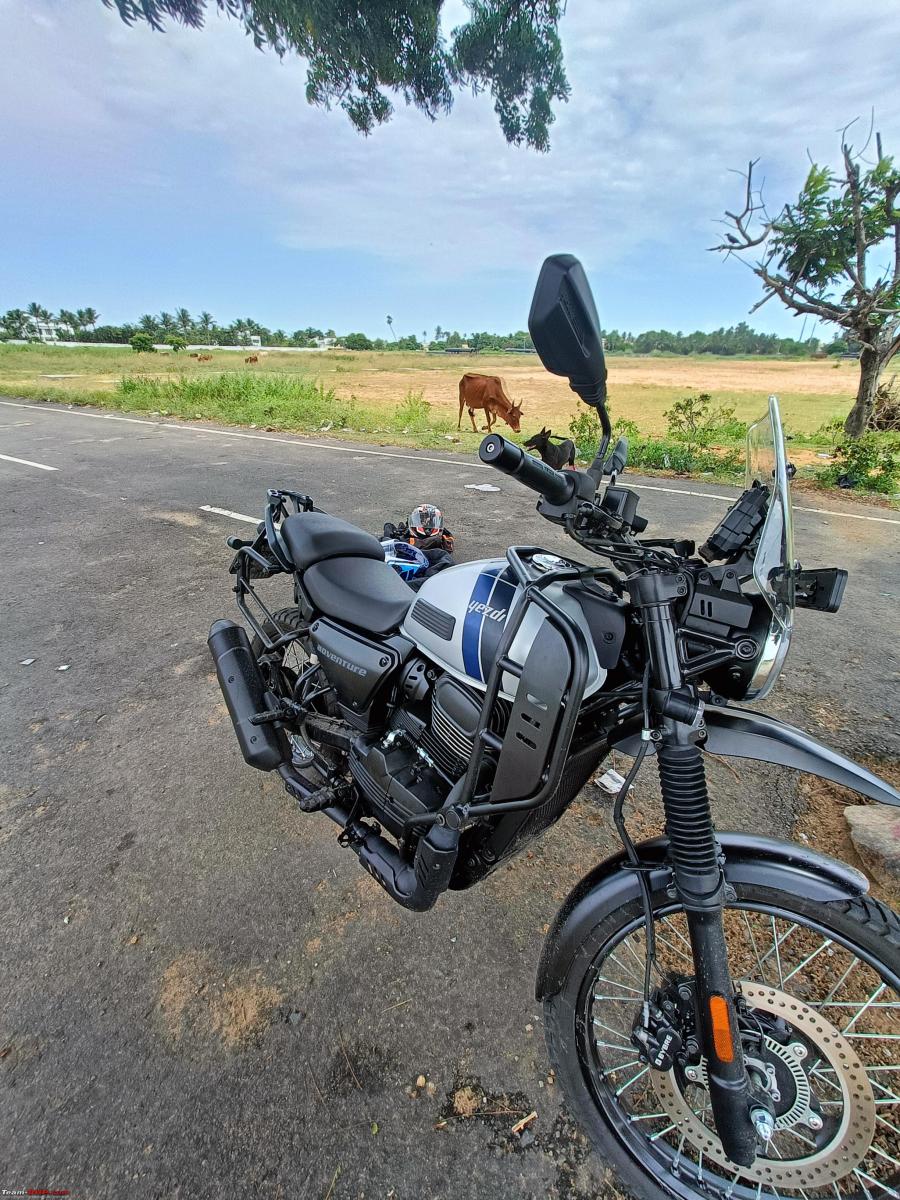 General Overall Characteristics
Got the clutch adjusted in the service and now it's even better. Almost like I can never stall the engine unless deliberate. I can now let the clutch go almost till the endpoint and then take off smoothly like any other bike.
Engine feels much more freely breathing now and can only get better with usage. Current reading is close to 1000 kms and it's a joy to rip the throttle wide open.
Comfort is good. While doing the ECR ride, I just wanted to ride endlessly and never return home. Perfect weapon for long-distance touring. I need to start making more plans
Fuel efficiency is around the 26-27 kmpl mark I estimate. I can push it till the last drop and get an exact reading but I haven't done it yet simply out of laziness. However, it does give the mental comfort to ride quite some distance even after all fuel bars are empty on the display. Can easily do maybe 1.5-2 kmpl more if ridden till the last drop.
The bike is best used on open roads and for touring/off-roading, this is a properly sized ADV. Not that it can't ride in the city. Maybe it's just me but I don't want to put this behemoth in bumper-to-bumper traffic with lots of clutch action and heat up. Although heating is considerably improved now, it still shows up in heavy traffic. Not a deal breaker for its engine size though.
I have to really readjust my riding behaviours on this. While riding on city roads, I keep forgetting that other mere mortals do not have the same suspension as I do and I have found myself making really good last-minute braking when vehicles slow down to tackle bad roads/potholes.  I keep thinking in my head why are they slowing down that much, it's not a big deal and then it clicks in my head, "Yep"!
Enjoying this machine is simply getting used to it a lot. I am slowly learning the tricks of the gearbox and have found a small "hack" to avoid shifting from 2nd to 1st, back & forth in slow-moving traffic. I have learnt that you can easily keep it in 2nd and maintain the revs past 2000rpm, give it a slight bit of throttle and let it go to ride around with no fear of stalling due to being in the wrong gear. In fact, even did some 2nd gear starts from a standstill.
Exhaust note has also opened up a bit. I can hear subtle and minute burbles while decelerating from higher speeds. It's very subtle though and only if you listen closely, you can listen to it. A very muted and thick heavy sound cutting through the air! Just love that feel.
I'm a stock guy and have not planned any mods nor will look into any. Just got a Bobo phone holder as the directions on the console via the Yezdi app is not my cup of tea. I want a proper Google map display so that renders the entire Bluetooth connectivity feature meaningless. The MapmyIndia directions don't feel right, the app is clunky to use and I have lost my way by making quite a few wrong turns so it's a no-go for me. Some people can use it effortlessly though, just not me.
The RUST – oh yeah, did you read that right? On a less than 2-month-old bike? Yep, I can't leave this part out despite all the praises as it would be dishonest then. There is some rust on the inner threading of the screws at one part of the tank cage. The service center guys admitted this fault and it's somewhat of a commonly known issue among the newly launched Yezdis as well. For now, I am spraying WD-40 on it, cleaning the rust out and spraying black paint on it again. This is the only solution for now. The saving grace (if you will call it that) is there is nothing on the bike itself and since the cage is an accessory, it can be replaced if it gets really worse. I did take the extended warranty for peace of mind in such situations and hopefully, I don't have to use it for anything.
Final Verdict
Fully satisfied with the product and everyone is sleeping on this. Really, keyboard warriors who have never ridden or experienced these machines but will reject the bike based on negative online reviews have no business telling you what it is and isn't. The current crop of Jawa/Yezdis has insane potential to be the cult they used to be again. But it's also nice to know that what I own has a very high chance of remaining an exotic and a good one at that.
And then, don't complain that the Indian market is lacking and it's all the same cliche stuff all over again across brands. Yes, that is true from an enthusiast's perspective but then if the crowd refuses to reward the actual bikes with character, who dare to do something different, then it's not entirely the brand's fault either. If you're ready to look past the initial sales disaster and experiences, these are good products in their current avatars.
There is nothing like this in the market and it has its own character. After all, it's a Yezdi. You can take it inter-city touring/or to Ladakh/Himachal right from the showroom if you have the essential accessories (and if you can bear the first 1000 kms with the engine). I don't see many other bikes actually capable of this.
Yes, hold the manufacturer accountable where they're at fault and have design flaws but there seems to still prevail a lot of negative sense about Jawa/Yezdi in general. They're seriously not as bad as people online make it to be otherwise, they would be dead on arrival and an utterly miserable business flop. Either way, you have the chance to own something niche and that niche has never been so accessible which is kind of a paradox. I'll keep updating my journeys on it and have some really good long-distance destinations in mind.
Bonus Trivia
The bike has something called Limp Mode. What it does is when the engine temperature overheats or something goes wrong in the engine, the engine will restrict itself to 4000rpm and won't rev past that until you get it fixed. Honestly, I don't think anyone would have the guts to continue riding an overheated engine. Our instincts tell us to stop on the side and let it cool down but hey, this is something for all you bravehearts.
The newer batches are now produced with the engine stickers/branding as displayed on the Yezdi website. I have ordered a set to install on mine as well but no update on when it will reach or did they even place the order. It costs a negligible Rs.100.
A final, parting shot of 2 rides – both having sky-high levels of sentimental value to me. One being the ride to introduce me to the world of 2 wheels and one being my first actual "big bike". (please don't fight me on the definition of big bike again, it's big to me, haha)
Check out BHPian comments for more insights and information.
Source: Read Full Article