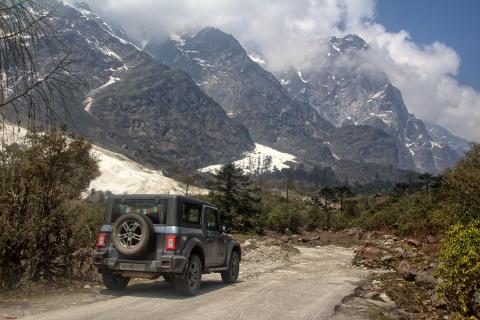 I'm extremely happy with my SUV, but the fuel economy and the 3 doors do bother me every now and then.
BHPian vprao recently shared this with other enthusiasts.
2.5 years, 29,000 km on the ODO, 2 epic trips to Ladakh and Sikkim from Mangalore (7500 km each up and down), and what a ride it has been! I'm still as happy as I was on day one of owning this dream vehicle.
How it all started
I had always been a bike guy and cars were just a mode of transport for me and also a means to carry things. However, Jeeps always used to fascinate me and I contemplated buying the Old Thar a couple of times. However, shelling out about 11-12 Lakhs for a Jeep seemed a little unpractical considering how family-unfriendly the Jeeps are known to be.
In 2019, I traded by Apache 200 for an Xpulse 200 as the off-roading bug bit me quite hard then. I went to some great trails thereafter on my Xpulse. It was a newfound joy for me. However, my short height (5'4″) and my age (42 then) were acting like deterrents in many of the hard trails. I had a fall too couple of times and it was scary as I mostly ride Solo. It was then it occurred to me that it was high time that I switched to a four-wheeler for my future adventures. Bones and spirit certainly don't heal fast at this age.
While the new 2020 Thar had literally taken over India by storm then, it still looked impractical and foolish to own a three-door jeep as your only vehicle (due to lack of parking space in my apartment). While I used to be awed at every sight of the 2020 Thar on-road (especially the red one), I never had the guts to take a test drive of it as I'm a very impulsive buyer and feared I might actually end up buying one!
One day, my brother told me that he might buy the new Thar and asked me to accompany him for the test drive! As fate would have it, while my brother didn't book the vehicle for obvious practical reasons, it was love at first sight for me and I ended up booking one a couple of weeks later!
Petrol or Diesel
My four-wheeler then (Ertiga) had run about 35,000 km in 7 years. Considering my usage, and the difference of about 1.5 lakhs between Petrol and Diesel, made me went ahead with the Petrol option. It is one decision that I still debate even today little did I know that I would slowly do most of my weekend trips on my Thar, instead of my bike. However, at the end of the day, I don't regret my decision as I was never in favour of the DEF systems on the BS6 diesel engines and also the noise levels of Diesels, even though the Thar Diesel is much much more refined than others. Even though my driving style is more Diesel-like (low speed, low RPMs), the present DEF system actually kind of discourages such driving and hence defeats the purpose of owning a Diesel in my opinion.
The Ladakh Trip
In 2019, I and my friends had planned a trip to Ladakh on our bikes. Then Covid struck and everything went for a toss. Subsequently my interest in bikes also slowly started to wane as my body started complaining about the long bike rides and I didn't enjoy the trips as much as I used to earlier in my younger days (had been riding bikes since I was 16). Post-COVID and in 2021, after I got the delivery of my Thar, the Ladakh dream slowly started to germinate again. It was the perfect timing actually. Even in 2019, when the Ladakh plan was originally made, I was not very confident of making the trip on a bike. It appeared a little too much for me then and back of my mind, I was actually praying that the plan never materialized.
Fast forward, to June 2022, 2 Thars, 3 Bikes, 8 people embarked on an epic journey from Mangalore – Leh – Mangalore (7500+ kms/21 days). BTW, the second Thar was my brother's who eventually ended up buying one (Petrol AT) a couple of months after I got delivery
Excluding myself, all of them got their vehicles shipped back from Chandigarh during the return journey.
The Sikkim Trip
After the Ladakh trip, I had promised my wife that I'd take her to Ladakh soon in the Thar again. When we were ready to make the trip, she suggested we go northeast as I had already seen Ladakh. The Mangalore – Shillong – Sikkim – Mangalore happened this April 2023 (7800+ Kms/27 days).
My Experience So Far
The Bad
The Good
My Overall Impression
Overall, I'm extremely happy with my Thar and don't regret my decision at all. The fuel economy and the 3 doors do bother me every now and then but the sense of freedom to go anywhere you want, the never-say-die attitude and the killer presence of this vehicle is something that writes off whatever negatives it has.
Check out BHPian comments for more insights and information.
Source: Read Full Article