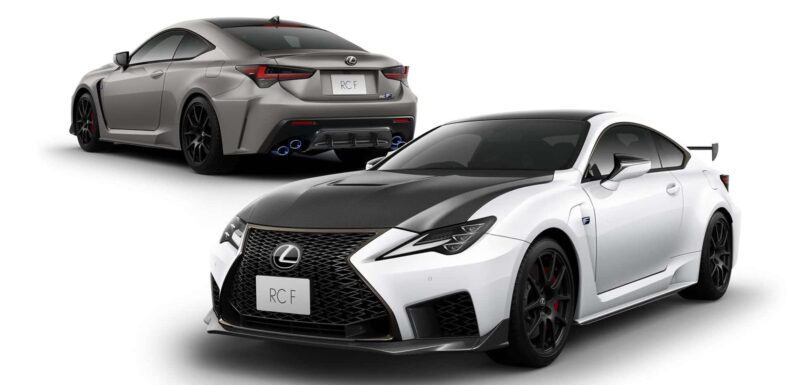 The Lexus RC is getting up there in age but maybe that's not such a bad thing after all since the hot F version still rocks a naturally aspirated V8 engine. In Japan, the high-performance derivative is getting a couple of special editions: Enthusiast and Emotional Touring. Both are based on the RC F with the track-focused Performance Package introduced in early 2019 and come with a limited-slip differential mounted at the rear.
For this dynamic duo, Lexus says its engineers have further tuned the 5.0-liter unit to optimize rotational balance and reduce friction "by precisely matching the masses of moving parts." Doing so has resulted in giving the V8 codenamed 2UR-GSE a "smooth rotational feel and emotional engine sound." In addition, the LSD has been manually adjusted to deliver better acceleration and deceleration response.
Lexus RC F Enthusiast And Emotional Touring (JDM)
As to how you can tell them apart, the Enthusiast has a massive rear wing whereas the Emotional Touring gets a more subtle active spoiler. The latter automatically goes up at speeds of 50 mph (80 km/h) and higher and comes down at below 25 mph (40 km/h). The Enthusiast keeps the carbon fiber hood unpainted while the Emotional Touring's bonnet is color-matched with the body. Both receive a "Specially Assembled by Lexus" plaque on the engine cover as well as on the door cards where an LED projects the "F" logo.
Go for the Enthusiast and you can choose from the following paints: White Nova Glass Flake, Sonic Chrome, Graphite Black Glass Flake, and Titanium Carbide Gray. The Emotional Touring comes exclusively in Titanium Carbide Gray. Both get a black and blue interior with a combination of Alcantara and leather for the front seats, with the driver's seat featuring a memory function.
Toyota's luxury division is only making 25 units of each, but you can't just buy one from your local dealer. Lexus expects demand will exceed supply, which is why it has set up a lottery system. Customers can apply until October 18 and the winners will be announced a couple of days later.
Regardless of whether you want the Enthusiast or the Emotional Touring, this limited-run RC F will set you back 15,000,000 Japanese yen, which works out to a cool $100,000 at current exchange rates. In the United States, the RC F Track Edition costs about the same, kicking off at $101,070.
Source: Read Full Article