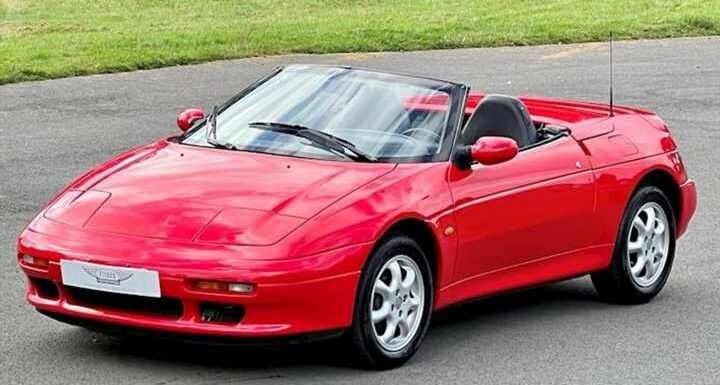 Any front-drive Elan is rare, let alone the Korean-made one…
By Matt Bird / Sunday, 5 November 2023 / Loading comments
The rise of Hyundai and Kia over the past decade has been genuinely extraordinary to witness. Not so long ago cars from either brand were recommendable for their low RRPs and very competitive warranties; now Hyundai and Kia are making some of the best EVs on the market, as well as the most entertaining hot hatches. It's been quite some transformation – and they're a long way from done yet.
The ambition in Korea to mix it with the elite had been there virtually from the beginning. Who could forget the Hyundai Accent WRC, back when rallying was the motorsport to show off your wares to the world? Cars like the Hyundai XG30 and Kia Magentis showed a desire to create luxurious saloons, and the Veloster demonstrated a willingness to think a little differently about the sports car. But it wasn't the first time…
Remember the Kia Elan? Of course you do. Even by the standards of the wild and wacky 1990s, it was a curious one. Kia wanted a sports car – because they're cool and interesting where Prides are not – but presumably couldn't justify the resource commitment to build one from the ground up. Lotus wanted nothing more to do with the M100 Elan once the Elise arrived, so a deal was struck for both the rights to the design and all the tooling to be assigned to Kia.
There was just one small issue – GM wouldn't let Kia use any of its parts to build the Elan. The Korean government was keen for its workers to have more to do than put new badges on a Lotus, too. So out went the Isuzu turbo engine, to be replaced by Kia's own 1.8-litre, naturally aspirated unit. There was 150hp on tap, compared to around 160hp for the smaller capacity turbo, plus some changes to the interior and rear lights. It's also been suggested that the ride height was raised to deal with dodgy Korean roads (only 1,000 Elans were made by Kia, and sold in South Korea and Japan).
To find one over here then is a proper turn-up. This is Britain, after all, home of the original Lotus Elan – it's hardly like the Kia version sold in Asia was some forbidden fruit buyers were desperate for over here. Very few were made in the first instance and they were all assembled by the end of the 20th century. A long time ago, basically. Kia UK has one on its heritage fleet, and a rumour persisted of a second car in the country – guess this must be it.
Registered on a 2001 Y-plate, which must seem strange enough on an Elan already, this Kia is showing just 34,000 miles. Looks great on it, too, red paint still lustrous, bodywork clean, wheels unblemished and interior really tidy. There are definitely Lotus M100s out there for more money that don't look quite this smart. And they are a whole lot more common.
Yes, it's left-hand drive – but there never seems to be a problem for the cool classics everybody likes. And, yes, you'll have to explain to everyone that it really is a Kia and not a Lotus. The MX-5 will be brought up by a wise guy at some point, too. But for just £7,995, it seems hard to argue with the Kia Elan as a rare, interesting, entertaining classic sports car. Must be your cheapest way into a Lotus nowadays, too.
---
SPECIFICATION | KIA ELAN
Engine: 1,793cc, four-cyl
Transmission: 5-speed manual, front-wheel drive
Power (hp): 151@6,250rpm
Torque (lb ft): 137@4,500rpm
MPG: N/A
CO2: N/A
Year registered: 2001
Recorded mileage: 34,000
Price new: N/A
Yours for: £7,995
Source: Read Full Article