People who have driven cars like the Safari, Duster, Lodgy, City, & Ciaz will tell you that the low-speed ride quality of the Altroz over bad roads is below average.
BHPian PrasannaDhana recently shared this with other enthusiasts.
20,000 km update
The little Tata has completed 20,000 km.
It has been 7.5 months of joyful ownership.
Days taken for every 5000 km.
Last 10000 km took longer as the Storme was used more frequently along with the Altroz. By the 14th of every month, the Altroz would have been driven anywhere between 1300-1600 km. But this June, it has been driven only 950 km. Thanks to the Storme, Altroz was idle when I took a 3-day, 900 km round trip to Chennai. I would have loved to drive the Altroz for the trip, but my parents were accompanying me. They love the comfort of the Storme. I do have another Chennai trip planned by the end of this month, which will be done in the Altroz.
A quick ownership summary of Altroz 1.5 Diesel after 20,000 km of usage.
PROS
Sturdy build & Safety – I have had 2 incidents, one where an autorickshaw fellow scraped the front LHS bumper at a signal stop, and the second where a poor dog got hit at about 90 kmph on the highway. In both cases, there were 0 damages. I mean not even a sign of those 2 incidents remains on the exterior of the car. If it was my previous primary ride – the Ciaz, the outcome would have been vastly different. 5-star GNCAP rating is another reassuring fact.
1.5 Revotorq turbo diesel engine – Enjoyable!! It has low bottom end lag, lovely mid-range and a surprising top end for a 1.1 tonne 90 bhp hatchback. The best part is the very healthy mid-range. You will love the 2000 RPM to 3500 RPM in all gears. 120 kmph comes at ~ 2600 RPM. Even fast drivers will enjoy the 1.5 diesel on highways. It is more than adequate IMHO. The motor is very fuel-efficient too. Even for my style of driving which involves a very heavy right foot, the car delivers an excellent 18+ kmpl actual fuel efficiency. I like the engine note too, especially when driven aggressively.
Overall FE data for 20,000 km
Handling & High-speed ride – The chassis feels planted at highway speeds. The stiff suspension and that excellent steering (feel as well as feedback) make it a fun to drive car on the highways as well as around corners/ghats. The steering is light at low speeds and weighs up beautifully as speeds exceed. The suspension dismisses road undulations at highway speeds, rides flat and the car feels sure-footed.
Looks – 6 speaker Harman Kardonn audio – One of the best in the segment
Features – Though all modern cars come with these features, I like using the cruise control, Android Auto, informative MID, IRA, adjustable front armrest, steering mounted controls, electrically foldable ORVM, cooled glove box, park assist with adaptive guidelines etc. Remember, my other primary car is an yesteryear Storme with a 2 din stereo and doesn't even get a reverse cam.
Space and front seats – I am bigger than the average population. Still, I have no complaints regarding seat comfort or space. Altroz can seat four 6-footers without any issues. Front seats are supportive with sufficient width and a good amount of side bolstering. The seat height and leg room adjustment have healthy ranges.
CONS
Low-Speed Ride quality – While the high-speed ride quality is confidence-inspiring and pliant, low-speed ride is a downer. It is one of the biggest drawbacks in my opinion. When you drive faster over bad roads, the ride gets flat and comfortable. But I cannot drive fast on bad roads. I have been accustomed to taking bad broken roads as slow as possible. Every undulation, bump and pothole will make its presence felt. In my experience, Ciaz had the best low-speed ride (of course after Safari), but handled like a boat. Rapid had the best balance between low-speed ride and handling. Altroz is very similar to Polo when it comes to stiff suspension. If someone tells you Altroz has comfortable ride quality even on bad roads, please ask them about their experience with other cars. Anyone who is used to any of the cars like Hexa, Safari, Duster, Lodgy, last Gen endeavour, City, Ciaz will instantly tell you that low-speed ride quality over bad roads in Altroz is below average.
I reduce the tyre pressure to 31 psi. I really want to get the Continental UC6 195/55 R16 tyres when the stock Goodyear are due for replacement. I loved the grip continental offered on our Polo 1.6 GT (CC5 205/55) and my Ciaz (MC5 195/60). But then, the next con is making me have second thoughts about continental tyres.
NVH – While I have no complaints with the 1.5 diesel engine's NVH (I loved using the louder VAGs 1.6/1.5 TDI lol), I am not happy with the insulation from road noise. I hope it's because of the stock Goodyear. I will know for sure once I replace the tyres. Continental tyres offer great grip but become noisy post 20k km of usage. I might go for the Michelin P4ST that I loved in my Ciaz. It was absolutely quiet, though I felt it wasn't as grippy as continental MC5. I also plan to go for a taller sidewall profile. Stock is 195/55 R16, I might get 195/60 R16 which would increase side wall height by ~8mm, thereby improving ride quality
Brakes are OK. Not great.
Minor irritants
The reverse park assist has warning beeps that is too loud. As you approach the obstacle it gets louder, which is intolerably loud. Since my house has a smaller garage I will have to park the Altroz very close to the Storme. I just cannot find any settings in the Connectnext app or on the infotainment to reduce the volume.
Even when the AC is set in "air recirculation" mode within the cabin, external air gets in a lot. I mean it's very evident. For example, in Rapid/Ciaz/ even Kwid, I have not experienced the smell (especially when something is being burned on the road or while crossing the sugar factory) seep in the cabin while I drove past them. In Altroz it is as though I have set the AC in fresh air circulation mode.
Mild vibration from the driver door panel especially during 3000-3250 rpm. I guess the one of the plastic clips holding the power window cables reverberates at that frequency. Below 3000 rpm & beyond 3250 rpm it doesn't vibrate
DPF issues – None
Reliability issues – None
While 20,000 km is nothing to judge a car's reliability, the car has had 0 niggles/issues except for the very minor irritants I have reported above. I drive it over highways, bad rural roads and chaotic tier 2 urban traffic. Talking of reliability, I firmly believe all modern cars (except those unlucky lemons) can easily last 2,00,000 km without any major work, provided routine maintenance and parts replacement are done properly. In the last decade, I have clocked over 6,00,000 km in 8 cars from 4 different brands, from 4 different segments. I have had 0 breakdowns in the cumulative 6,00,000+ km of ownership. I intend to use the Altroz at least until 2 lakh km, that is, if I can overcome the urge of replacing it at the 5 years/1.5 lakh mark like I did with my Safari Dicor and Ciaz.
On that note, my Kwid 1.0 is going to complete 6 years, with 55,000 km on odo. Already avoiding any urge of getting it replaced with the Punch/Kiger.
The next service is at 22,500 km, which will just be a minor check-up. Next oil change is only at 30,000 km.
Until then, parting with a few pics.
With the yesteryear Tata hatchback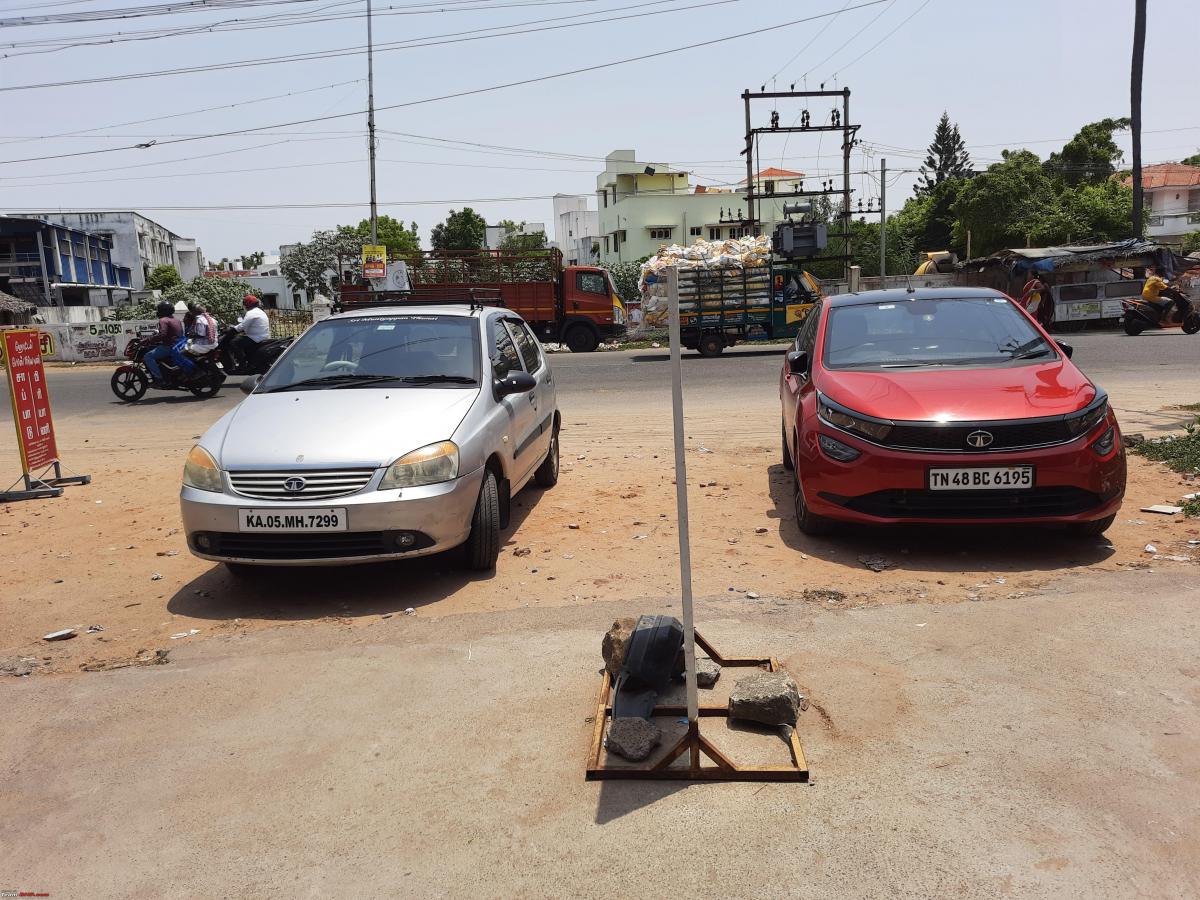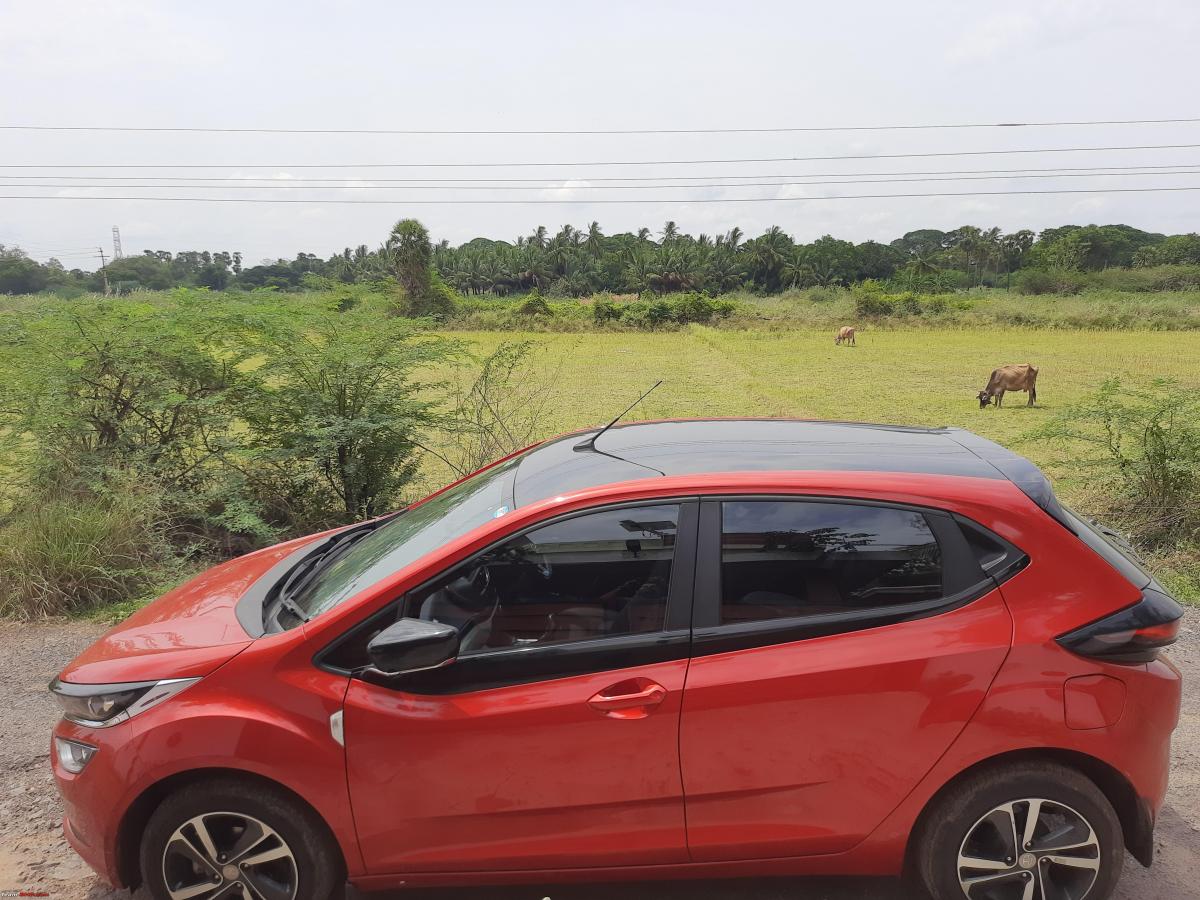 With my friend's Elite i20 1.4 diesel
Check out BHPian comments for more insights and information.
Source: Read Full Article