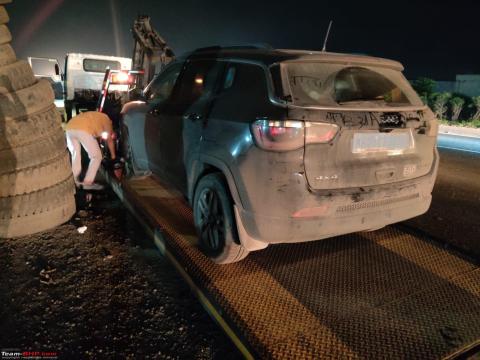 I was informed at every stage of repairs provided with images of the damaged parts.
BHPian sameerpb recently shared this with other enthusiasts.
From one of my Jeeper friends: Sharing his experience of recent incident that happened:
Last week I was on road trip in my JC from Mumbai to Nathdwara, Jodhpur, Udaipur and back to Mumbai. During the trip my JC performed extremely well we drive through sand dunes at Osean near Jodhpur and it was an amazing experience.
While returning from Udaipur to Mumbai on September 22, 2023 just 30kms before Surat my JC stalled and though the engine was running the vehicle was not going ahead, immediately I contacted Jeep Western Wanderers Group Admin to seek his advise and he suggested that there is a problem with the clutch plate and suggested me to contact Vadodara service center of M/s Bhaskara Automation he also provided me with their contact details and the contact detail of one of our Jeep brother Mr. Sandeep from Bharuch who has good relation with Bhaskara Automation.
After speaking with both Mr. Sandeep and Mr. Bhavesh of Bhaskara Automation who was very helpful in understanding my situation and suggested me to contact Mopar RSA and arrange for flatbed truck to take the vehicle to Vadodara SC which I did and at around 10pm my JC was sent to SC.
During my discussion with Bhavesh of Bhaskara Automation he promised me that he will attend my vehicle on priority on next day and arrange to repair the damaged clutch plate and flywheel and vehicle will be ready by evening of September 23, 2023 and I can pick up the vehicle at my convenience.
Here I wish share that Bhavesh bhai and the team Bhaskara Automation gave exceptional service they kept me informed at every stage of repairs provided with images of the damaged parts and gave me with the best price of the parts as well as labor charges and as promised the vehicle was ready by 23rd Saturday evening. My driver picked up Jeep on Sunday morning and came back to Mumbai.
I want share my appreciation and thank Mr. Bhavesh and his team at Bhaskara Automation for giving me confidence to deal with the situation. Also a special thanks to Mr. Sandeep for providing best guidance during the entire period of distress.
Last but not the least a big thank you to our Jeep Western Wanderers admin team for extending support as they always does with all the members of JWW.
I can not imagine what I would have done without the support of Jeep brotherhood.
Check out BHPian comments for more insights and information
Source: Read Full Article