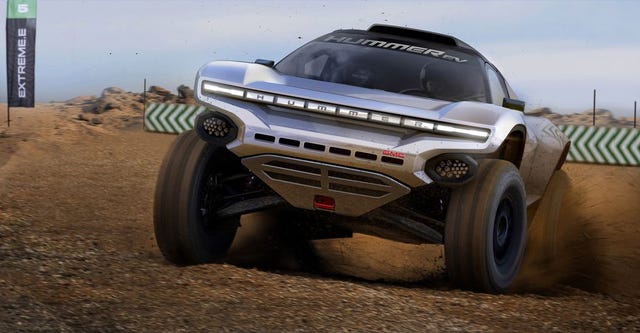 GMC Hummer has signed a multi-year deal to compete in the new Extreme E off-road series. The revived EV brand is teaming with Chip Ganassi Racing. Extreme E is for 550 hp off-road SUVs. GMC is the second major manufacturer to sign up for the championship, joining Volkswagen Group brand Cupra. Ganassi has tapped off-road racers Kyle LeDuc and Sara Price as its driver pairing for this year.
Extreme E uses a spec spaceframe electric 4×4 and teams fit their own unique grille, body pieces and graphics to make the trucks look like their production counterparts. The trucks race on 10-mile loops through the dirt, piloted by a pair of drivers, one male and one female. One will take the first loop, the other the second. Winner advances.
"Both the GMC Hummer EV and the Extreme E series are designed to be revolutionary – to challenge perceptions of electric vehicles and to showcase their true capability," said GM motorsport boss Jim Campbell.
Extreme E's initial format is designed for eight teams but can accommodate more. So far there are nine teams signed up.
Here's the Extreme E schedule:
Desert X Prix: AlUla, Saudi Arabia: April 3-4, 2021
Ocean X Prix: Lac Rose, Senegal: May 29-30, 2021
Arctic X Prix: Kangerlussuaq, Greenland: Aug. 28-29, 2021
Amazon X Prix: Para, Brazil: Oct. 23-24, 2021
Glacier X Prix: Patagonia, Argentina: Dec. 11-12, 2021
Source: Read Full Article