Maruti, Hyundai, and Tata together have dominated the sub-4m segment with nearly 80% market share over the last decade.
BHPian pqr recently shared this with other enthusiasts.
Genesis and the journey of sub-4-meter passenger vehicles in India
"On cars, I propose to reduce the excise duty to 16 per cent from 24 per cent, but only for small cars. A small car, for this purpose, will mean a car of length not exceeding 4,000 mm and with an engine capacity not exceeding 1,500 cc for diesel cars and not exceeding 1,200 cc for petrol cars. I am confident that industry will seize the opportunity to make India a hub for the manufacture of small and fuel-efficient cars."
– 2006-07 Union budget speech (point no. 137), Finance Minister, Government of India
Genesis
That was the policy decision taken by the union government in 2006, which fostered long-term development and sales of small cars in the Indian market thereafter.
Sub-4-meter passenger vehicle market share
On an average, 73% of cars sold in the Indian market have a length of less than 4 meter since policy implementation in 2006.
In the pre-policy days, there was rapid growth of affordable sedans (Ford Ikon, Hyundai Accent, and Tata Indigo) introduced by manufacturers, and overall sub-4-m car sales were on the downfall. Post policy enactment in 2006, hatchbacks witnessed faster growth than any other category, as per the policy design.
However, in the previous decade, manufacturers learnt the art of packaging sedans and crossovers to fit into policy-layed constraints and fueled the journey further. The share of this vehicle category reached the highest level of 79% in 2018. In recent times, demand for entry-level hatchbacks and sub-4m sedans has declined, leading to a low share of 73% in 2022. Moreover, a new breed of crossovers with a wide price spectrum in recent times has substituted demand for sedans and hatchbacks in the sub-4-meter category.
2017 – Opportunity to change the status quo
At the time of GST implementation in 2017, the government had a chance to rationalise the very idea, which appears to be based on some arbitrary assumptions. However, nothing was reformed, thus paving the path for the status quo, forever.
Product Innovation
Hatchbacks sold in India were already shorter than 4 m, so they became more affordable because of lower excise duty. In some cases manufacturers just have to shrink engine size (1200cc for petrol and 1500cc for diesel).
The Indian market was never ready for hatchback products longer than 4m, as the majority tended to look forward to sedans in that case, for a status symbol (emotional need) in those days. Chevrolet's attempt with the 4.3m long and ambitiously priced SRV bombed in the Indian market.
Since 2006, manufacturers in India have become innovative to fit sedans and crossovers (with SUV silhouette) body styles within the constraints laid down by the small car policy to fulfil the emotional needs of customers.
Sub 4m sedan

The very first non-hatchback product to take advantage of the lower excise duty was the Tata Indigo CS. Basically, it was a truncated boot version of Indigo already on sale. The Indigo was derived from the Indica hatchback by the integration of the boot to make a 3-box structure. The hatchback to sedan development concept was seen earlier in India by FIAT (Palio hatchback/Siena sedan) and Opel (Corsa sail hatchback/Corsa sedan).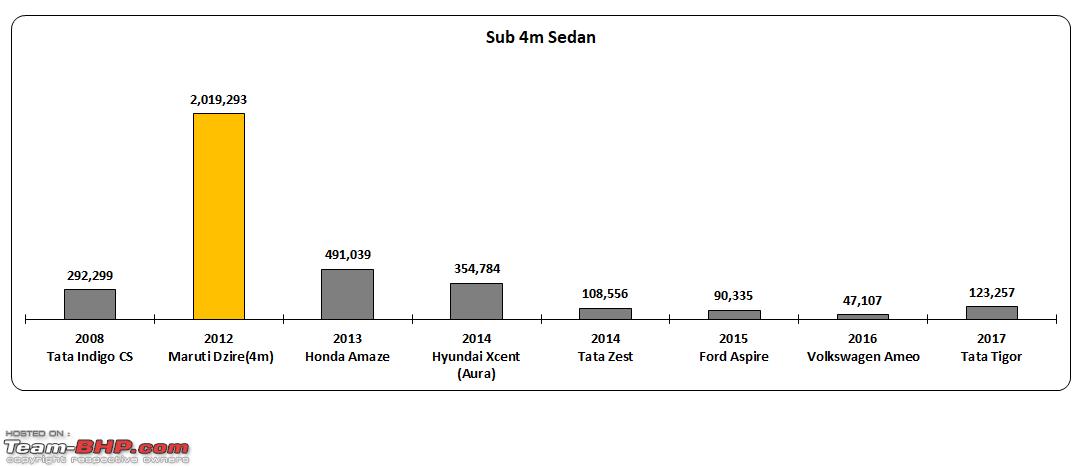 Looking at the success of this approach, every other manufacturer since then has used their hatchback as a donor platform (Maruti Swift-Dzire, Honda Brio-Amaze, Hundai Grand i10-Xcent, Tata Bolt-Zest, Ford Figo-Aspire, Volkswagen Polo-Ameo and Tata Tiago-Tigor) and integrated boot along with complete re-engineering of the body behind the B-pillar. Maruti turned out to be the most successful player in this segment, and Volkswagen the least.
Sub 4m SUV/Crossover (Monocoque chassis)
To gain a better understanding of the strategic marketing concept behind the sub-4m crossover, here is a quick apples-to-apples comparison of sub-4m hatchback and sub-4m crossover products from the same stable.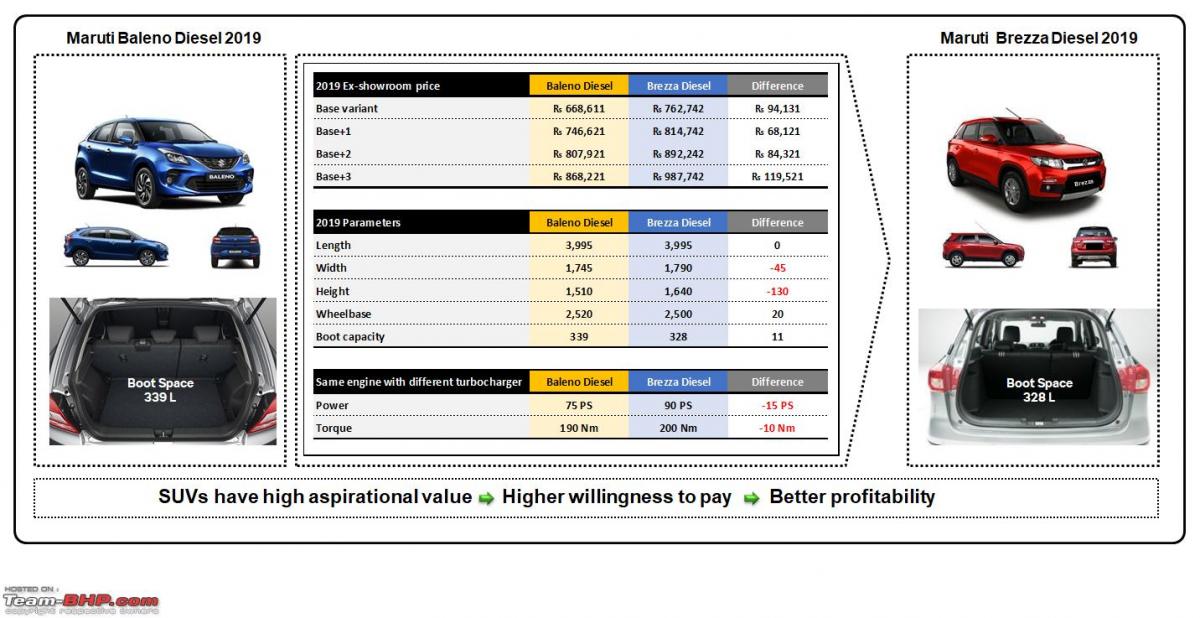 Sub 4m hatchbacks and SUVs offer similar functional benefits i.e. similar in-cabin and boot space
SUVs do offer better ground clearance, and that's an additional functional benefit as road infrastructure is still not very good in India
SUVs offer a commanding seating position (emotional benefit)
SUVs have a much higher perceived aspirational value as lifestyle products (emotional benefit) than hatchbacks
This leads to a higher customer's willingness to pay
Manufacturers have better pricing opportunities and may lead to better profitability
Product development strategy
Manufacturers in this category have tried different product development strategy.

Approach 1: Rebadged CKD product
The first sub-4-meter crossover was the Rio (rebadged Chinese Zotye T200) from Premier Auto Limited (PAL), launched in 2009. It was assembled at PAL's Pune plant from imported CKD kits produced in China, and had 3 engine options-1.2L petrol, 1.5L Peugeot TUD5 diesel, and later 1.25L FCA diesel. The product has gone unnoticed, and sold somewhere around 2,000 units from 2009 to 2012.
Approach 2: Grounds up body shell development
The Ecosport was developed in Brazil under the 'One Ford' strategy for global markets, has actually kick started an all new segment in India – sub 4m monocoque crossover (SUV). It was a grounds up body shell and later many other manufacturers followed the same strategy – Maruti Brezza, Tata Nexon, Hyundai Venue, KIA Sonet, Nissan Magnite and Renault Kiger.
Approach 3: Repurpose existing product
Honda took their Jazz hatchback, raised the height, changed some exterior body panels and called it WRV to fit into the crossover definition. Mahindra picked Tivoli from its international subsidiary SsangYong's portfolio, re-engineered the vehicle and truncated the rear part to fit in the sub-4m category. Response from market was lukewarm for both these products, as visually WRV leans toward hatchback and XUV 300 lacks boot space, besides ambitious pricing at the time of launch.

The success rate for approach 2 was very high. Approach 3 has more cost synergy, but is more constrained to delivering the right value.
Sub 4m SUV (Ladder chassis)

Except for ladder frame specialist Mahindra, nobody else tried their luck in this category.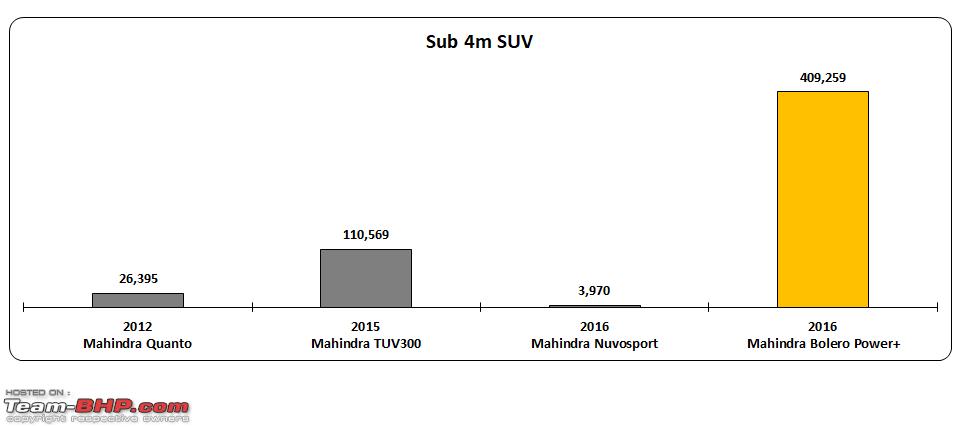 Quanto: In its first attempt, Mahindra simply tried to shrink Xylo and came up with an even uglier product. Failed!
TUV 300: Mahidra developed a new product from the ground up. Failed again!
NuvoSport: Unashamed Mahindra tried to revive Quanto with a new look and a new nameplate. Failed again!
Bolero power+: When nothing else worked, they simply shaved off the front and rear bumpers of the Bolero to fit the 4m length criteria, deployed the 1.5L D70 diesel engine, and got a lower GST benefit. Mission accomplished with old wine in slightly smaller bottle!
Thar: Always has a length of less than four meters but has never qualified for a lower tax bracket due to the engines size
Sub 4m MUV

Approach 1: Repurpose existing product
Datsun GO+: Take a cheap Datsun GO, stretch its rear part till it starts looking like a station wagon, and then add third row seats with no leg space. Dreadful recipe, dreadful outcome!
Approach 2: Grounds up development
Renault Triber: Developed from the ground up, with brilliant packaging and a usable third row, and the result is decent. If Renault has added an optional turbo petrol engine (current 1L naturally aspirated petrol engine seems underpowered) and started selling it from Maruti's dealership network, then it has the potential to cross the 10,000 mark monthly.
Myth around Maruti?
There were always some rumours that Maruti lobbied hard for the small vehicle tax system, and kept nursing the idea. A look at the product launch chronology says otherwise, as Maruti was never the first one to get the advantage.
2012 Dzire (sub 4m): Launched 6 years after policy enactment; Tata (Indigo CS) was the first mover
2015 Baleno: Launched 9 years after policy enactment; Skoda (Fabia) was the first mover
2016 Brezza: Launched almost 10 years after policy enactment and lost the advantage by 2020; Ford (Ecosport) was the first mover
They never developed a purpose-built MUV for family oriented buyers to take advantage of lower tax slab
Body style: Sub 4m category
Sedan products came first and enjoyed a good share in the first half of the last decade
Later came the crossovers and became the new favourite of Indians
Crossovers now started challenging the dominance of hatchbacks
The MUV segment is kept alive by vans from Maruti's stable – Ecco and the discontinued Omni
Manufacturer in sub 4m category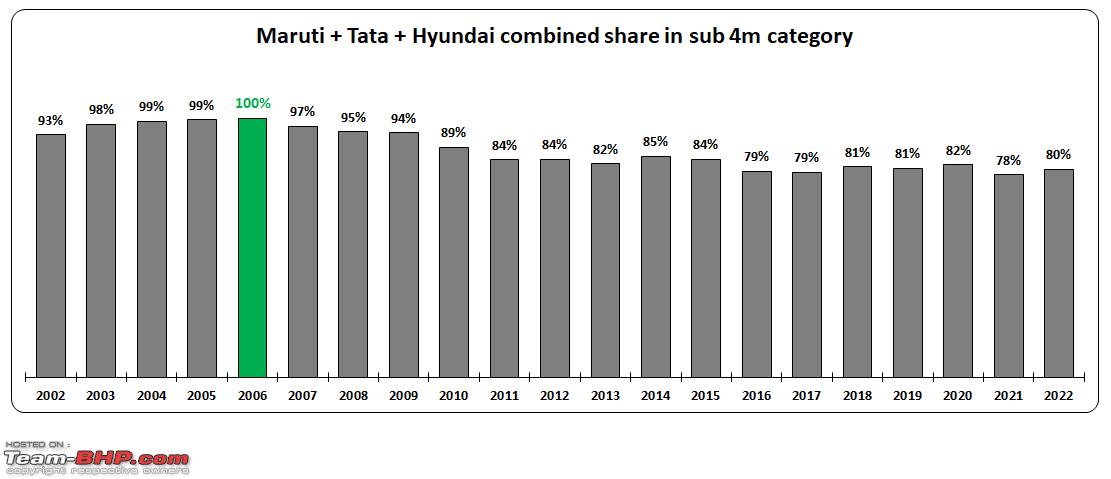 Maruti, Hyundai, and Tata together have dominated the sub-4m segment with nearly 80% market share over the last decade.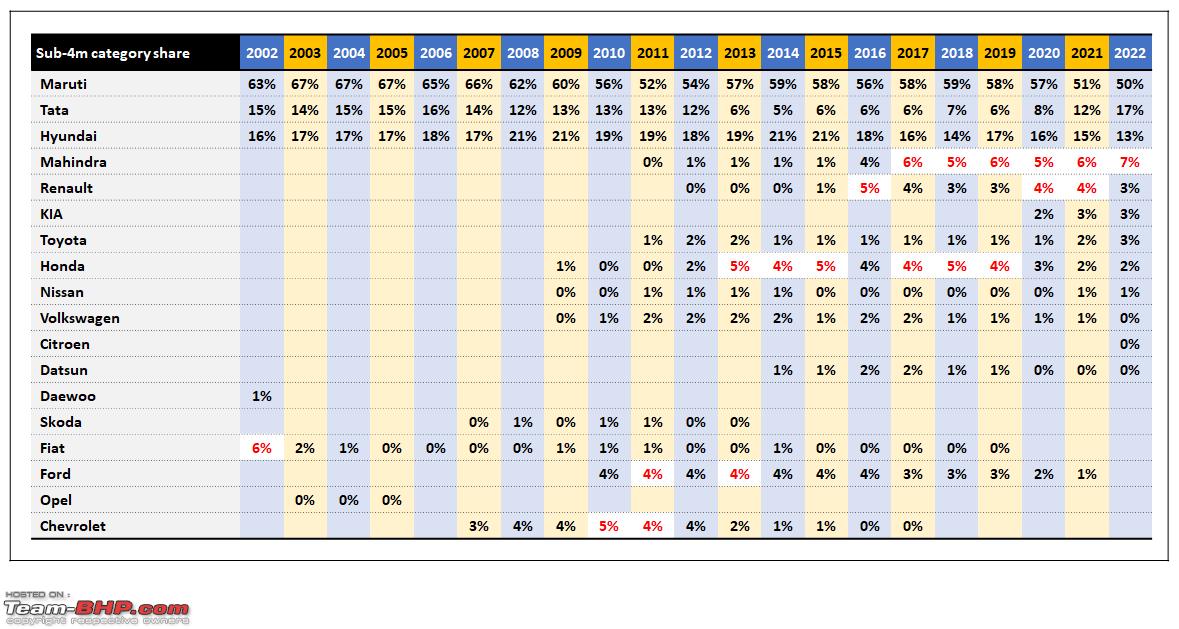 That also means that other manufacturers have little or no space to take a breath. Some of them (Fiat, Ford, and Chevrolet) were very promising in the beginning and gained over 4% share in this tough war, but later could not sustain it and eventually had to exit this space. Mahindra and Honda are still trying hard—will they succeed? Only time will tell.
Fuel preference in sub-4m category
Since its inception, petrol engines have dominated the segment. Manufacturers also tried with small diesel engines (Maruti, Hyundai, Tata and Chevrolet), but success was quite limited. FIAT's 1.25L diesel was most successful, because Maruti deployed it across many high volume products, Hyundai and KIA comes next.
2012-2019: diesel engine demand was shrinking due to the low fuel price differential
2020: The discontinuation of Maruti's diesel products in the BS6 era, combined with Ford's demise, reduces the diesel mix to 10%
2022: CNG push from Maruti (expansion of CNG filling station network across India) has resulted in a 13% mix
2022 Manufacturer's portfolio
Renault's entire portfolio is composed of India-specific sub-4m products. That has positioned Renault as a budget brand in India
Nissan's lone sub-4-meter crossover has brought the brand back from its near grave experience
Tata's current portfolio is sub-4-m heavy, which limits its higher average revenue earning potential per car sale
Maruti tried hard to sell large vehicles but achieved the most success only with the Ertiga
Mahindra's sub-4-m share is driven largely by Bolero
The 2nd generation Amaze is doing pretty well for Honda
Toyota's entire sub-4m share comes from rebadged Maruti products
KIA's sub-4m plunge is limited to Sonet, and the rest of the portfolio is composed of large products
Volkswagen, Skoda, Jeep, and MG don't have any sub-4-meter offerings as of now
Graphical representation of the sub-4m journey of manufacturers in the last two decades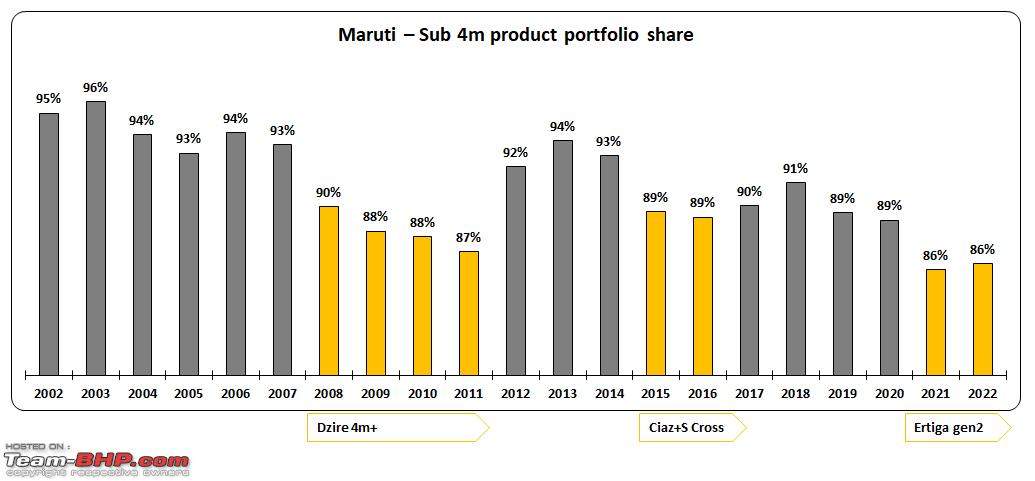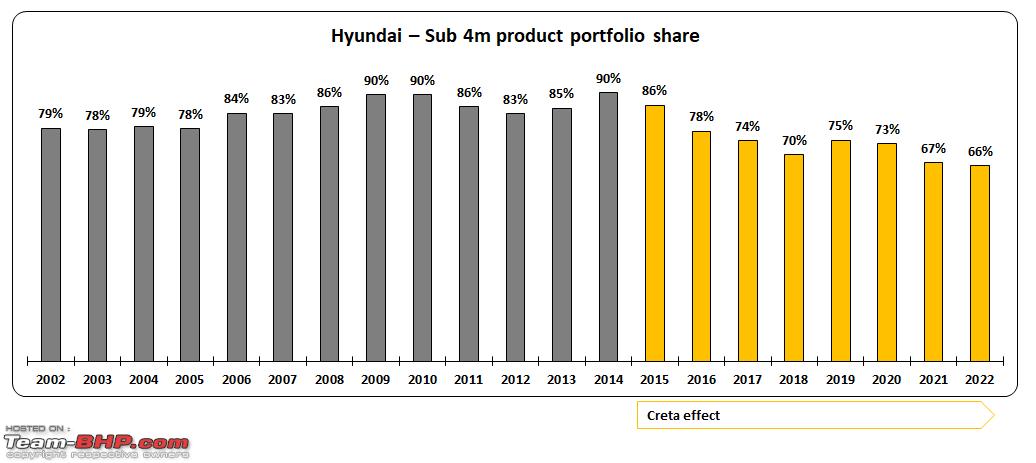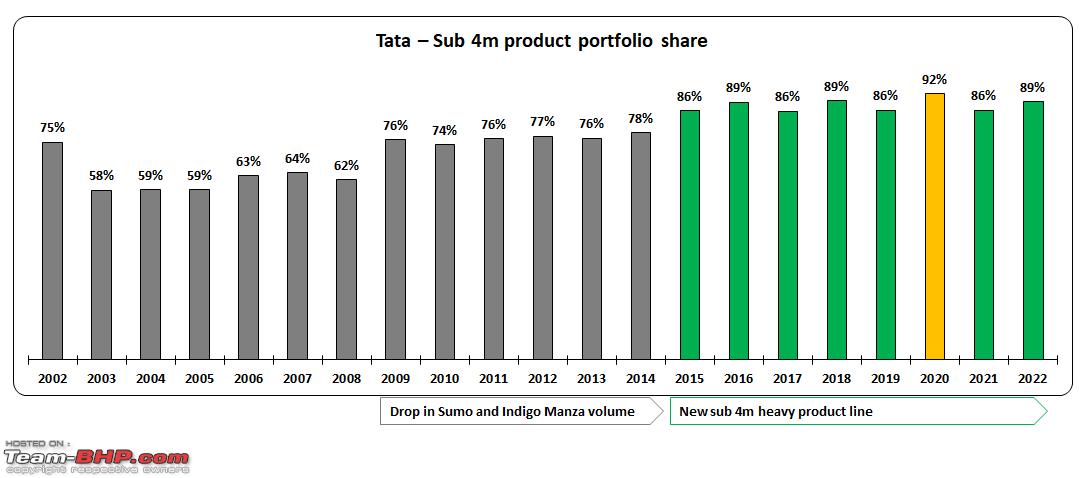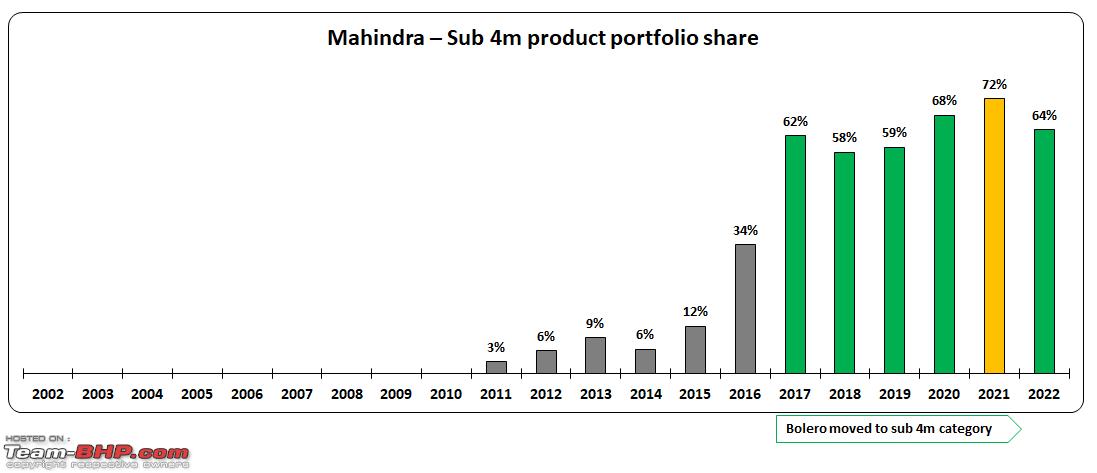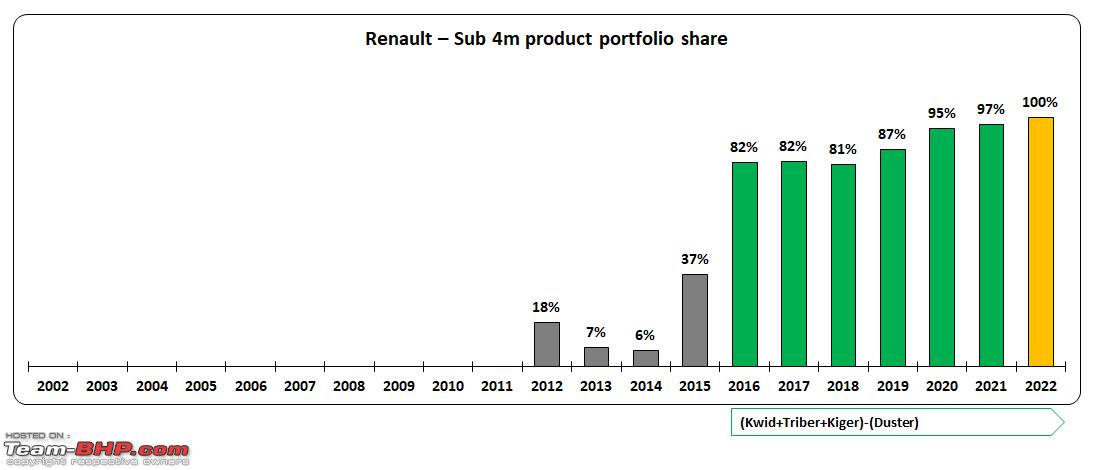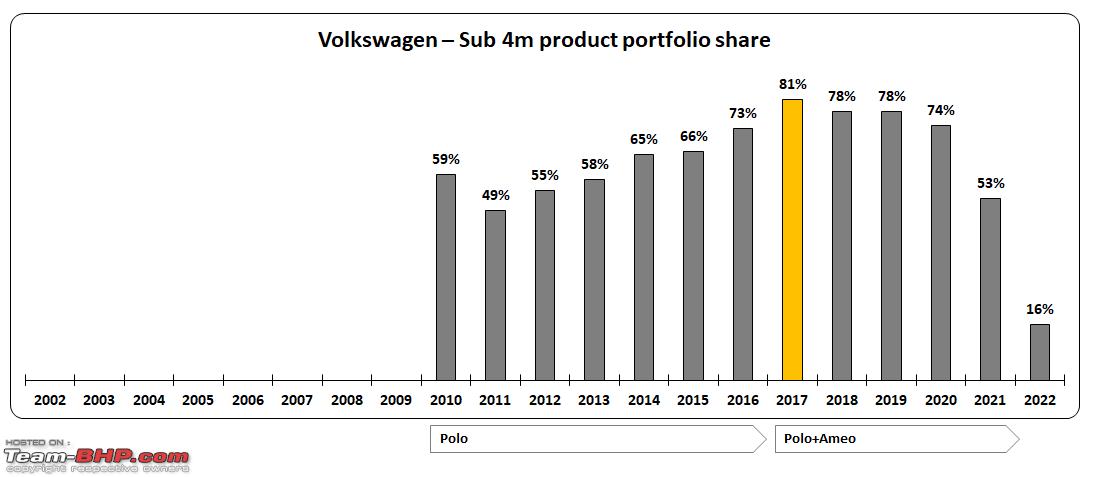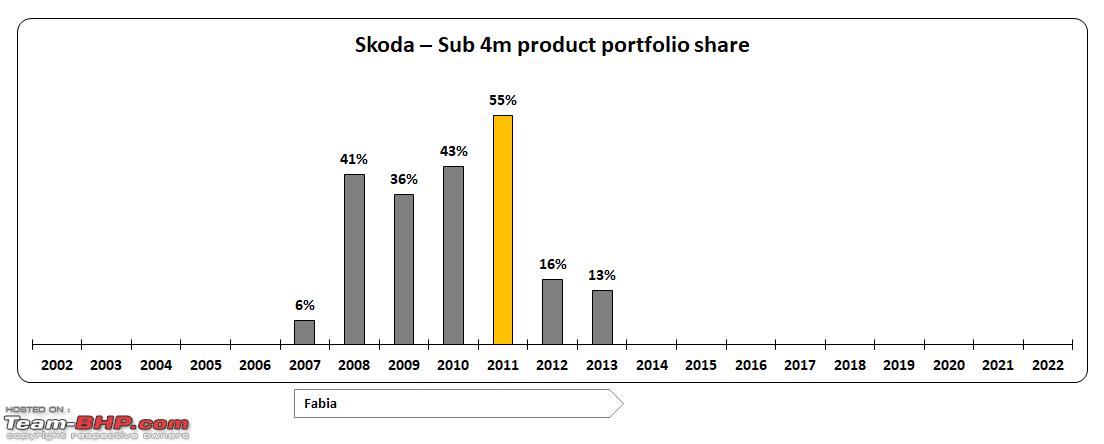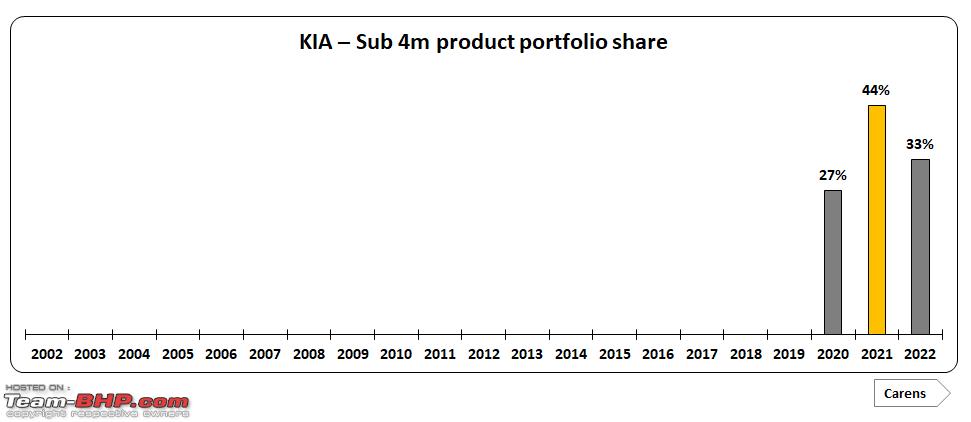 Read BHPian comments for more insights and information.
Source: Read Full Article