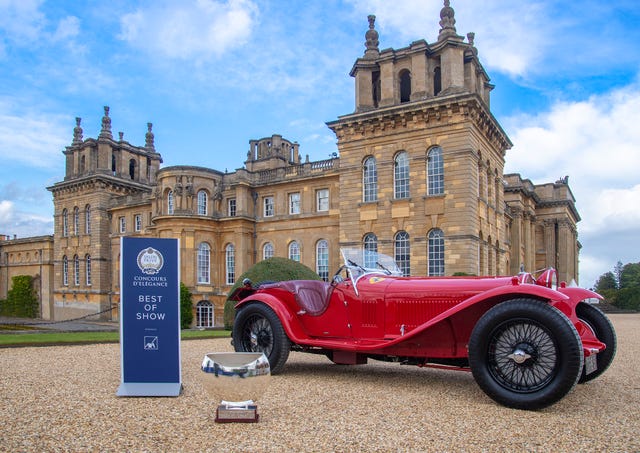 Salon Privé, the most upper-crust car show in all of Great Britain, was by all appearances another splendid gathering of the world's greatest cars and motorcycles. Consider that:
But you would expect all of that at this or any of the 15 total—so far—annual Salons Privé. The difference this year was that the entire affair took place in the midst of a global pandemic that had shut down almost every other Concours across the globe, along with almost all other sporting events, concerts, and anything involving more than six people.
How did Salon Privé do it? With masks, six feet of spacing, and a new app from a company called Liber.
"Adhering to the ethos of 'Coming Together, Keeping Apart,' safety was paramount," said Salon Privé organizers. "Robust COVID-19 secure systems were put in place that went beyond government guidelines to include the pioneering introduction of the CI Group's Liber track and trace app. Salon Privé was the first automotive event in the world to use Liber, which has been developed for major event organizers to ensure that everyone who attended was COVID-19 free before they entered and could be contacted if necessary afterwards."
How does the Liber App work?
"…you need to download (the app) approximately 14 days before the event and then you need to self-diagnose, or put in your test results, to actually say whether you're COVID-free," David Watt, CEP of CI Group, developers of the Liber App, told fcbusiness magazine in the UK. "And then during that process leading up to the event, we then know that that person arrives, has said they do not have Covid, and not been near anybody (who has it) and then at the event we then link that in to temperature testing."
With those inputs the app gives you a rank status: red, amber or green.
CI Group is also developing a feature that will allow users to monitor their temperature, which will link to the venue's temperature check system to allow entry. There does not appear to be a way to verify whether each user actually was tested, however. It also assumes people will be honest about their test results.
On top of that, Salon Privé limited attendance.
"We welcomed around 8,000 guests over the 4-day event, representing a 10% decrease in numbers as we and Blenheim Palace self-imposed daily limits on attendance due to COVID-19," said chairman Andrew Bagley.
Assuming all really did go well at Salon Privé, and there is nothing so far to indicate it didn't, could other Concours (and other events) utilize the app to save their 2021 seasons? We called around.
"Sandra (Button, chair) and several of our Selection Committee members know the Salon Privé organizers quite well and are aware of all they did this year," said Pebble Beach Concours media relations specialist Kandace Hawkinson. "We do hope to move forward with our 70th Pebble Beach Concours in 2021, but at this point we're too far out for very specific plans."
McCall's is working on 2021 plans, too.
"We do have precautionary plans in place for 2021 for the airport as well as the Quail," said Molly McCall of McCall Events, organizers of the The Quail a Motorsport Gathering, The Quail a Motorcycle Gathering and the so-called Jet Party. "We have been in close contact with our security and event control company who is staying up to date on all of the latest resources available to keep people safe. We are also increasing our space at the airport and changing our planning for food delivery. A lot could happen between now and August, but we are using current guidelines until we hear otherwise."
Even our friend Alan Galbraith of the mighty Concours d'Lemons is planning for 2021.
"Kinda looking at the same health-related issues at CdL," he said. "But we're taking a cue from the larger events. Whatever they do, so will we. March at Amelia (Island Concours) might still have some restrictions, but if what I'm hearing from Dr. Fauci and the like isn't overly optimistic, there should be a vaccine available and widely distributed by late spring or early summer. So hopefully that will mean large gatherings of people breathing on each other can happen again without restrictions or other protocols in place. We shall see. Fingers crossed."
The hope of a vaccine was good news for all.
"The fight against COVID-19 has recently been given a major boost following news that a new vaccine is within reach," said Salon Privé co-founder David Bagley, brother of chairman Andrew. "While governments adopt a precautionary tone, noting the vaccine will take many months to be distributed, the news was met with global enthusiasm and could not come soon enough. Many events scheduled for the first half of 2021 are still in jeopardy, hence the need to continue exploring measures that will allow us to open and operate with the welfare and safety of all those attending a priority.
"The pandemic has forced us all to re-evaluate how we operate in such adverse conditions. Salon Privé proved it can be done. We hope 2021 is a year full of celebration when events can return stronger than ever."
Source: Read Full Article