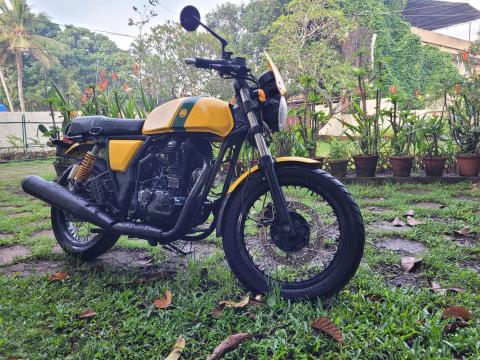 I've added a Triumph Street Triple 675 and Suzuki Gixxer SF250, which together have done 29,000 km.
BHPian neil.jericho recently shared this with other enthusiasts.
Having ridden the Royal Enfield Continental GT 535 for almost 30,000 kilometres in every possible terrain conditions, one would think that after picking it up from Motonerdz in Trivandrum, getting reacquainted with the motorcycle would have been the easiest thing in the world. Well, not quite.
Over the last few years, the Continental GT 535 has seen less running than before because the garage grew to add a Triumph Street Triple 675 and a Suzuki Gixxer SF 250. Between the new additions, I've added another 28,000 – 29,000 kilometres. While all 3 motorcycles are as completely different from each other as you can imagine, the time away from the Continental GT 535 gave me the opportunity to reexamine it with a fresh perspective, as I rode back to Cochin.
Firstly, I topped up at an IOCL petrol bunk in Trivandrum and I couldn't help but smile at the same old fuelling routine. The way that the bike's petrol tank is designed causes the petrol dispenser to cut off when the tank is only around 70% full. On other motorcycles, the cutoff happens when the motorcycle's tank is around 85 to 90% full. Since this isn't a motorcycle that sold in droves, fuel attendants always hesitantly fill up the next few litres after the first cut-off. None of them want a tank overflow and spillage situation, for obvious reasons. I do find that most of them are amused by how much additional fuel the tank gulps in. It always is an interesting conversation starter at petrol pumps everywhere.
That torque hit is something else! Though the engine only produces a modest 29.1 HP, the ace up its sleeve is the 44 NM of torque at a very low 4,000 RPM. This is an engine which is built for riding across Kerala's narrow, winding and often crowded highways. The engine provides a fabulous wave of torque that lets you pull off quick overtakes without having to think twice. Touring the Suzuki Gixxer SF 250 with its tepid output figures (26.5 PS and 22.2 NM) and linear power delivery changed my riding style. Getting back on the Continental GT 535 reignited that spark which the Suzuki was missing.
Handling-wise, the Suzuki Gixxer SF 250 on its Apollo Alpha H1 tires and the Triumph Street Triple 675 have the Continental GT beat. The Suzuki and the Triumph boast composure in the chassis dynamics and the ability to tip in from side to side, which the Continental GT 535 does not have. Maybe it's the higher centre of gravity with the 18-inch wheels. Maybe it's the lack of premium tires (until very recently) in this size. Or it very well could be the chassis design, for all I know. This doesn't imply that the Continental GT 535 is unsettled in the corners or that it is lacking / unsafe. Far from it. There just is more muscling involved while riding the bike, which contrary to most people's expectations, makes it fun to ride.
The sharpness of the braking, again, couldn't match the Gixxer SF 250 which was running on better brake fluid and Versah brake pads. You feel like you are carrying a whole lot of momentum while riding the Continental GT 535. While better Vresdestein Centauro tires will help in reducing the braking distance, I missed that extra sharpness that premium aftermarket brake pads offered. Oh, and I missed ABS!
The seating comfort with this reshaped seat is a real game changer. The OEM seat's padding used to throw in the towel less than halfway through a full day's riding. That meant a sore bottom, misery and silent curses for everyone in Royal Enfield who approved the production of the seat without proper testing. Now, with this extra layer of padding, it feels like my bottom is insulated from the vibrations.
I could go on (and on and on…) but there are a lot more updates to get to. Overall, it is safe to say that the Continental GT 535 has its strong points and there are some noticeable areas of improvement. Out of the box, it was a good Royal Enfield motorcycle for its time, With an assortment of upgrades, it can become a much more involving and simply put, better motorcycle. It is a shame that not too many Continental GT 535 owners tinker around with their motorcycles.
Back in Cochin, the motorcycle was put to commuting duties and I was reminded of just how much attention it grabs everywhere. While collecting the bike from Motonerdz, they did mention that the battery light warning indicator was frequently coming on. Despite that, the bike was starting without any issues and never necessitated a kick start. That, and the emission test was pending. I got it done at the usual centre where I get all my vehicles tested.
Next up, it was time to pack my bags and move back to Bangalore. But not without a major hiccup on the way.
Check out BHPian comments for more insights and information.
Source: Read Full Article